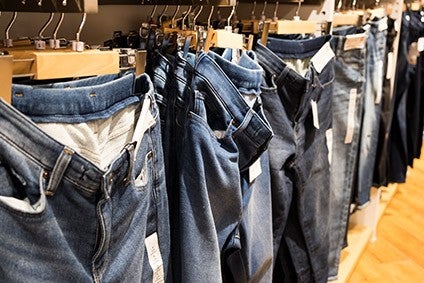 To drive further circularity in the global denim industry, companies must look beyond financial growth and learn to create value in different ways – with stakeholders collaborating to help shift the sector's mindset.
Speaking on a webinar for the Kingpins24 virtual denim sourcing event, denim designer and consultant Malin Ekengren said the industry must start communicating change and rethink fashion beyond economic success.
"We need to move toward a more local platform and using a new system. We need to be really creative, use creative solutions, new techniques, and think further than a new next collection. We need to shift the whole mindset of fashion and of the fashion consumer. It's not necessarily by financial growth anymore, we need to create value in a different way."
Talking with Cem Ozan Sari, senior product development executive at Turkish denim mill Calik Denim, Sebla Onder, sustainability lead at Turkish denim garment manufacturer Orta Anadolu, and Kerry Bannigan, founder of the Conscious Fashion Campaign, Ekengren added the industry must look at creating fewer products that are longer lasting and locally made.
"The technical knowledge, skills, and material are out there, we just need to focus on it and shift the mindset from designers – from the mills – to the consumer."
Here communication will be key, Ekengren said, noting industry stakeholders must communicate the importance of shifting to a circular economy to encourage consumers to make more sustainable shopping choices.
She explained these decisions do not have to be based solely on whether a garment is made with organic cotton or recycled content. "They can also invest in better quality garments, avoiding fast fashion, and extend the use of clothes by caring for them and enabling further use by reselling. This will also extend the value and grow the value chain of the products."
She added consumers and industry players alike need to put pressure on governments to standardise the recycling of textile waste – drawing parallels between fast food and fast fashion.
"It's a similar thing; what you put in your body, if its fast food, it might not be good for you. Fast fashion, it's not good for the planet and it's not good for us either. We need to really change and rethink fashion outside just economic growth."
Ekengren's comments chime with the January 2020 edition of the CEO Agenda published by Global Fashion Agenda (GFA). In its third edition of the document, the organisation, which wants to change the way fashion is produced, marketed and consumed, drew attention to what it called "one of the biggest issues of our time" – challenging the traditional concept of growth and prosperity.
"At this stage all creative industries, and the denim and fashion industry in particular, need to all work together and we need to shift to a circular economy using the knowledge we have and the skills that are available and mix that in with our creativity. We should all be a part of creating this new future, with circularity and sustainability at the core of the thinking," Ekengren said.
Designing out waste
All of the panelists agreed on the need to design out waste to boost circularity in denim.
Sharing Orta Anadolu's circular design mission, Onder explained the firm's first goal is to minimise or eliminate waste, while at product level, it works to generate long-lasting high-quality fabrics.
"The idea is to create 'immortal products'" – Sebla Onder
"The idea is to create 'immortal products' and our designers are incorporating recycled materials into our products without compromising their quality, look, performance," she explained, noting recycled content can even enhance a product's characteristics. "That's why we're calling this optimum ratio of recycled content in our products the 'golden ratio'.
Orta Anadolu uses both pre- and post-consumer recycled cotton, recycled polyester, Tencel, and Refribra.
"Another important point is to design recyclable products as well," Onder said, adding that while the design teams are working to incorporate recycled content, they also strive to make the end product recyclable as well using lifecycle assessments.
"We really give great importance to assessing our product's environmental footprint and we put these as studies to the backbone of our designs and use it for designing for sustainability. At the end of the day, our aim is to create high-quality long-lasting products that our users love and to leave a low impact on the environment."
"Creating products with a longer lifespan and better quality so you can also turn into a circular product, this is really key for me," Ekengren concurred.
She added there are parallels with the coronavirus pandemic. "We have already changed our day-to-day, our working lives, and that shift to circular fashion will impact the industry in a similar way. We are already having meetings on Zoom, both business and creative meetings, research and design have been done differently for me in the past two months. Look at how Kingpins24 already changed the denim community. I have never had so many positive meetings with a collective in the denim industry in the last couple of months.
"I've made so many new connections as well as learning how to work with the new timeframes and using our resources very efficiently, having less seeing things upfront but still having to be creative, I think that's the main thing."
Power of partnerships
Bannigan agreed "there's nothing better than collective action" and questioned the panelists as to how important collaborations are to their success in light of Goal 17 of the Sustainable Development Goals (SDGs).
The SDGs were adopted by the UN in late 2015 and lay out an ambitious roadmap for improving the lives of people around the world. Broadly speaking, they comprise 169 targets designed to advance 17 overarching goals, which include poverty eradication, gender equality, clean water and sanitation, and decent work. Goal 17 specifically seeks to strengthen global partnerships to support and achieve the targets of the 2030 Agenda.
"What I love about the Sustainable Development Goals is that they're inclusive of everything, not only a government or a country but they include all countries, all companies, whether governmental or not," Onder said.
"It's really important to participate in Goal 17 [which] indicates for successful sustainable development, it needs participation from all parties and that's the philosophy, it's the first lesson of circularity for sure."
She added collaborations have helped Orta Anadolu throughout its 65-year history, with recent partnerships including the Tukey Materials Marketplace (TMM) programme which is run by the Business Council for Sustainable Development Turkey (BCSD Turkey).
"The whole idea is creating a platform for knowledge as well as for material exchange," Onder explained. "You can actually buy and sell your waste there…close the loop there. So we are really happy to be a part of those collaborations."
Ozan Sari, meanwhile, added collaboration is "fundamental" to Calik Denim's strategy of 'Passion for denim, passion for life.' "With this strategy, we aim to grow and speed joint actions, this is the only way to create better life."
The firm has worked with universities, including Parsons School of Design in New York City, to support the rise of the new generation of socially and environmentally conscious designers.
For Ekengren, collaboration goes back to the need to rethink the fashion industry as a whole.
"To be able to shift to circularity in fashion we need to all slow down the growth of the industry" – Malin Ekengren
"To be able to shift to circularity in fashion we need to all slow down the growth of the industry," she said, adding stakeholders need to look past one-time pieces and create value for the consumer and for themselves.
"Collaborations in our industry are key because we all need to balance out the negatives on the environment as well as the social impacts it has on the world. Using sustainable practices, anything from new techniques or technologies, even at fibre stage, to reduce chemicals in water, in production, and we also need to upscale recycling, use of waste and design out waste. Designers can only really do this with the knowledge and skills from the start of the creative process and this should be, in my opinion, with collaboration with mills and laundries and the chemical suppliers.
"I go back to one of my favourite Greta Thunberg quotes: she always says follow the science and take action and that's what we need to do."
Start with design
Ozan Sari agreed innovation is essential to transforming the understanding of a linear production model to its circular counterpart.
Offering advice for companies looking to start or integrate a circular design business model, he added all firms should "holistically check all production processes to see areas of improvement."
From a manufacturer's perspective, Onder added: "You can't manage what you can't measure, so start measuring your waste, do it at the organisational level or seek help from NGOs, consultancies or academia. Find other people who are already doing it [and] be open and transparent to other parties. There is no competition there because we can achieve circularity with partnerships."
She also warned that companies looking to integrate circular design should not add recycled materials just for the sake of it.
"Be careful about your recycled material choices, trust certification systems for sure, be transparent to your customers, be transparent to your supply chain, and don't forget to give importance to other KPIs," she cautioned. "You don't want to lose on the other KPIs like energy use or contamination of your product lines. So go safe there, don't jump to 100% recycled material. [Take] small steps and small targets so you can achieve day-by-day. Lastly, be open-minded to learn from cross-sector examples and share your knowledge with other parties."
Offering a point of view from the design perspective, Ekengren said companies need to be serious about closing the loop – and reiterated the importance of not being driven by financial growth alone.
"By doing that you need to create value throughout the life of a product from start to finish and aim for a circular economy and design with that in mind. It starts from the very start of the design process, so that could be using bio-based materials, recycled content, organic cotton, or by recycling your own waste or using your own stock fabric or stock collections; anything with an aim to close the loop.
"I don't think it's possible to try and combine sustainability and profits, I think that's yesterday, and we all need to minimise resources and use materials that can be repurposed again, that can be recycled and taken back into a circular system or things that we can reuse from previous seasons. I think we just all need to change the mindset."