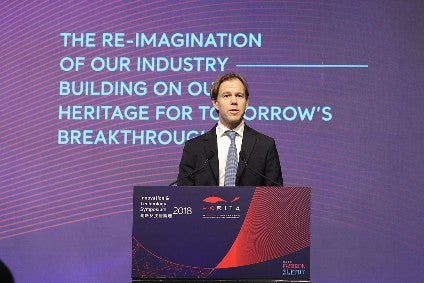 The global fashion industry is on a trajectory set to stretch planetary resources beyond breaking point unless it finds better ways of producing, using and disposing apparel, according to the stark message for delegates at the recent Fashion Summit (Hong Kong) 2018.
Billed as Asia's largest sustainability conference, the two-day event in Hong Kong heard rallying calls for change if the global fashion industry is to operate within planetary boundaries and continue to provide clothing to a growing global population over the next 15 years.
"We cannot continue to do things like we used to. Without the transformation of the fashion industry, the planet will not be able to cope. We all need to reinvent the fashion industry collaboratively," urged Karl-Johan Persson, CEO of H&M Hennes & Mauritz AB and board member of the H&M Foundation, in a keynote address.
"We definitely have to speed up the shift towards waste-free models, towards a circular economy, and we also need to start to think in new ways and start to collaborate with new partners – because no-one can do this on their own."
It's hard to argue with the facts and figures set out by many of the speakers at the Summit, which was attended by over 2,000 participants (including speakers, conference delegates and exhibitors), and was backed by the Hong Kong Government and organised by seven organisations including the Clothing Industry Training Authority, the Hong Kong Design Institute, and the Hong Kong Research Institute of Textiles and Apparel (HKRITA).
Largely derived from research by McKinsey and the Ellen MacArthur Foundation, the information they shared points to the fashion industry's linear take-make-dispose model as the root cause of its problems.
It's a format unchanged for decades, where huge amounts of non-renewable resources are extracted to produce clothes that are often used for only a short time, after which the materials are mostly sent to landfill or incinerated. This is the case for a staggering 87% the total fibre input use for clothing, and means that every second the equivalent of one garbage truck of textiles is landfilled or burned. And an estimated US$500bn of value is lost every year due to clothing being barely worn and rarely recycled.
Hazardous chemicals and heavy metals are still known to be used in dyeing processes including substances such as chromium, copper, zinc and lead. Nearly 20% of global wastewater is produced by the fashion industry, and cotton farming is responsible for large amounts of pesticides.
Total greenhouse gas emissions from textiles production, at 1.2bn tonnes annually, are more than those of all international flights and maritime shipping combined. And washing clothes releases half a million tonnes of plastic microfibres into the ocean every year, equivalent to more than 50bn plastic bottles.
Forward-looking trends
But that's just the industry in its current form. Forward-looking trends suggest things will only get worse.
Clothing production has more or less doubled in the last 15 years, driven by a growing middle-class population across the globe, increased per capita sales in mature economies, and the rise of fast fashion.
And demand continues to grow, propelled by emerging markets such as Asia and Africa, and potentially pushing total clothing sales to reach 160m tonnes in 2050 – more than three times today's amount – putting further pressure on resources such as water, land, energy and chemicals.
At this rate, by 2050 the fashion industry will use up a quarter of the world's carbon budget limiting global warming to 2°C. Growth in material volume of textiles would see non-renewable inputs climb to 300m tonnes per year, and the amount of plastic microfibres entering the ocean could reach more than 22m tonnes – about two-thirds of the plastic-based fibres currently used to produce garments annually.
Race against the clock
"It seems clear that time to act is now," Brenda Koekkoek, programme officer at the Strategic Approach to International Chemicals Management (SAICM) secretariat at the United Nations Environment Programme (UNEP), told delegates.
"Fashion has undergone a significant transformation in recent years. Globalisation and complexity in the value chain are significant realities in your business. We must acknowledge the fashion industry is a US$2.5 trillion industry, and Asia is a significant player."
But "recent shifts in how we make and consume clothing are stretching planetary resources. Clothing production has doubled. The average consumer's apparel purchases have increased by 60%, and the average year's use duration of apparel has halved between 2000 and 2014.
"The United Nations Framework Convention on Climate Change has forecast a 60% increase in the fashion industry's greenhouse gas emissions and waste by 2030 if transformation towards a sustainable fashion industry fails to materialise soon.
"We should really be racing against the clock to be finding a better way of designing, producing, using and disposal of apparel. What an opportunity."
The UN forecasts the world's population will grow by 16% from 2015 to 2030, increasing from 7.3bn to 8.5bn people – with a global middle class of 3bn people. "This means great opportunities for businesses, but it also underlines that we cannot continue to do things like we used to. Without the transformation of the fashion industry, the planet will not be able to cope."
Its response to the potential challenges includes setting out 17 Sustainable Development Goals (SDGs) to galvanise actions. The targets touch on a broad range of issues linked to the fashion industry, including those relating to poverty, health and wellbeing, gender equality, decent work and economic growth, on industry innovation and infrastructure, climate action, life below water, life on land, and ensuring responsible consumption and production patterns.
Sustainable solutions
Sustainable fashion solutions, however, are harder to come by. Slower consumption, more environmentally responsible production, the recycling of used fabrics, and promoting durable, reusable and eco-friendly fashion are among the suggestions.
As is the shift to a 'circular' or no-waste economy with efforts at each stage of the supply chain – from designing in the use of more sustainable materials through to the complete recycling of textiles into new fabrics and yarns without any loss of quality – to create a virtuous loop from fibre to fibre.
Emphasising his company's "big responsibility" to lead the change, H&M's Persson explained how two years ago the H&M Foundation began a four-year collaboration with HKRITA. The "golden goal" of the EUR5.8m (US$6.8m) partnership – of which the H&M Foundation has so far donated EUR3.5m – is to find a solution to recycle the most common blend textiles into new fabrics and yarns without quality loss.
"For too long the fashion industry has not had a corporate solution for recycling these blends because there has been no commercially viable separation, sorting and recycling technology available. Today, within two years of this partnership, we seem to have found a groundbreaking solution, which definitely has the potential to change the game for the industry."
The new hydrothermal processing system (using a combination of heat and pressure) enables full separation of cotton and polyester fibres from mixed yarns, and is being tested on a pre-industrial scale at the just-opened Novetex Upcycling Factory in Hong Kong. The separated polyester fibres can be spun and made into new fabric, while cellulose powders, decomposed from the cotton, can be applied to functional products or regenerated fibre.
"This recycling technology will be made available for free, for anyone to use, by 2020," Persson said. "By being able to upcycle used textiles into new high value textiles we no longer need to rely solely on virgin materials to dress a growing world population – and this is a major breakthrough in the pursuit of the global fashion industry to be able to operate within the planetary boundaries.
"This breakthrough shows that this industry has the potential to lead the way if we collaborate."
See also: How to move further and faster on closed loop clothing