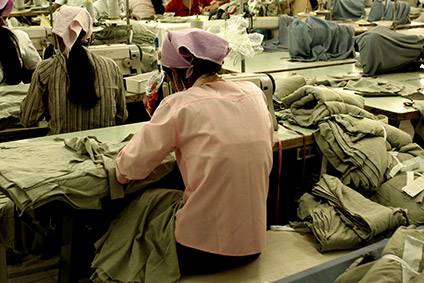 Global garment brands and retailers should switch to "worker-centred and worker-driven" corporate social responsibility (CSR) programmes in their factories, a new report suggests, arguing corporate-led initiatives have been "largely ineffective" in improving conditions for workers.
The paper 'Future of Fashion: Worker-Led Strategies for Corporate Accountability in the Global Apparel Industry,' is based on a study carried out by the International Labour Rights Forum (ILRF). It centres on three case studies: the Freedom of Association Protocol in Indonesia, the Fruit of the Loom Agreement in Honduras, and The Accord on Fire and Safety in Bangladesh – all examples of enforceable brand agreements in action. It explores how they address the deficiencies in traditional CSR approaches.
"The persistent exploitation of millions of apparel industry workers, and the failures of corporate social responsibility and multistakeholder initiatives to provide an effective and sustainable remedy, require a new framework for corporate accountability in order to ensure workers' rights," says the ILRF in the report.
"A new approach must move away from voluntary codes of conduct, flawed social auditing schemes, and programmes that exclude the agency of workers and their organisations. It requires addressing the root cause of the problem: the unequal balance of power between the corporate actors, who have created – and benefited from – the global supply chain system and the workers who remain in precarious working conditions and are living in poverty."
The report argues that under corporate-led CSR programmes, the majority of corporations are relying on third-party social auditing firms that conduct short, annual visits to factories to assess working conditions.
"Critics have pointed out the shortcomings of this model, including extreme time pressures on auditors leading to superficial "check-the-box" assessments, the absence of meaningful consultations with workers or trade unions during the audit process, a lack of transparency with regard to the audit results, and a failure to correct violations, even when serious problems are detected. Notably, most CSR models fail to address a fundamental root cause of labour violations and poor working conditions: the sourcing and purchasing practices of brands' and retailers' own business model, and in particular the price squeeze that they impose on their suppliers.
"Factory monitoring can only work if it is truly worker-centred and worker-driven and connected to contractual obligations to respect workers' rights"
"Factory monitoring can only work if it is truly worker-centred and worker-driven and connected to contractual obligations to respect workers' rights, including the rights to freedom of association and collective bargaining," it adds.
But how do you move your business to a worker-led CSR model? The ILRF outlines four essential elements.
1: Binding and enforceable commitments
Voluntary commitments have proved limited in their impact in terms of holding brands accountable as they always allow brands or their suppliers an "out" when they are found to be non-compliant: they can either remediate the violation or not. Legally-binding agreements ensure parties can be held accountable for not fulfilling the terms of the agreement.
Enforcement mechanisms: This helps ensure that the brands agree to fulfil their commitments or there will be legal or market consequences. Without meaningful consequences for the brands, factory owners have no support for making reforms and workers have no assurance that if they report problems, they won't lose their jobs.
2: Worker representation and involvement in governance and implementation
Negotiations of agreements with brands must include local unions or other representative worker groups from the outset. The role and participation of trade unions can vary, depending on a particular country's industrial-relations context, and brands should not engage directly without understanding the context. Thus it's important to engage organisations which are not compromised by corporate influence.
Agreements with brands should have co-governing bodies and mechanisms in which workers have equal footing and say.
Workplace-centered strategies require the full participation of workers and unions, which should include participation in monitoring, access to reports, and transparent remediation processes. Unions and/or representative worker organisations need to be involved in the design of any assessment tools for monitoring or auditing so their perspectives are fully reflected. They need to be aware of and trained on the legal and regulatory basis of those monitoring tools and active participants in assessment processes. The results of the inspections should be made available to them, and they should be part of discussions on remediation, including root-cause analysis and the proposal of solutions.
Effective worker participation in this requires resources for worker training and empowerment that is focused on the specific challenges of global supply chains, the dynamics of multinational corporations, and how to engage them.
Capacity-building and organising strategies requires cross-border solidarity and coordination with workers in other countries in order to advance workers' rights effectively.
3: Transparency
Public reporting by brands and retailers on where they are sourcing their apparel and what conditions are in those factories is fundamental for ensuring that workers' rights are respected. Publishing supply chain information builds the trust of workers, consumers, labour advocates, and investors, and signals that the apparel company is prepared to take responsibility when labour rights abuses are uncovered in its supply chain. Disclosing basic information about factories (name, address, parent company, number of workers employed, etc.) is a fundamental first step to enabling garment workers, unions, and non-governmental organisations to connect violations in factories to the sourcing brands, in order to press for an end to abuses and remedy for workers.
In addition to revealing supplier addresses, brands need to disclose information about working conditions in factories as well as about purchasing practices and commitments.
4: Purchasing practices
Effective remediation requires brands to make financial commitments to factories. Lessons from the Bangladesh Accord reflect the need to be specific about the allocation of resources for this purpose. Brands, the main beneficiaries in the supply chain, should pay — or at least provide low-cost financing or other financial incentives — for the repairs and upgrades needed for factories to be fully compliant.
Brands should also be prepared to pay for legally-owed severance when factories close and compensation for death and injury when factories burn or collapse.
Commitments must also be made by brands to analyse, address, and make changes in their purchasing practices — price negotiation, lead time, production planning, contractual responsibilities, etc. — so that they do not contribute to labour rights violations, but rather address and remediate them.
"Achieving enforceable brand agreements is not easy and requires a combination of factors and forces, including exposure of the problems, consumer and activist pressure (both locally and internationally), and positive and negative incentives for brands and retailers, among other strategies"
Achieving enforceable brand agreements is not easy and requires a combination of factors and forces, including exposure of the problems, consumer and activist pressure (both locally and internationally), and positive and negative incentives for brands and retailers, among other strategies. These agreements have taken enormous amounts of time, coordination, advocacy efforts, and resources to win and to sustain.
There are specific actions that brands and retailers, suppliers, and workers' rights advocates can take in the short to medium term to build towards the requirements of the four elements.
For global brands and retailers
Publicly recognise that true accountability to workers' rights in their supply chains requires bold, new solutions. Participation in multi-stakeholder initiatives that are financed by brands or established to support brands' compliance goals is not sufficient.
Move away from voluntary, confidential social auditing programs and instead adopt worker-centred, worker-driven models of monitoring and remediation.
Engage in direct, meaningful, and ongoing dialogue with local and international trade unions, representative worker organisations and worker rights advocates.
Publicly disclose the factories in supply chains according to the requirements of the Transparency Pledge, and make sure audit and investigations reports are available to workers and to the public at large.
Conduct serious analysis of sourcing and purchasing practices (including the prices paid to suppliers) to determine how you may be contributing to the presence of labour rights violations, and make the necessary changes.
Ensure transparent, effective and efficient grievance and complaints mechanisms for workers across the supply chain, and disclose publicly the corrective actions undertaken.
Ultimately, brands and retailers should enter into binding agreements with unions and representative worker organisations that encapsulate the full expression of the four essential elements.
For suppliers and factory management
Comply with national and international legal requirements to ensure an enabling environment for labour rights.
Take a proactive stance in protecting the right to freedom of association, collective bargaining, and worker organising.
Install strong communications policies and grievance mechanisms, where workers feel safe to present complaints without the fear of retaliation.
Welcome unannounced monitoring and investigations by independent third parties. They can then share reports and findings, and create spaces for joint discussion and solutions for remediation.
Engage brands to discuss where brand purchasing practices and pricing policies may be contributing to excessive overtime, unauthorised subcontracting, unreasonable production targets, and other unfair conditions for workers.
For worker rights advocates
Strengthen links and coordinate closely with local and international independent trade unions and labour rights groups, to seek to ensure local labour movement involvement from the initial phases of visioning and negotiation.
Addressing the governance gap
Future agreements could more actively engage and encourage government support for these solutions. The emergence of enforceable brand agreements is not a substitute for governments' essential role in labour law enforcement, but these agreements can help improve the industrial relations climate in the country and increase transparency in a way that supports improved governance.