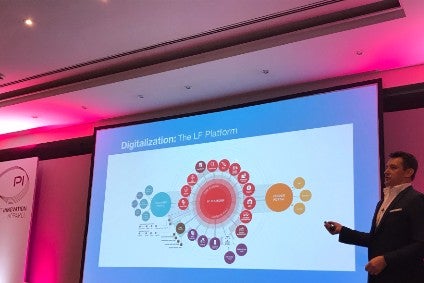 Changing mindsets and challenging the status quo are key to building fast and smart supply chains, according to Paul Fowler, chief information officer at Hong Kong-based global sourcing specialist Li & Fung.
"The concept of the supply chain being a horizontal end-to-end hand-off type process is, I think, literally dead and done. You really need to be thinking of the supply chain as a collaborative eco-system," he told executives at the recent PI Apparel (Product Innovation Apparel) event in Berlin.
Having been tasked with the challenge of speeding things up as Li & Fung earlier this year embarked on a new three-year strategy focused on speed, innovation and digitalisation, Fowler explains the rationale behind the company's new way of thinking.
"Essentially the key message is that things are moving very fast, the volume of data is growing, expectations are growing, so [we need to] create a collaborative environment for suppliers, ourselves, customers, mills.
"We're changing, and so too are our clients. Where before we provided cost, quality, and efficiency, now we must also deliver speed, innovation, and data-driven insights.
"The focus has shifted to the supply chain, to addressing markdowns, to looking at speed. So, for us, we very much realise that speed is a new currency and it's all about making relevant decisions much faster."
One of the ways the firm is moving towards its goal is by working to build a fully integrated digital platform that connects every stakeholder and process in its global supply chain network so that real-time data can be captured and shared to enable smarter, faster and more effective decisions.
Its vision includes "intelligent image libraries that store all our digital assets, virtual design applications to empower collaboration at speed, integrated tools that enable comparative and dynamic costing analysis and end-to-end tacking across the value chain."
The company also believes that what sets it apart is its visibility into the massive amounts of data generated by a network that embraces 15,000 vendors with around 28,000 factories between them.
"We can see history, we have a lot of metrics, a lot of details on the categories, because we're capturing all of the data as it goes through the supply chain. We are trying to figure out how to start reducing all these pain points for both our suppliers, as well as our customers."
Changing mindsets
Now six months into the three-year strategy, Fowler shared some of the work that has been underway at Li & Fung to try to adapt to the changing landscape.
"There's a shift from supply-driven to demand-driven. And underpinning this is mobile, sensors, the IoT (internet of Things), robotics and drones. We're experimenting with some of this in our warehousing, and we've also used RPAs (Robotic Process Automation) in what we call our back office."
Among the challenges, he asks: "Why are we [as an industry] still very much on Excel spreadsheets? Why are things slow? I don't know what the answer is, but I do know that we are getting to a point where there won't be a choice, we're going to have to move much much faster."
As an example, he outlines how Li & Fung has managed to reduce lead times in the production cycle. Instead of starting at the point of receiving the purchase order, "when you're pretty much in production anyway," the solution has been to use 3D virtual sampling and fitting. This has slashed the design approval process, which traditionally takes between four and six weeks, to four to six days; while fitting stages can now be completed within a matter of hours.
By breaking down the different processes carried out by Li & Fung, its customers, vendors, suppliers and mills, the company also found, "to no big surprise, that there was a massive overlap," Fowler explains. So "we made it very, very clear about the rules and responsibilities."
Also key here: "We tried to change mindsets. We came up with this theme of building smart supply chains; about getting people to challenge the status quo."
What does a smart supply chain look like? "Where you do things once, you don't duplicate things, you capture data once, and you use it throughout the supply chain. You move with speed [and] you make decisions once," he explains.
"I would always tend to put technology last," Fowler adds. "Figure out what your big problem is, and look at process first and then people. It's really about aligning roles and responsibilities, changing mindsets, and then looking at technology."
Duplication issues
Similar challenges were encountered with the costing process, which has its own duplication issues and is referred to by Fowler as a "crazy relay race" across spreadsheets and PLM that can take 12 weeks of going back and forth that "gradually sort of makes its way to the end."
"Last year, we did in excess of between two and three million spreadsheets and that was just for the adoptive styles. So when it comes to costing, we're putting 100% of effort into everything, including [those] that never make it to production."
Potential solutions include moving away from spreadsheets and allowing everyone to collaborate and input online and in real time.
"The other thing we want to do in terms of costing is provide real standards. How much of what we do by demanding US$5 FOB is forcing someone to accept the order and subcontract? The more we bring this data to the surface, I'm hoping everyone understands what the real base of cost is and then we can move forward and leave something on the table for the suppliers
And in raw materials, too, "we sit in the middle of a massive amount of data, there's a massive amount of people potentially buying the same fabric, potentially going to the same mills – so why would we not look at this data to try and negotiate a much better price on behalf of the supply chain?"
Data is key to everything
When it comes to sourcing, Li & Fung's vantage point gives it a cross-section view of what is happening in terms of movement of goods, where production is coming from, in what categories and with regards to what products.
"This is why we are really looking at data to being the core engine to the way that we are going to help customers and help drive the supply chain," says Fowler.
"We're trying to expose as much of the supply chain to literally see into a factory at any time, any place, anywhere." The company has also accrued vast amounts of data on product categories, factory ratings, the products they make, the different countries shipped to or from, the prices paid, the item amounts.
"Before it wasn't important but fortunately we never threw anything away so now we can start doing things with this.
One such issue is "what is wrong with the supply chain that allows you to have such poor performance? I always seem to get these committed ship dates and they always change. So what it is we need to do to come up with a better plan that allows us to deliver against that set-ship date rather than keep moving the dates around?"
Digital innovation
In terms of innovation, Li & Fung is also "opening things up and sharing information" – much of which is happening digitally.
There's an innovation platform called 'The Kitchen' where the company can crowdsource ideas from its network of 22,000 employees; and a Digital Centre of Excellence to build leading-edge capabilities at speed, and possibly even offer them as standalone services.
Collaboration with unlikely partners is also part of the mix. "The technologies the film, animation, and gaming industries are doing is really going to be pushing us – or pushing the technology – and then we can adopt it."
"Whatever is in the marketplace, if we can buy it, we're going to buy it," explains Fowler. "If we can't buy it, we're going to build it. So, for us it really is about speed – how quickly can we move on to the next iteration."
This approach is illustrated by the company's investment in a single source code for the warehouse management systems used in its 200-plus warehouses worldwide. This has streamlined efficiencies, enabled it to move much faster, and is "key to the way that we have re-designed the supply chain." Fowler adds: "Ironically standardisation has allowed us to move much faster; this is key to the way that we have re-designed the supply chain."
Likewise, it has invested in 2D and 3D footwear software from CAD/CAM specialist Shoemaster International, enabling it to replace physical prototypes with digital ones.
And looking ahead, Li & Fung is also working to digitise its fabric libraries – of which Fowler says there are around 20 – with plans to move away from just fabrics and trims, creating instead a global materials library that can be used as a 3D artefact to digitally demonstrate how fabrics can flex, drape and fold in reality.
The ultimate aim is to improve the speed of the supply chain by 50% for all of its customers – a goal CEO Spencer Fung recently said the company has already far exceeded with a number of its customers.