Will productivity gains offset ASEAN wage hikes in 2016?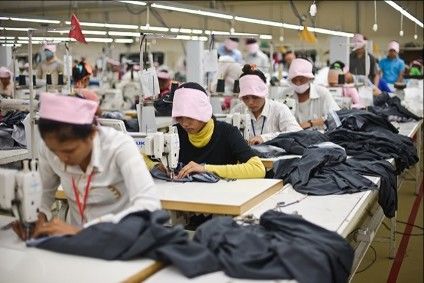 Cambodia's monthly minimum wage for garment workers rose to US$140 from 1 January
Faced with minimum wage hikes in 2016, many Southeast Asian garment manufacturers are planning to try lifting productivity via ambitious training programmes.
Many garment manufacturers in the 10-member Association of Southeast Asian Nations (ASEAN) trade bloc will have to cope with raises to their minimum wages in 2016.
The move comes as ASEAN launched its Economic Community (ASEAN EC) on 31 December, easing labour movement across Vietnam, Cambodia, Laos, Thailand, Myanmar, Malaysia, Singapore, Brunei, Indonesia and the Philippines.
This might push manufacturers into supporting more official national wage rises, to hold onto trained staff who could potentially emigrate.
Indeed, minimum wage movements also typically remain a major factor in the determination of salaries for Southeast Asian factories' higher-than-minimum wage earners, such as skilled workers, supervisors, technicians and middle management.
Some minimum wage raises will be straightforward, such as Cambodia hiking its rate by 9.4% to US$140 a month from 1 January. Also, the Malaysian government will increase its rate by 11.1% to MYR1,000 a month (US$233) from 1 July for peninsular Malaysia factories and from MYR800 to MYR920 in east Malaysia (Sabah, Sarawak and Labuan).
Other counties will push up their minimum wages by more subtle floating methods, depending on various – and usually still unknown – variables. For example, Thailand is to formally abolish its THB300 (US$8.30) per day national minimum wage, leaving the determination to provincial committees. But these committees will, however, not be allowed to go below the current THB300 mark.
Meanwhile, Indonesia will implement a new policy where minimum wages will be increased each year by the percentage the nation's real gross domestic product (GDP) grew by, plus the inflation rate. The Philippines will probably be an exception though, baulking on wage increases altogether – 2016 will be an election year, so promises rather than decisions are expected.
Productivity and training
The wage increases will force manufacturers to assess their productivity, predicts Thomas Hundt, Hanoi-based Vietnam director of Germany Trade and Invest (GTAI), an agency under the German ministry for economics and technology. "Many processes in the garment industry are inherently labour-intensive and cannot be done by machinery," he stresses.
"A factory's productivity must increase with the same pace as the wages, because it would lose competitiveness otherwise," he adds.
Training is expected to be of particular importance for ASEAN countries' garment sectors that rely on cut-make-pack (CMP) operations. For instance, take democratising Myanmar, whose current pool of 400 garment factories and 300,000 employees is expected to grow to 1,000 factories and 1.5m employees by 2020.
Here, the Myanmar Garment Manufacturers Association (MGMA) is cooperating with the British Council-supported Project Management Unit (PMU) to draw up a 10-year strategy to leave CMP behind for the more lucrative free-on-board (FOB) system, offering higher margins for Myanmar's manufacturers.
"Earlier this year, we started a training programme for garment factory owners, such training being a fundamental educational block for any industry aiming to increase capacity and become sustainable," explains Steve Clelland, the PMU's team leader.
"Because without that, Myanmar will not be able to escape the CMP model, where the customer supplies the raw materials and designs to the factories, which then simply sew things together," he adds.
Clelland further explains that Myanmar factory owners need to develop their own growth plans and must therefore fully understand what requirements for infrastructure and human resources.
"And this takes a lot of technical training, covering complex fields such as production management, sample making, pattern making, procurement and cost strategy," he says.
Cambodia initiative
In Cambodia, whose garment sector is also still almost entirely reliant on CMP, the Garment Manufacturers Association in Cambodia (GMAC) is pushing a similar project, with France's development agency, Agence Française de Développement (AFD), being the principal funder here.
It will focus on a new Cambodia Garment Training Institute, which is now under construction, which will aim to train all levels of employees, so that the Cambodian garment sector's current pool of some 8,000 skilled expatriate-held positions can be replaced by a competent local workforce, according to GMAC projections.
"Construction of the building has begun, and we expect it to be completed by October of 2016, then to train several hundred employees each year," says Ken Loo, the GMAC secretary general.
"We are currently in the process of selecting the consultant whose responsibilities will include the design of the curriculum for the training institute," he adds. Loo moreover says that as of the end of 2015 he has still no forecast for the Cambodia garment sector's growth in 2016.
In October, he told local media that any negative effects of the last minimum wage hike to US$128 implemented on 1 January 2015 have not left a mark on the country's garment export data but will eventually do, as minimum wage hikes usually affect export orders with a considerable delay.
Lack of cooperation
In Vietnam, however, whose annual garment production growth through the country's quickly expanding network of free-trade agreements is expected to come in between 12% and 13% each year until 2020, according to the ministry of industry and trade (MIT), meaningful programmes for training employees are conspicuous by their absence.
"There are no things progressive, and there is not much support from the government; the companies have to do the training by themselves," laments Diep Thanh Kiet, vice-chair of the Association of Garments, Textiles, Embroidery and Knitting (AGTEK).
This shortcoming is confirmed by Nguyen Thanh Hung, a sales representative at Vietsilk Ltd Co, a major silk manufacturer based in Lam Dong province, north-east of Ho Chi Minh City. According to Hung, although Vietsilk's workers are paid between VND3m and VND5m (US$133-US$222) per month, they would have typically entered the workforce without having undergone relevant training.
"Yes, we do have vocational schools in Vietnam, but no schools that train the skills for the controlling or the handling or our machines, which are different from those for normal clothing in terms of textile and technology," Nguyen says.
"So we have the skilled workers and engineers from Japan who train the local freshmen," he explains.
That said, the GMAC's Loo points out that increasing productivity in the face of rising wages is not all about government bodies, industry associations or individual factories coming up with sophisticated training programmes.
He notes that Cambodian garment factory owners have made attempts to provide their workers with better technology and training to increase productivity on the factory floor, but claims there has been little cooperation from workers to improve the situation.
"Any investment in training and better systems will not have the intended effect if we do not have the cooperation from workers," Loo warns.
Create sourcing plans that work
Find new apparel sourcing destinations, assess trade flows and manage tariffs. All in one place.
Oops! This article is copy protected.
Why can't I copy the text on this page?
The ability to copy articles is specially reserved for people who are part of a group membership.
How do I become a group member?
To find out how you and your team can copy and share articles and save money as part of a group membership call Sean Clinton on
+44 (0)1527 573 736 or complete this form..