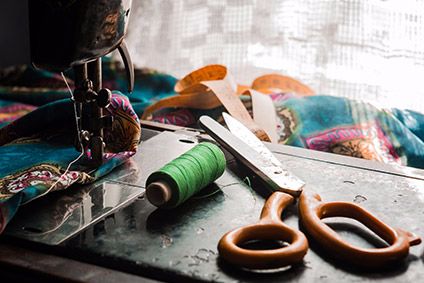 Home-based garment workers in India are "invisible" and "exploited" by major fashion retailers in the United States and European Union, according to a new in-depth survey – which also suggests brands should acknowledge their presence in supply chains as a first step to improving working conditions.
The research emphasises that apparel brands that source garments from India are providing vital employment for marginalised women and girls who often have no other options for earning an income. And it recommends that rather than shifting production elsewhere or cutting off suppliers, brands should assess home-based garment work in their supply chains.
The investigation by modern slavery expert Siddharth Kara, a research fellow at University of California Berkeley's Blum Center for Developing Economies, is based on feedback from 1,452 individuals, most of whom worked six to seven days per week, usually around six to eight hours per day. The youngest was ten years old, and the oldest was 73 years.
According to the findings, set out in the report 'Tainted Garments: The Exploitation of Women and Girls in India's Home-based Garment Sector':
Around 85% of the home-based garment workers documented for the report work exclusively in supply chains of major apparel brands in the United States and European Union.
Home-based garment workers in India consist almost entirely of women and girls from historically oppressed ethnic communities who earn approximately $0.15 per hour.
99.3% of the workers were either Muslims or belonged to a heavily subordinated community, called a "Scheduled Caste."
99.2% work in conditions of forced labour under Indian law, which means they do not receive the state-stipulated minimum wage.
95.5% of workers were female.
Almost none of the workers received any sort of medical care when injured at work.
None of the workers belonged to a trade union and none had a written work agreement.
The research also identified several stark differences between the conditions faced by home-based garment workers in northern India versus southern India. This includes workers in the north toiling in conditions that constitute forced or bonded labour under under international law – whereas none were found in the south.
Furthermore, 19.1% of workers documented in the north were children between the ages of 10 and 17, as compared to 11.2% of workers documented in the south. Crucially, of these child labourers, only 33.6% in the north attended any amount of schooling each week, as compared to 91.9% of the child laborers in the south.
Researchers also found that child labour is highly prevalent in the embroidery and embellishment stages of apparel making as part of home-based work.
Apparel export giant
India's garment industry is one of the largest manufacturers and exporters in the world, employing 12.9m in formal factory settings, and millions more in informal, home-based settings. The primary destinations of India's garment exports are the US and the EU, which receive almost half (47%) of the country's total apparel exports.
Scores of major brands and boutique retailers source garments from the areas documented in the study. Many companies do a reasonable job at promoting decent conditions in the first-tier factories of their suppliers in India; however, they largely have inadequate visibility into sub-contracted work from their suppliers to home-based workers.
Given the size and brand recognition of some of the companies that source garments from India, they are best positioned to address the findings of this report on a meaningful scale and thereby substantially improve conditions for home-based garment workers in India.
"The aim of this investigation is to provide insights into the lives of these workers in the hope that governments, companies, and nonprofits will be able to coordinate on solutions to address the exploitation we documented," explains Kara.
Recommendations
Tainted Garments offers 10 recommendations to help address the abuse of women and girls in India's home-based garment sector. These include the need for additional research and developing a high level public-private partnership focused on ensuring that labour exploitation and child labour are eliminated from India's garment sector; and forming a home-based garment worker union.
The report also calls for:
Transparency and formalisation of all aspects of home-based garment work. Sub-contractors should register all home-based workers, and they should provide this information to suppliers and brands. All home-based workers should be provided with written contracts from the supplier that outsources production to them, and these contracts should ensure minimum standards of working conditions and wages. Labour inspectors should be engaged to monitor and audit conditions for home-based workers. And laws should be passed that specifically protect home-based workers from exploitation. "The more formalized and regulated home- based work becomes, the better the conditions for workers will be." Increased and enforced minimum wages. It is recommended that the semi-skilled minimum wage be set at INR535 per eight-hour day, which translates to roughly $1.00 per hour (and $1.50 in New Delhi). This wage should be standardised and enforced across the industry in all states in India. "Brands can assist in this endeavour by requiring that suppliers and subcontractors disclose wages paid to home-based workers, and by monitoring these payments.
Payment for overtime. Workers must not be coerced or compelled to work 12 or more hours per day just to receive an eight-hour minimum wage. If a worker chooses to work additional hours, or if she or he does so in order to help meet demand during peak production times, they must be properly compensated for doing so.
Supply chain inspections. A system of independent, third-party supply chain inspections must be established to monitor every stage in the garment sector supply chain – from fibre production through to embellishments. These inspections must include a mechanism for ensuring that dedicated work centres always track and disclose the details of sub-contracting to home-based workers. These inspections must also include all of the exploitative labour conditions such as forced labour, bonded labor, and child labour. Another element of the inspections must be to increase transparency between the retailer in the West and the production end of the supply chain through the use of mobile or SMS-based reporting mechanisms.
Increase the level of investigation and prosecution of those who exploit the workers.
Support and empower women, girls, and outcaste communities through education, training and social awareness campaigns. The more educated and empowered these vulnerable communities are, the less likely they are to be exploited.
Increase awareness among Western brands and their customers of the exploitative conditions under which their clothes are made.
"In order to fundamentally transform fashion into a fair and sustainable industry, we need to have hard data and research that leads to evidence-based solutions," says C&A Foundation Labour Rights Programme manager Anindit Roy-Chowdhury.
"This study is the first ever attempt to analyse the details of conditions of women and girls in India's home-based garment sector in India and to find solutions for the problems. We believe this research will inform the development of strong solutions that will address forced and child labour in the sector.
Home-based garment work The types of home-based garment work performed by the workers documented in the study include embellishment, hand embroidery, knotting/tasseling, lace work, sequin work, bead work, thread work, buttons, fringing, bead linking and crochet. In addition, simple thread-cutting is a common form of home-based work. The equipment required to perform home-based garment work includes a wooden frame on which fabrics are placed, along with scissors, needles, and pliers. In addition, design-specific materials include beads, threads, and laces.