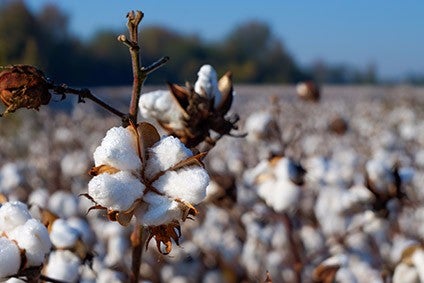 As the world looks upon China's oppression of the Uyghurs in Xinjiang, clothing companies have been stepping carefully around calls for brands to refuse to handle cotton from the region.
Xinjiang grows over 80% of China's cotton crop, with 5.16 million tonnes produced in 2020. But the decision by the US, UK and Canada to characterise the treatment of the Uyghur Muslim group as 'genocide' has put international brands in an awkward position. It also threatens the business model of the large Chinese cotton spinning industry.
China's market and manufacturing muscle means brands and retailers are very keen not to anger the Chinese authorities who frequently use market access as a political lever.
But those wanting to manufacture or finish within China may soon have to prove themselves to the country by adapting a sustainability certification scheme launched in China and presenting itself as a replacement for the Switzerland-based Better Cotton Initiative (BCI).
The 'Wei Lai ('Future' in English) Cotton' project was started two years ago by Beijing-based firm Zhongnong Guoji, which describes itself as a vertically integrated provider of seed and equipment to the cotton growing sector.
"We got a major boost in January when the China Fashion Association and Xin Dai [Modern] Seed Industry Development Fund signed up to Wei Lai Cotton. "This gave us a big boost," the developer of the Wei Lai Cotton standard, Zhao Yan, told Chinese language media.
Both organisations referred to by Zhao are state-funded. The Modern Seed Industry Development Fund is an entity backed by the ministries of agriculture and finance with cash from the China Agricultural Development Bank, and China Sinochem Corporation, a state-owned seed and chemicals producer. China has been keen to wean itself off reliance on international patented seeds in various segments of its agriculture sector.
National standards
The Wei Lai Cotton promoters have been keen to draw on nationalism to drive their certification scheme. Zhao Yan told reporters that "BCI is headquartered in Switzerland, but it doesn't even grow cotton, China needs its own standard."
The BCI halted its activities in Xinjiang last year, blaming "an increasingly untenable operating environment." Brands that have signed up to the initiative have come under intense scrutiny over their stance on using cotton from Xinjiang.
BCI declined to comment to Just Style about this new rival system.
While the certification scheme is being run out of Zhong Nong's offices, its developers will set up a company and hire a full staff, said Zhao.
"We hope by having this brand we can promote the quality of Xinjiang cotton," Luo Yan, the secretary general of Xinjiang Cotton Digitalisation Centre, told Xinjiang TV, a state-run regional broadcaster.
Brand scrutiny
International brands will be watching developments closely.
In March, Swedish fast fashion retailer H&M Group emphasised its long-term commitment to China, after coming under fire from Chinese consumers over its stance on forced labour in cotton-hub Xinjiang.
Zhao Yan has said he hopes they will sign onto the new certification scheme. Indeed, he believes they will benefit from the system, which will help them track their cotton, from field to spinning factory.
A commenter on the Baidu news feed page, displaying an article about 'Wei Lai Cotton,' suggested that all foreign fashion brands seeking to sell in China be required to have the Wei Lai Cotton certification.
Certification agreements
Other certifications have also been afoot. In April, the China Cotton Association signed certification agreements with six cotton firms who are now participating in the China Cotton Sustainable Development Programme (CCSD).
The six companies – they include Xinjiang Guoxin Seed Co and Xinjiang Guotai Cotton Industry Co – have committed to a series of sustainability goals, one of which is 'respect for labour.' Another is 'reduction of pollution.'
Also in April, leading Chinese sportswear brand 361 Degrees International signed a memorandum of understanding with the China Cotton Industry Alliance (CCIA) to source Xinjiang cotton.
Zheng Ye Xin, brand manager at 361 Degrees, told Xinjiang TV in March that the company hoped to have more opportunities to supply more Chinese cotton in quality garments. Also appearing at the signing was the (ethnic Kyrgyz) Xinjiang basketball star Kyranbek Makhan who posed with a banner stating 'We Support Xinjiang Cotton.'
The basketballer's endorsement is part of a massive campaign orchestrated on state media and social media. Another celebrity championing that slogan is microblogger Sima Nan, known for his loud support of the Communist Party. His daily broadcasts have called for "support for Xinjiang cotton" and boycotts of international brands declining to use it.
Domestic support
Building domestic support for Chinese-made clothing and textiles may become increasingly important, since China's large textiles and yarn spinning industry faces falling export demand amid the US department of labour's blacklist of countries and commodities tainted by forced labour.
In February, the US passed a Withhold Release Order (WRO) under which it could ban the import of products produced anywhere in the world that had links to forced labour in Xinjiang.
And it most recently blocked a shipment from Fast Retailing's Uniqlo brand on the back of concerns its supply chain has ties to forced labour in Xinjiang, China.
Ironically, the focus on Xinjiang cotton may also be driving demand for US cotton in China – which, under the trade deal with the Trump administration, committed to increasing its purchases of American agricultural products.
US cotton exports to China totalled approximately 884,000 tonnes from August 2020 to February 2021, up from 154,000 tonnes during the same period in the previous marketing year, according to the US department of agriculture (USDA). It is predicting Chinese demand for American cotton will increase this year in line with a recovering global economy.
See also: Fashion firms urged to resist China boycott threats