just-style authors and correspondents
Bill Corcoran
Articles by Bill Corcoran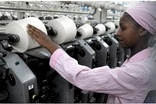 SOURCING: African apparel makers must plan for renewed AGOA 24 June 2014
There are growing opportunities in the US for African clothing and textile producers, but a long-term preferential trade agreement is needed for them to develop supply chains that can meet demand, industry experts at the Source Africa trade show have said.
---

Malawi beset by challenges despite AGOA provision 6 January 2014
A decision last year by the US government to restore the third country fabric provision under the African Growth and Opportunity Act (AGOA) was welcomed by Malawi's government. But serious challenges have undermined the country's ability to take advantage of it.
---

Investment key to Africa's clothing industry growth 16 April 2013
Africa's beleaguered clothing and textile industry could take advantage of a projected downturn in exports from Chinese manufacturers - but only if a wide range of reforms are implemented locally, according to industry experts at the Source Africa trade event in Cape Town last week.
---