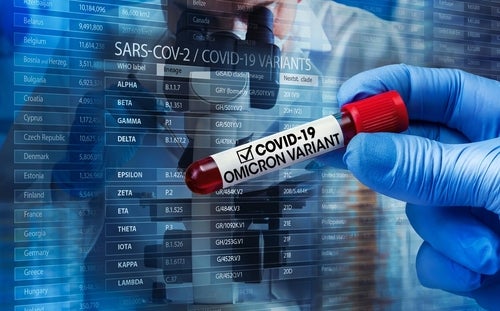 Concerns over the latest Covid variant, Omicron, are growing with a number of governments increasing restrictions and leading apparel sourcing country China placing up to 13 million people into lockdown in the city of Xi'an due to a recent outbreak.
It is almost two years after Covid-19 started to wreak havoc on apparel supply chains and as we start to learn more about this new variant that is quickly becoming the dominant strain across the globe, Just Style finds out if the apparel sector is prepared for it and what effect it could have on supply chains moving forward.
Don't panic about the impact of Omicron on apparel supply chains just yet, says Dr Lu
Dr Sheng Lu, associate professor of fashion and apparel studies at the University of Delaware explains the new Omicron variant will add new uncertainties and pressures to the apparel supply chain, however he is positive there is no need to panic, at least in the short run.
He says: "On the one hand, consumers' demand for clothing likely will still follow a seasonal pattern. For example, there is no sign that the rising Covid cases in the US have negatively affected consumers' enthusiasm for holiday clothing shopping. Meanwhile, January and February will be a light season for clothing sales anyway. Also, consumers can more easily purchase clothing online or through their apps today, making the demand side more resilient than at the beginning of the pandemic."
He points out that on the supply side, most leading apparel-producing countries, especially those in Asia, are yet to be much affected by Omicron.
Another plus-point he says, is the lunar new year, which is celebrated in many parts of Asia, including China and Vietnam. It means that apparel production will typically slow down until late February or early March 2022.
He adds: "This seasonal factor creates a unique "buffer zone" for these apparel-producing countries to have some flexibilities to overcome the potential supply chain disruptions caused by Omicron."
Dr Lu also provides a warning, however, that we should not rule out the possibility of Omicron resulting in longer-than-expected new lockdowns.
He points out: "Studies show that lockdown measures will be most devastating to the apparel supply chain, causing disruptions from raw material supply to a significant labour shortage."
However, Dr Lu firmly believes that Governments should do their best to avoid shutting down factories.
A lack of vaccinations in export garment countries could prove problematic, says Antoshak
Industry consultant Bob Antoshak is quick to add that a lack of facts make it difficult to know what impact Omicron will have on apparel supply chains.
He says: "With a lack of facts available to ascertain the potency of the Omicron variant of Covid, it's hard to quantify the impact the bug will have on supply chains for some time yet. However, the fear of the variant has put many companies on notice."
Antoshak explains, however that fear and uncertainty can lead to changes in human behaviour.
He says: "Make no mistake, fear remains a prime motivator of human behaviour. As such, I expect precautions will be taken by companies to plan for the worst and be hopeful that the variant proves to be less of a threat than fear alone would suggest."
Antoshak also makes a strong and valid point about countries who are not vaccinated against the latest Covid variant, which is said to be more infectious than previous ones.
He concludes: "Countries that are less vaccinated than others may find themselves more vulnerable to the variant — which could prove problematic for developing countries that export garments to buyers around the world."
Click here to read Just Style's Covid apparel supply chains timeline.