Five key costs linked to poor product quality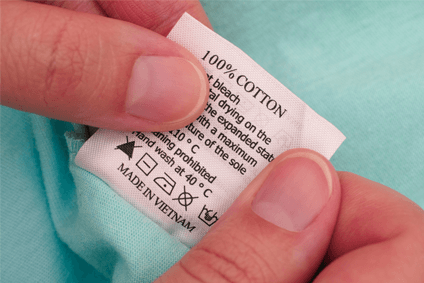 If a garment is incorrectly labelled, the customer may ask for it to be reworked
For consumer-driven, competitive apparel and footwear companies, product quality is critical. When managed well, it can improve your brand image, strengthen your consumer relationships, and reduce your operational and financial costs.
Conversely, poor product quality can obstruct your long-term growth, damage profitability – or worse. In fact, companies lacking effective quality management often have a cost of poor quality equal to 20% of sales or more, according to an American Society for Quality guide.
To reduce your product cost of poor quality – and its corrosive impact on your bottom line – you must accurately understand, measure, and minimise five key costs: chargebacks, product returns, rework costs, freight costs, and lost sales.
1: Chargebacks
In today's challenging retail environment, where consumers are demanding more value for their purchases, retailers are rightly requesting substantial chargebacks for un-conforming products. Consequently, you may have received a claim for $25,000, $50,000 or more for even the slightest of product variances. If you haven't, it is likely a matter of when, not if.
2: Product Returns (replacement or cancelled orders)
If a customer chooses not to keep a defective shipment of garments or shoes, at best you may be able to negotiate a quick replacement. At worst, you receive a cancelled order. Either way, the lost gross margins from product returns often have a much larger impact on profitability than many brands realise.
3: Rework Costs
If you ship a defective product, the customer may ask for it to be reworked in your warehouse. Suppose a garment is incorrectly labelled. You may need to spend $1, $2 or more per piece to open the packages, cut out old labels, print and attach new labels, and ship it back to the customer. Further, if the product itself needs rework, the repair cost at a local rework facility can easily exceed $3 per piece.
4: Freight Costs
Defective products regularly yield tremendous freight costs, from additional in-land freight needed to pick up defective products from unsatisfied customers, to airfreight used to deliver replacement products on time. For example, if you deliver a defective product for a top customer's key campaign, rushing just one replacement production order may require hundreds of thousands of dollars in airfreight.
5: Lost Sales (probation or permanent loss of customer)
A pattern of defective shipments may lead a major retailer to put you on probation, lowering your subsequent order volumes. If the retailer represents a significant portion of your sales, the cost of this action can be devastating. Even worse, the retailer may decide to sever the relationship altogether.
The compounding cost of poor quality
As if chargebacks, product returns, rework costs, freight costs and lost sales aren't damaging enough, problems in your processes, practices or functions can further increase your cost of poor quality – generating a wide range of additional costs.
For instance, consider the effect of a continued weakness within invoicing and logistics. The error may result in shipments of the wrong product, yielding higher freight costs, chargebacks and even lost sales.
Meanwhile, errors in product development, such as inadequate first samples, may result in a host of additional costs. More money must be spent on couriers and redevelopment, with compounding errors leading to production delays, chargebacks, and cancelled orders.
Employing corrective action plans
To effectively decrease your product cost of poor quality, you should not only track the five key costs and identify errors in your supply chain, but also employ corrective action plans. In addition, you must invest in hiring process-minded professionals who can work with your factories to implement effective quality systems.
After all, the true cost of poor quality can be staggering, and there is no legitimate alternative to confronting it. Costs are never simply "passed on to the factories," as factories just respond by "padding" their future costs per piece to maintain their financial viability.
The only effective course of action is to employ true quality management, allowing you to optimise quality, minimise errors, and save millions of dollars for your company and shareholders.
About the author: Jose R Suarez is the founder and CEO of Impactiva, a world-leading quality and supply chain optimisation solution provider for the apparel, footwear, and leather goods industries.
Oops! This article is copy protected.
Why can't I copy the text on this page?
The ability to copy articles is specially reserved for people who are part of a group membership.
How do I become a group member?
To find out how you and your team can copy and share articles and save money as part of a group membership call Sean Clinton on
+44 (0)1527 573 736 or complete this form..