How to cut costs in a fashion business – Who decides and where?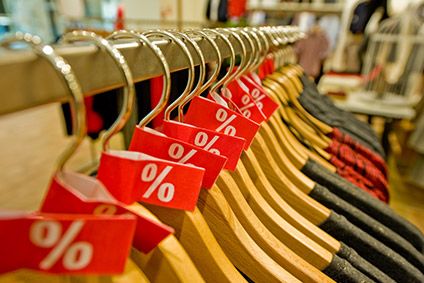 There are various cost cutting options available to fashion businesses
No one enjoys implementing cost cuts. They are an admission that the business has got out of control. But many of us have had to do it at some time or another, writes Malcolm Newbery, who explains some of the methods and tools used to decide – and then take – unpleasant actions.
This article continues the discussion started in 'Profitability benchmarking for fashion management' published on just-style last month.
In order to explain the various cost cutting options, I have created an imaginary, but realistic business. It is a fashion brand that sells:
Wholesale to 400 stockist accounts across the world;
Retail in the UK, Asia and US from 100 physical stores;
On its own e-commerce website to around 100,000 customers generating 10% (and a growing %) of physical retail sales.
The total value of the company's turnover is a little over GBP100m. It has been analysed in more detail in the first article on Profitability Benchmarking. To service this level of business it employs almost exactly 1,000 staff, some salaried, some paid weekly for clerical work, and some paid hourly (the warehouse). There are also commission-based wholesale agents around the world. The business designs, develops, buys, sells and delivers its fashion merchandise:
To wholesale customers around the world;
To its retail stores in UK, Asia and US;
Direct to its individual e-commerce (D2C) customers.
The organisation chart above in Figure 1 shows how the company is structured. Five functions report to a chief executive, with some of these having more than one responsibility:
The retail director has responsibility for HR, as its work is heavily skewed towards the shops;
The head of wholesale also oversees e-commerce;
The buying and merchandising director runs the warehouse because he is responsible for stock;
The finance director manages IT support for everyone;
Brand includes marketing and design.
The chart also shows that there are six levels of seniority: directors (there are 4); heads of (2); senior management (31); junior management (129, of which 95 are shop managers); clerical workers (782 of which 750 are shop assistants); hourly paid workers (51 in the warehouse).
It's all gone wrong!
Tables 1-3 set the scene for the last two seasons autumn/winter and spring/summer.
| | | | |
| --- | --- | --- | --- |
| | Autumn/winter – Budget (GBPm) | Autumn/winter – Actual (GBPm) | Autumn/winter – Variance (GBPm) |
| Sales at full price, retail | 52.00 | 50.90 | -1.10 |
| Sales at wholesale prices | 3.20 | 3.25 | 0.05 |
| Sales through retail ecommerce | 5.00 | 4.82 | -0.18 |
| Total sales at full price | 60.20 | 58.97 | -1.23 |
| Sales excluding VAT | 50.17 | 49.14 | -1.03 |
| Markdown losses | 2.51 | 2.60 | 0.10 |
| Net sales after markdowns | 47.66 | 46.54 | -1.12 |
| Cost of sales (purchases) | 18.76 | 18.42 | -0.34 |
| Achieved gross margin | 28.90 | 28.12 | -0.78 |
| Overhead costs | | | |
| >>Retail space cost | 8.10 | 8.15 | 0.05 |
| >>Retail staff cost | 12.40 | 12.45 | 0.05 |
| >>Head office staff cost | 4.85 | 4.80 | -0.05 |
| >>Head office other costs | 2.40 | 2.45 | 0.05 |
| Total overhead costs | 27.75 | 27.85 | 0.10 |
| Operating profit before interest and tax | 1.15 | 0.27 | -0.88 |
As can be seen from the bottom of Table 1 (above), the operating profit for autumn/winter failed to reach the budget by GBP0.88m (76.72% off the budget). The end result was caused by a number of adverse factors, mitigated by a few positives. The adverse factors were:
Physical store retail sales down;
E-commerce sales down;
Markdown losses slightly worse than budgeted;
All overhead costs except head office staff higher than budgeted.
Individually, each variance was quite small. Together they affected operating profit significantly. At the time, management took the view that all of these factors were minor and that working to achieve the spring/summer budget was the company priority.
However, spring/summer got worse, not better, as Table 2 shows below.
| | | | |
| --- | --- | --- | --- |
| | Spring/summer – Budget (GBPm) | Spring/summer – Actual (GBPm) | Spring/summer – Variance (GBPm) |
| Sales at full price, retail | 48.00 | 46.45 | -1.55 |
| Sales at wholesale prices | 2.80 | 2.70 | -0.10 |
| Sales through retail ecommerce | 5.00 | 5.10 | 0.10 |
| Total sales at full price | 55.80 | 54.25 | -1.55 |
| Sales excluding VAT | 46.50 | 45.21 | -1.29 |
| Markdown losses | 2.33 | 2.40 | 0.07 |
| Net sales after markdowns | 44.18 | 42.81 | -1.36 |
| Cost of sales (purchases) | 17.33 | 16.84 | -0.49 |
| Achieved gross margin | 26.85 | 25.97 | -0.87 |
| Overhead costs | | | |
| >>Retail space cost | 8.15 | 8.15 | 0.00 |
| >>Retail staff cost | 12.10 | 12.15 | 0.05 |
| >>Head office staff cost | 4.85 | 5.05 | 0.20 |
| >>Head office other costs | 2.40 | 2.44 | 0.04 |
| Total overhead costs | 27.50 | 27.79 | 0.29 |
| Operating profit before interest and tax | -0.66 | -1.82 | -1.16 |
As the variance analysis shows
Both retail shop sales and wholesale sales had adverse variances against budget. Only e-commerce was positive;
Markdown losses again slightly exceeded budget;
Achieved gross margin was down;
All overheads except retail staff costs were higher than budget.
The result was an operating profit loss, worse than that budgeted. A serious blow for the company.
Of course this caused a hue and cry about the reasons. Everything was blamed, from unseasonable weather (a great favourite of retailers), through Brexit uncertainty, to the entire design range being "off trend." But one thing was certain: No action was no longer an option.
When the two seasons were amalgamated to produce an annual picture, as shown in Table 3 below:
All sales have small negative variances;
Markdown losses are worse than budgeted;
Achieved gross margin is down;
Overheads are higher than budget;
A small operating profit has become an operating loss.
| | | | |
| --- | --- | --- | --- |
| | Annual Budget (GBPm) | Annual Actual (GBPm) | Annual Variance (GBPm) |
| Sales at full price, retail | 100.00 | 97.35 | -2.65 |
| Sales at wholesale prices | 6.00 | 5.95 | -0.05 |
| Sales through retail ecommerce | 10.00 | 9.92 | -0.08 |
| Total sales at full price | 116.00 | 113.22 | -2.78 |
| Sales excluding VAT | 96.67 | 94.35 | -2.32 |
| Markdown losses | 4.83 | 5.00 | 0.17 |
| Net sales after markdowns | 91.83 | 89.35 | -2.48 |
| Cost of sales (purchases) | 36.08 | 35.25 | |
| Achieved gross margin | 55.75 | 54.10 | -1.65 |
| Overhead costs | | | |
| >>Retail space cost | 16.25 | 16.30 | 0.05 |
| >>Retail staff cost | 24.50 | 24.60 | 0.10 |
| >>Head office staff cost | 9.70 | 9.85 | 0.15 |
| >>Head office other costs | 4.80 | 4.89 | 0.09 |
| Total overhead costs | 55.25 | 55.64 | 0.39 |
| Operating profit before interest and tax | 0.50 | -1.54 | -2.04 |
But the situation in Table 3 is not the end of the world. One operating loss making year can be tolerated, as long as the business is securely funded. Businesses go broke (Chapter 11 in the US and in administration in the UK) when they run out of cash and the bank will give them no more, not when they make losses. What very recently pushed Jack Wills into a distressed acquisition by Michael Ashley's Sports Direct was the scale of the losses and the haemorrhaging of cash. In the year to 31 January 2018, Jack Wills lost GBP29m on sales of GBP139m. So, its cost of purchases and overheads was GBP168m. The year to 31 January 2019 was certainly worse. The current year worse again. Our company is certainly not finished yet. Time to take cost cutting action.
The cost cut options not to follow
This brings us to the main point of this article. When you have to cut: Whose responsibility is it? Who actually does it? How is it done, and by what rules and methods?
I will argue that when so many of the benchmarks are being missed, the responsibility lies with the chief executive. The scenarios in Tables 1-3 point the finger in so many different directions that there can be no one scapegoat. So we are not going to blame the design team for two poor ranges, and just tell them to produce a better one. Besides, in most fashion retailers, it is not the sole responsibility of design. Input into the ranges is taken from the buying and merchandising department, the retail store management, and the wholesale agents who have to show ranges to customers. In the best e-commerce businesses, the range is pre-showed to loyal customers who form a focus group.
Some data analytics software companies argue that the answer lies in bringing the worst performers in any part of the business up to the standard of at least the average, or the top or second quartile. I disagree with that as well. There are many reasons why a particular retail area or wholesale country market will not or cannot be made better. This approach has the same fallacy as the SWOT theory analysis. It tells you to "turn your weaknesses into strengths." If you are weak somewhere, there is probably a reason, and the solution is to get out of what you are not good at (not waste time and effort trying to do it better).
Nor should we just push up the various sales based benchmarks outlined in the first article. There is no reason to suppose that we can improve shop sales densities, nor expect direct e-commerce consumers to pay more, and equally not do the same to wholesale accounts without getting an elasticity of demand backlash. I am afraid the most natural solution is to cut the things we are in control of: namely costs.
The cost cut routes to actively consider
The first is the cost of sales (purchases). Actively instruct the buying and merchandising team to obtain lower costs from suppliers. But these rarely come from just banging the table or threatening suppliers, although I have seen many retailers try that. The answer has to be to compromise by using what the industry calls garment engineering. Take out garment detail and reduce the sewing time. Use cheaper fabric and hope the customer will not notice or not care. Simplify the entire garment construction. And, as a last resort, desert trusted suppliers and move to lower cost countries.
The second is to attack retail staff costs. There are a number of ways of doing this, from gentle to draconian:
The most gentle is natural wastage. It will take time, and will not save you much.
Second is a small reduction, based on last in, first out. An easy solution, but it ignores staff abilities.
Third is an arbitrary % staff cull. But who chooses who will be culled?
Fourth is delayering. Take out some of our six layers of job seniority. This is a common solution, but it requires systems and process change behind it.
The third area for cuts is the warehouse; change processes to cut staff costs. This is emotionally easy for head office. Very few people love the warehouse: their processes are relatively simplistic; and they are usually physically far away from the centres of decision making. I believe this is a cop out.
The fourth – and one than many companies are terrified of contemplating – is to downsize head office to reduce its staff cost. They are terrified because cutting head office needs more than just process simplification. It requires a practical approach to a new buzzword: Business Transformation.
How much can we expect from this? It depends on the methods chosen. A weak approach might generate savings of 2% of staff costs, hardly affecting operating profit. A draconian approach might generate 10% of staff costs, enough to make a big impact on overhead costs but at an unknown danger to the stability of the business.
Business transformation
Let's go back to Business Transformation, a recent buzzword that in my view has not been thought through by many who use the term. If this is to be more than just internal cost cutting, it has to mean "stop doing the things the company does badly and loses money on."
In this article, I can only hazard a guess on what the areas might be that are ripe for Business Transformation. The third article will develop these ideas. I am suggesting that it is unlikely to include the e-commerce function, because it is growing. Therefore the e-commerce staff are safe.
But it could include:
Parts of wholesale, if there are geographic regions that, treated as separate business, do not cover the costs of agent's commissions, cash collection, marketing support, and warehouse processing and transport.
Parts of physical retail, either regions of the UK domestic market, or overseas countries or territories.
In other words, no-one is safe. This approach changes the thrust from a functional review of cost areas, to a holistic view of the company as a series of discrete businesses. It can therefore only be undertaken by a taskforce led from the very top by the chief executive because it crosses all cost area borders and requires wide-ranging "what if" thinking outside the box. That will be considered in the third of this series on driving your profitability, not watching it.
To read the other articles in this series, click on the following links:
Create sourcing plans that work
Find new apparel sourcing destinations, assess trade flows and manage tariffs. All in one place.
Oops! This article is copy protected.
Why can't I copy the text on this page?
The ability to copy articles is specially reserved for people who are part of a group membership.
How do I become a group member?
To find out how you and your team can copy and share articles and save money as part of a group membership call Sean Clinton on
+44 (0)1527 573 736 or complete this form..