How Trump's "Tariff Man" tweet roiled the markets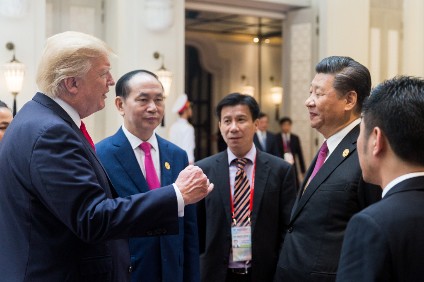 The US and China declared a 90-day ceasefire in the US-China trade war following a meeting between President Trump and President Xi
Fascinating – just a few words escaped from the President's twitter feed and global markets start falling. Given his love for the Christmas season, his love for Brexit, his love for figgy pudding, it's not surprising that he reached for a Beatles song to express his views on trade when he grabbed "I Am The Walrus," writes Rick Helfenbein, president and CEO of the American Apparel & Footwear Association (AAFA).
Didn't you just love those lyrics?
"I am the egg man
They are the egg men
I am the walrus
Goo goo g'joob"
And, now, the President's updated version:
"I am a Tariff Man
They are the tariff men
I am the walrus
Goo goo g'joob"
As thoughts turned to the holiday season, the President tweeted:
....I am a Tariff Man. When people or countries come in to raid the great wealth of our Nation, I want them to pay for the privilege of doing so. It will always be the best way to max out our economic power. We are right now taking in $billions in Tariffs. MAKE AMERICA RICH AGAIN

— Donald J. Trump (@realDonaldTrump) December 4, 2018
Whoa...not so fast Tariff Man.
While the administration is using tariffs to get China's attention about theft of intellectual property, why borrow a song to make your point – especially if the point is not true. We are NOT taking in billions (from China) with the tariffs, we are simply forcing Americans to take money out of their pockets and hand it over to the US Government. Tariffs are a tax on the American public, not a tax on China.
But, President Trump loves a good TARIFF – and, in fact, he is the Tariff Man!
He was the Tariff Man on 2 September 1987 when he ran a print ad that said (among other things): "Tax these wealthy nations, not America. End our huge deficits, reduce our taxes, and let America's economy grow unencumbered by the cost of defending those who can easily afford to pay us for the defense of their freedom."
He was the Tariff Man on 14 January 2016, when Fox's Neal Cavuto was moderating the sixth Republican debate in Charleston, North Carolina.
"Mr Trump, sometimes maybe in the heat of the campaign, you say things and you have to dial them back. Last week, The New York Times editorial board quoted you as saying you would impose "up to 45% tariff on Chinese goods."
Candidate Trump replied: "That's wrong. They were wrong. It's the New York Times, they are always wrong."
The next day, The NY Times posted an audio of the interview and Candidate Trump had said: "I love free trade, but it's gotta be reasonably fair. I would do a tax. And let me tell you what the tax would be, the tax would be 45 percent."
"I am a tariff man
They are the tariff men
I am the walrus
Goo goo g'joob"
So why did the global stock markets sink...just when things looked like they were about to stabilise? Chairman Powell (of the Fed) had indicated that interest rates were somewhat below neutral, and President Trump and President Xi had just concluded an excellent dinner trade truce in Argentina.
In fact, the situation started to unravel with four mixed messages from the Trump team:
Message #1 – President Trump's tweet about being a "Tariff Man" indicated that he plans to tariff – no matter what the outcome.
Message #2 – President Trump indicated that China would eliminate tariffs on US vehicles headed into China. Without confirmation from China, the administration was forced to backpedal the concept.
Message #3 – Larry Kudlow, director of the National Economic Council, said the 90-day truce would start on 1 Jan – but later on the same day, the White House had to correct that statement, as the clock was already in motion.
Message # 4 – On another day, as Larry Kudlow appeared on CNBC being totally optimistic about the China talks, Peter Navarro was on CNN warning about raising the tariffs.
Combining all these mixed messages, the markets lost confidence and tanked.
If this trade experience proves one thing and one thing only – both countries are playing with fire and the consequences of no decision, a poor decision, or a mediocre result will be a disaster for the economy and for global economics and global trade.
"I am a Tariff Man
Goo goo g'joob"
But the Tariff Man also loves the holiday season and he loves figgy pudding. We know about that from some insight into the Oval office. In August 2017, it was reported that he said "I want tariffs. I want someone to bring me some tariffs."
So, Happy Holidays everyone. And as we enter a new year of trade disruption, just remember the words:
"Glad tidings we bring
To you and your kin
We wish you a Merry Christmas
And a Happy New Year.
So bring us some figgy pudding
And bring it right here
"I am a tariff man
Goo goo g'joob"
About the author: Rick Helfenbein is president and CEO of the American Apparel & Footwear Association (AAFA) and is a strong advocate for a robust US trade agenda. He lectures frequently about politics and international trade and has appeared on CNN, CNBC, Fox, BBC, and Bloomberg. Follow him on Twitter @rhelfen
Create sourcing plans that work
Find new apparel sourcing destinations, assess trade flows and manage tariffs. All in one place.
Oops! This article is copy protected.
Why can't I copy the text on this page?
The ability to copy articles is specially reserved for people who are part of a group membership.
How do I become a group member?
To find out how you and your team can copy and share articles and save money as part of a group membership call Sean Clinton on
+44 (0)1527 573 736 or complete this form..