H&M Hennes & Mauritz AB
Apparel and textile industry company news
Latest Articles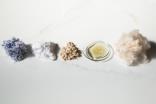 EU backs New Cotton Project in fight against textile waste Beth Wright | 24 Nov 20
The European Union is pumping EUR6.75m (US$8.01m) into a new project that aims to offer a valuable solution for textile waste and an alternative to the fashion and textile sectors' reliance on virgin materials like cotton.
---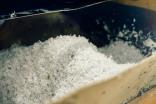 H&M inks five-year Circulose supply deal with Renewcell Beth Wright | 19 Nov 20
Swedish fashion group H&M has struck a multi-year agreement with Renewcell which will see the textile recycling company supply it with thousands of tonnes of its pioneering virgin quality Circulose fibres made from unusable textile waste.
---
H&M uses warming technology for new line Michelle Russell | 10 Nov 20
Swedish fashion retailer H&M has launched a range of men's layering pieces that use lightweight technology for warmth.
---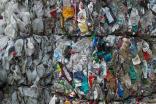 Apparel retailers among firms urged to step up plastic waste goals Hannah Abdulla | 9 Nov 20
Businesses are being urged to set ambitious plastic waste reduction targets and take bold action on unrecyclable packaging types by either executing a credible roadmap to make recycling work, or decisively innovate away from them, as a new report shows limited progress has been made on increasing recyclability of plastic packaging and reducing the need for single-use packaging altogether.
---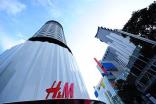 H&M Group names new sustainability boss Beth Wright | 6 Nov 20
H&M Group has named Leyla Ertur as its new head of sustainability, succeeding Anna Gedda who has led the company's sustainability initiatives since 2014.
---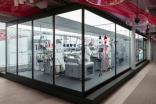 H&M to debut in-store garment-to-garment recycling Beth Wright | 9 Oct 20
The first retail model of the garment-to-garment recycling system pioneered by the Hong Kong Research Institute of Textiles and Apparel (HKRITA) is to make its debut in an H&M store in Sweden.
---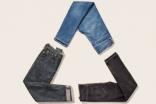 H&M rethinks denim production with Jeans Redesign collection Beth Wright | 6 Oct 20
Swedish fashion giant H&M is to launch a new menswear denim collection in line with its membership to the Ellen MacArthur Foundation's Jeans Redesign initiative which aims to help fashion brands and manufacturers transform the way they produce jeans by tackling waste, pollution, and the use of harmful practices.
---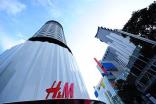 H&M to close 250 stores next year as transformation accelerates Beth Wright | 1 Oct 20
Swedish fashion giant H&M Group will shutter about 250 stores next year as it steps up the pace of its transformation work following the impact of the Covid-19 pandemic, which has led to a boom in online shopping.
---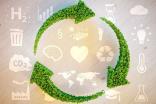 Inditex and H&M join call for EU to cut emissions by 55% Michelle Russell | 17 Sep 20
More than 150 businesses, investors and business networks, including Inditex, H&M and VF Corp, are calling on European Union leaders to reduce greenhouse gas emissions by at least 55% by 2030.
---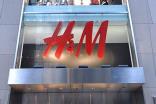 H&M quits Xinjiang yarn mill amid forced labour allegations Hannah Abdulla | 16 Sep 20
Swedish clothing retailer H&M Group is cutting ties with a yarn mill in Xinjiang with which it had an "indirect relationship" after it was alleged to be engaged in forced labour.
---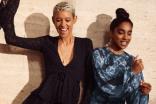 H&M heads for Q3 profit on better than expected recovery Beth Wright | 15 Sep 20
H&M Group expects to return to profit in the third quarter, with preliminary results showing the Swedish fashion giant's recovery from Covid-related store closures is better than anticipated thanks to more full-price sales and strong cost control.
---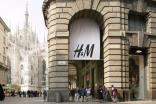 H&M sets goals to target biodiversity loss Hannah Abdulla | 15 Sep 20
Swedish fashion giant H&M Group has set two goals in a bid to fight biodiversity loss in line with the World Wildlife Fund (WWF) 'Living Planet Report', a comprehensive study of trends in global biodiversity and the health of the planet. 
---
H&M's Cos label launches Resell resale platform Michelle Russell | 8 Sep 20
H&M's Cos fashion label has launched an online clothing resale platform where shoppers can buy and sell pre-loved clothing.
---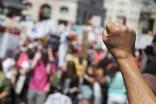 Major brands linked to "union-busting" factories Hannah Abdulla | 5 Aug 20
A number of factories producing garments for several major apparel brands have been accused of exploiting the coronavirus pandemic as an opportunity to sack workers affiliated to unions.
---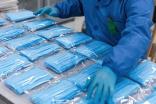 Fashion industry efforts to address global PPE shortages – Update just-style | 27 Jul 20
Texollini, Chargeurs*PCC Fashion Technologies, and Crystal International are among the latest fashion firms to mobilise their production facilities and supply chains to help address the global shortage of personal protective equipment (PPE), including face masks and hospital gowns, amid the coronavirus (Covid-19) pandemic. 
---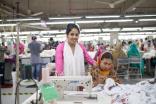 H&M Foundation to support female garment workers in Bangladesh Beth Wright | 10 Jul 20
H&M Foundation is to donate SEK12m (US$1.3m) to help young women and their families in and around Dhaka with emergency relief from the Covid-19 pandemic as part of a long-term project to support female garment workers in Bangladesh.
---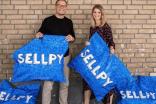 H&M 'pre-loved' clothing shop debuts in Germany Hannah Abdulla | 1 Jul 20
Swedish retailer H&M has taken its online second-hand clothing shop Sellpy to Germany as consumers express a stronger desire for sustainable fashion consumption.
---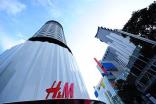 H&M to accelerate online as Q2 profit evaporates Beth Wright | 26 Jun 20
Retailer H&M Group is to accelerate the integration of its physical store and online channels after seeing second-quarter sales of its trend-led fashions halved and profit wiped out by Covid-19 lockdowns and store closures.
---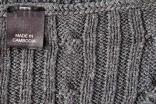 Brands re-evaluating Cambodia sourcing strategy Hannah Abdulla | 24 Jun 20
European garment brands including H&M are weighing up what their future sourcing strategies in Cambodia will look like as the country looks set to be partially stripped of its Everything but Arms (EBA) trade benefit in August.
---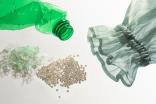 H&M Group signs circular economy pledge to "build back better" Beth Wright | 17 Jun 20
Swedish fashion giant H&M Group has signed a new pledge committing to accelerate the transition to a circular economy – which environmental sustainability manager Cecilia Brannsten tells just-style will be key to enabling a more resilient future for fashion.
---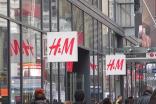 Q2 sales halve at H&M amid varied recovery Beth Wright | 15 Jun 20
Group sales at Swedish fashion retailer H&M have halved in the second quarter as the coronavirus pandemic saw about 80% of its store portfolio shuttered by the middle of the period. 
---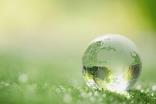 H&M, Inditex in UN push to governments for climate change action Hannah Abdulla | 20 May 20
More than 150 companies including the likes of H&M, Burberry, Inditex, and zipper manufacturer YKK Corp, have backed a UN statement urging governments to align their Covid-19 economic aid and recovery efforts with the latest climate science.
---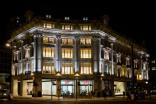 H&M warns of Q2 loss as sales more than halve Hannah Abdulla | 7 May 20
Swedish clothing brand H&M says its sales have fallen 57% between 1 March and 6 May compared with the same period a year earlier and warns its second-quarter will be "loss-making".
---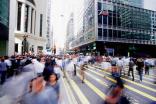 Global retail staff and salary reductions amid Covid-19 – Update just-style | 1 May 20
As the impact of the coronavirus pandemic spreads across the apparel and footwear industry, brands and retailers are moving from store closures to worker lay-offs or furloughs, as well as executive pay cuts. Here are the latest:
---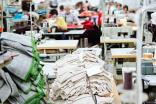 How brands are tracking labour and safety violations Hannah Abdulla | 24 Apr 20
Seven years after the deadly Rana Plaza factory building collapse in Bangladesh, research suggests that while there has been progress in factory safety, there have also been deteriorations in labour rights and the abuse of female ready-made garment (RMG) factory workers. Here we explore how brands and retailers can ensure workers in factories overseas are being treated fairly – and how predictive analytics can help manage social and labour compliance.
---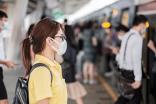 Global retail closures as coronavirus spreads – Update just-style | 15 Apr 20
A raft of apparel and footwear brands and retailers including Next Plc, Primark, H&M, Nike and Gap Inc, are temporarily closing stores and suspending online operations as part of efforts to help limit the spread of the coronavirus (Covid-19) outbreak. 
---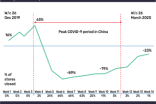 H&M's China recovery paints a bleak picture for retailers Leonie Barrie | 14 Apr 20
An analysis of H&M's weekly sales in China shows that recovery from the Covid-19 lockdown has been slow, painting a cautionary picture for other retailers post-pandemic.
---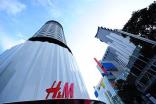 H&M Q1 profit soars but braces for Covid-19 fallout Beth Wright | 3 Apr 20
Profit at H&M has more than doubled in the first quarter – but the Swedish fashion retailer is bracing itself for the months ahead, with the global Covid-19 pandemic behind a 46% slump in net sales during March.
---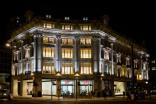 H&M agrees payment to suppliers for cancelled orders Michelle Russell | 31 Mar 20
Swedish apparel retailer Hennes & Mauritz (H&M) has said it will pay and take delivery of goods already manufactured by its suppliers, as well as those in production.
---
H&M mulls job cuts as virus impact grows Hannah Abdulla | 24 Mar 20
Swedish fashion retailer H&M Group is mulling job cuts as the global spread of coronavirus continues to impact its operations.
1
...