Hot Topic Inc
Apparel and textile industry company news
Latest Articles
Delta Apparel expands digital print business Hannah Abdulla | 13 Oct 20
Delta Apparel is expanding its digital print business with the opening of its first 'On Demand DC' in partnership with DTG2Go so brands and retailers can grow their business utilizing an integrated, on-demand fulfilment model.
---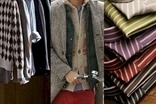 INTERVIEW: Hampshire Group CEO hails turnaround progress Leonie Barrie | 27 Aug 14
Hot on the heels of expanding its Dockers brand license agreement with Levi Strauss & Co for the third time in four months, Hampshire Group CEO Paul Buxbaum is optimistic the company turnaround is starting to take hold. Here he talks to just-style about new opportunities and on-going efforts to leverage the firm's supply chain.
---
US: Sourcing improvements push Hot Topic Q1 profit up Michelle Russell | 18 Jun 14
Improvements in sourcing initiatives and productivity helped teen apparel retailer Hot Topic record an earnings increase in its first-quarter.
---
US: Private equity firm to relaunch Coldwater Creek Katie Smith | 9 Jun 14
Troubled women's wear retailer Coldwater Creek will be relaunched as an independent company as part of a deal with private equity firm Sycamore Partners, which has acquired the brand and other intellectual property.
---
US: Jones Group snapped up by Sycamore Partners Michelle Russell | 20 Dec 13
US clothing and footwear company The Jones Group is to be bought by private equity firm Sycamore Partners in a deal worth US$2.2bn.
---

Spotlight on...Can Sycamore turn Jones Group fortunes around? Michelle Russell | 20 Dec 13
Jones Group shares jumped nearly 5% in late trading yesterday (19 December) on the long anticipated news the struggling US clothing and footwear firm is finally set to get a new owner.
---
US: Sycamore Parners completes $600m Hot Topic buyout Katie Smith | 13 Jun 13
Private equity firm Sycamore Partners has completed its US$600m buyout of teen apparel retailer Hot Topic.
---
Apparel software trends: Tackling the challenges Leonie Barrie | 2 Apr 13
Faced with a raft of challenges across the apparel supply chain, how can software help tackle the key issues? Tools that connect all trading partners, streamline the end-to-end process, and give industry leaders the flexibility and time to address everything from new opportunities to unexpected events can all contribute to a competitive edge.
---
US: Hot Topic Q4 profit surges on higher sales Katie Smith | 14 Mar 13
Teen apparel retailer Hot Topic has reported a 34.4% increase in its fourth-quarter profit, driven by higher sales.
---
US: Hot Topic names new COO and CFO Katie Smith | 11 Mar 13
US teen apparel retailer Hot Topic has announced the appointment of two executives - Don Hendricks as chief operating officer and George Wehlitz as chief financial officer.
---

US: Sycamore Partners to acquire Hot Topic for $600m Katie Smith | 7 Mar 13
Teen apparel retailer Hot Topic is set to be acquired by private equity firm Sycamore Partners for around US$600m.
---
US: Hot Topic CFO McGinty to step down Katie Smith | 22 Jan 13
Hot Topic chief financial officer Jim McGinty is to step down from the apparel and accessories retailer.
---
US: Hot Topic forecasts 30-35% earnings rise in 2013 Petah Marian | 3 Jan 13
US teen apparel retailer Hot Topic today (3 January) revealed that it expects 2013 earnings to rise 30-35% over fiscal 2012 as it works to open new stores.
---
US: Hot Topic Q3 profit up on sales rise Katie Smith | 15 Nov 12
Teen apparel retailer Hot Topic has booked a 38% rise in third-quarter net profit on the back of higher sales of new fashion-forward merchandise.
---
US: Hot Topic to test Blackheart lingerie concept Katie Smith | 5 Nov 12
Teen apparel retailer Hot Topic is testing the lingerie market with the launch of five mall-based stores ahead of the holiday season under the Blackheart banner.
---
US: Hot Topic Q3 comparable sales rise 0.2% Katie Smith | 1 Nov 12
US apparel retailer Hot Topic has seen its third-quarter comparable sales edge up 0.2%.
---
UK: September sales growth driven by clothing and footwear Petah Marian | 9 Oct 12
UK retailers saw September sales increase, with growth driven primarily by clothing and footwear sales, according to the latest BRC/KPMG sales monitor.
---
US: Potential exists to develop online footwear sales Richard Woodard | 20 Sep 12
Further opportunities exist to develop online sales for footwear, according to a new report from market research company The NPD Group.
---
US: Hot Topic chief stores officer Cook resigns Katie Smith | 7 Sep 12
Jerry Cook, chief store officer of US retailer Hot Topic, has resigned from the company to pursue other professional opportunities.
---
US: Hot Topic second-quarter losses narrow Petah Marian | 16 Aug 12
Hot Topic saw its losses narrow over the second quarter on the back of rising sales.
---
US: Hot Topic narrows second-quarter loss forecast Petah Marian | 2 Aug 12
Hot Topic has improved its second-quarter loss per share guidance as it said it made "solid gains in licensing"
---
US: Horton to join Hot Topic's Torrid division Katie Smith | 20 Jul 12
US retailer Hop Topic has appointed Kate Horton as vice president and general merchandise manager for its Torrid women's apparel division.
---
US: Fifth Sun Apparel chooses AX ERP tool Leonie Barrie | 19 Jun 12
Private label clothing supplier Gonzales Enterprises, which trades as Fifth Sun Apparel, has selected the Microsoft Dynamics AX ERP solution to manage its supply chain and allow for continued expansion.
---
US: "Sexy" strategy returns Hot Topic to Q1 profit Richard Woodard | 17 May 12
Popular culture-focused retailer Hot Topic returned to profit in its first quarter as sales moved up thanks to a return to its "edgy, dark and sexy core", the company said.
---
just-style management briefing: Apparel supply chain challenges in 2012 Leonie Barrie | 1 May 12
After the turmoil of 2011, the biggest challenges facing the global apparel supply chain in 2012 continue to include rising costs, political and economic uncertainty in both consumer and sourcing markets, the changing role of China, increased competition at retail, pressure to integrate supply chains and the shift towards faster fashion cycles. Against such a background, the ability to quickly adapt to changing conditions and pressures will separate the winners from the losers.
---
US: Hot Topic appoints Kyees to board Petah Marian | 23 Mar 12
US clothing retailer Hot Topic has appointed John Kyees to its board of directors and said he will serve as a member of its audit committee.
---
US: Hot Topic returns to profit in Q4 Richard Woodard | 8 Mar 12
Retailer Hot Topic overturned last year's fourth quarter loss with a net profit of US$9m, despite a slight decrease in sales.
---
just-style management briefing: Retail winners and losers in 2011 Keith Nuthall | 19 Dec 11
While some retailers continued to be vulnerable to cost-cutting, swingeing redundancies and store closures in 2011, others acted swiftly to respond to the changing economic circumstances, offering real value to their customers and embarking on ambitious international expansion.
---
US: Favourable comparisons boost Hot Topic Q3 profit Leonie Barrie | 17 Nov 11
Fashion retailer Hot Topic Inc has reported a surge in third quarter profit, thanks to favourable comparisons with the year-ago period which included an impairment charge for the ShockHound music and merchandise business.
---
US: Hot Topic appoints CEO Harper as chairman Petah Marian | 7 Nov 11
US apparel retailer Hot Topic has named company CEO Lisa Harper as chairman of its board of directors.
1