The apparel industry continues to be a hotbed of innovation, with activity driven by sustainable fabrics and manufacturing practices, and growing importance of technologies such as 3D printing, augmented reality, and big data. In the last three years alone, there have been over 32,000 patents filed and granted in the apparel industry, according to GlobalData's report on Environmental sustainability in Apparel: Heat responsive blended fabrics. Buy the report here.
However, not all innovations are equal and nor do they follow a constant upward trend. Instead, their evolution takes the form of an S-shaped curve that reflects their typical lifecycle from early emergence to accelerating adoption, before finally stabilising and reaching maturity.
Identifying where a particular innovation is on this journey, especially those that are in the emerging and accelerating stages, is essential for understanding their current level of adoption and the likely future trajectory and impact they will have.
20+ innovations will shape the apparel industry
According to GlobalData's Technology Foresights, which plots the S-curve for the apparel industry using innovation intensity models built on over 13,000 patents, there are 20+ innovation areas that will shape the future of the industry.
Within the emerging innovation stage, heat reflector clothing, UV-treated garments, and recycled material shoes are disruptive technologies that are in the early stages of application and should be tracked closely. Arylene nanofibre clothing and blended aramid fire-resistant fabrics are the accelerating innovation areas, where adoption has been steadily increasing. Among maturing innovation areas are anti-microbial undergarment fabrics and breathable sports garments, which are now well established in the industry.
Innovation S-curve for environmental sustainability in the apparel industry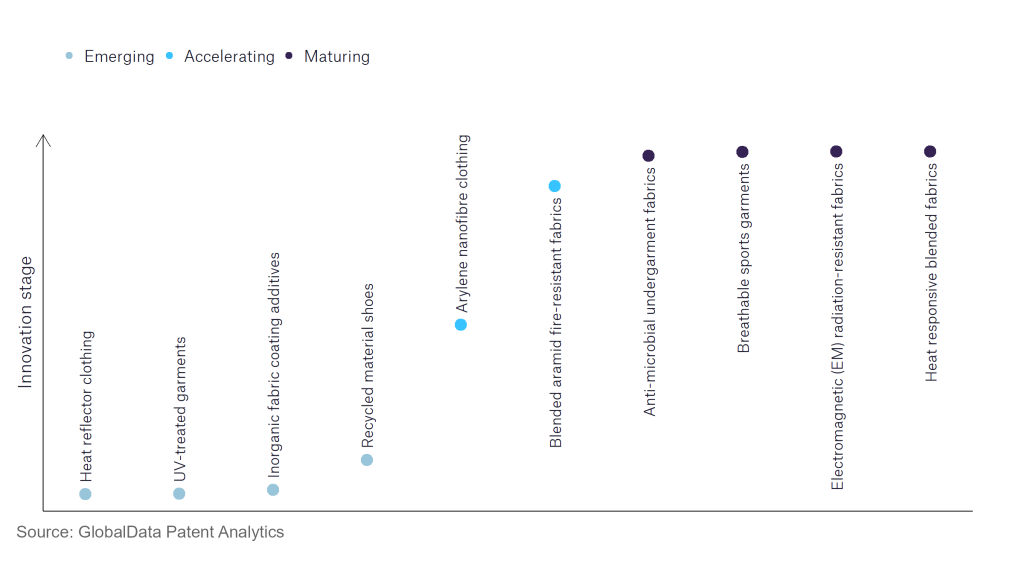 Heat responsive blended fabrics is a key innovation area in environmental sustainability
Heat responsive blended fabrics are a range of textiles produced to adjust to how cold, hot or sweaty the user is and accordingly help them attain the ideal body temperature. Heat responsive blended fabrics are used to provide comfort, moisture management and ease of movement to the wearer, while meeting the intended purpose of maintaining ideal temperature for the user.
GlobalData's analysis also uncovers the companies at the forefront of each innovation area and assesses the potential reach and impact of their patenting activity across different applications and geographies. According to GlobalData, there are 30+ companies, spanning technology vendors, established apparel companies, and up-and-coming start-ups engaged in the development and application of heat responsive blended fabrics.
Key players in heat responsive blended fabrics – a disruptive innovation in the apparel industry
'Application diversity' measures the number of different applications identified for each relevant patent and broadly splits companies into either 'niche' or 'diversified' innovators.
'Geographic reach' refers to the number of different countries each relevant patent is registered in and reflects the breadth of geographic application intended, ranging from 'global' to 'local'.
Patent volumes related to heat responsive blended fabrics
Source: GlobalData Patent Analytics
The companies that lead the heat responsive fabrics space in terms of patents filed are Teijin, DuPont de Nemours, Toray Industries, and B&C Private Foundation. Teijin provides a wide range of products with heat responsive fabrics. In December 2021, Teijin launched Teijin Frontier, a fabric designed to respond to heat and perspiration coming from the wearer's body. The fabric changes its structure three-dimensionally, slightly opening the fabric's stitches to allow the flow of air, making it more comfortable and breathable for the user.
The leading companies in terms of application diversity are Gunze, Panasonic, W. L. Gore & Associates, and Japangoatekkusu.
The major companies in terms of geographical reach are Albany International, Nilit, Gunze, and B&C Private Foundation.
Due to the increasing popularity of sportswear products, clothing brands and fabric manufacturers are working together to design high-performance blended fabrics that can respond to heat, while providing comfort to the users. Heat-responsive fabrics can be designed to showcase different responses based on the user's requirement.
To further understand the key themes and technologies disrupting the apparel industry, access GlobalData's latest thematic research report on Apparel.
Premium Insights
From
The gold standard of business intelligence.
Blending expert knowledge with cutting-edge technology, GlobalData's unrivalled proprietary data will enable you to decode what's happening in your market. You can make better informed decisions and gain a future-proof advantage over your competitors.