Fashion-Enter on a mission to boost made in Britain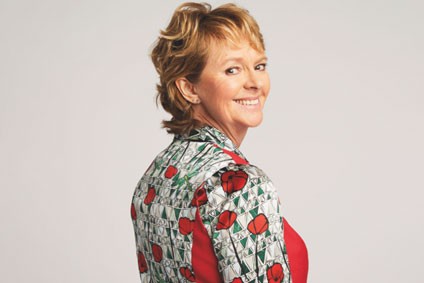 Jenny Holloway, CEO of Fashion-Enter Ltd
Skills training provider and manufacturer Fashion-Enter is gearing up for a busy year, with plans to lead a new fashion academy in Leicester, open a similar site in Wales, and explore the potential of a Foundation to help young people with mental health issues – all while continuing to navigate the impact of the Covid-19 pandemic and Brexit. Speaking exclusively to just-style, director Jenny Holloway outlines her plans for 2021 and explains why it's so crucial to bridge the fashion skills gap in the UK.
The city of Leicester is at the heart of the UK's clothing manufacturing sector, but has found itself under the spotlight in recent years for the poor treatment of textile and garment workers in some of its factories.
Most recently, online fast fashion retailer Boohoo Group has faced scrutiny of its Leicester garment supply chain, where factories were underpaying staff who were working in unsafe conditions and in breach of UK coronavirus lockdowns. The National Crime Agency has also been investigating Leicester's textiles industry over allegations of exploitation.
But there is also hope on the horizon. Earlier this month, Leicester City Council teamed up with training provider and fast-track manufacturer Fashion-Enter and local jerseywear maker Ethically Sourced Products to set up a new textile and clothing skills centre – the Leicester Fashion Technology Academy (LFTA).
The new facility is due to open in early summer. It will deliver apprenticeships and accredited training, and will offer the opportunity to work towards entry-level qualifications in core industry skills including pattern-making, fabric inspection, laying and cutting, machine maintenance, and stitching. Participants can then work towards advanced certificates and progress onto one of Fashion-Enter's apprenticeship schemes for retail/e-tail employers.
"It's great making the announcement; we've now got to make it happen," Holloway tells just-style. This will be Fashion-Enter's second Fashion Technology Academy, joining its original facility in north London.
While the new LFTA will not only help to bridge the UK's fashion skills gap, its location in the heart of the manufacturing district will hopefully go some way to boosting confidence in domestic suppliers, as well as help grow UK apparel manufacturing.
"We've had retailers say they won't work with Leicester. The risk now is so high it is not worth it. So we have to work with [non-compliant factories] to improve them so they are compliant to audits and pass. People need to hold their hands more and support them. But it's also a warning shot to other manufacturers that you have to be compliant. I think the manufacturers are concerned about the detail of audits and what the audits incur but I am totally confident that this is going to work for the benefit of the whole of that community. If I wasn't, I wouldn't be doing the project."
The focus is supporting all the textile and fashion factories in the local cluster, in addition to the surrounding communities. "That will make a huge difference," she says.
The skills gap
Established in 2006, not-for-profit Fashion-Enter offers multiple training and technical skills development services, encompassing the entire design to production cycle. It also provides fast track production for leading retailers, designers and start up own label businesses from facilities in London and Wales.
Holloway says there has been a massive upsurge in interest in UK garment manufacturing for the past 18 months. But she explains that since the heyday of the eighties and early nineties, "when brands like M&S had 94% of ladieswear production made in the UK," the vast majority of apparel manufacturing skills have since been lost.
"We simply lost three decades of skills."
"You've got to think, that's 30 years ago. Everything was going abroad for price advantages and we simply lost three decades of skills.
"But there are still people out there today that have retained all those skills. We try to hang on to them to pass on those skills so we can bring in a new generation to meet the current demand for speed of response fashion."
Part of the problem is that skillsets like stitching, pattern making, and cutting are often overlooked as "less sexy" in comparison to design.
"People will say, 'Oh you need stitching skills, it's easy.' But actually it really, really isn't. We have a very talented workforce in Wales, they're all ex-Laura Ashley, and some of these stitchers have been there for 44 years. In my London factory, 95% are East European and these ladies have literally got 20 years of experience."
It's not just about "pressing the foot pedal to go. It's actually understanding the pieces, the tensions, the right needle for the fabric, the right thread for the needle. And it's actually how they manoeuvre the pattern pieces with the machine, so their hand-to-eye coordination has to be brilliant. It's like anything; the more you practice the better you're going to be if you are taught correctly."
Another bone of contention is related to pay. "I get upset when people think stitching is a low skilled job. It's regarded generally as minimum pay, low pay, and therefore, if it's low pay then it's low skilled. But people don't realise not everybody wants a career. Not everybody wants to own their own business and there are many women who were very happy to come in, do eight hours, earn a decent salary, and have no worries after work. So this is a lifestyle choice for people."
It's a similar story with cutting. "A garment is only as good as you cut it, so if you make a mess of the cutting then all the best machinists in the world can't put bad cutting right. There's a huge shortage of really experienced hand cutters, so there's a lot of work to be done on cutting as well, and even pressing. There is a lot of work to be done on all kinds of skills for garment manufacturing."
The knowledge gap
Holloway also believes there's a knowledge gap with many buyers, who don't understand the real benefits of making in the UK.
"I don't think any of the retailers really appreciate making in the UK and all of the benefits yet."
"We had lots of inquiries but I don't think any of the retailers really appreciate making in the UK and all of the benefits yet." As an ex-senior buyer for Arcadia, she understands the need to chase margins but doesn't think "the knowledge of how the UK works in manufacturing has filtered through to all the levels of buying and senior management.
"Fast track turnaround, smaller quantities, responsive to any new colours that come through during the season are just some of the benefits that far outweigh buying say 2,000 garments from EU that may have transportation delays and certainly has more carbon footprint than buying locally in the UK.
"The latest statistics that we're hearing is that 26,000 containers are stuck in Hong Kong port because of the backlog of Covid. What is that costing retailers in lost sales? They're going to go into spring soon, so are they going to miss a whole season now?
"It takes a brave buying head or executive or director that says, 'No, we are going to commit now to the UK and seeing those advantages properly.'"
She says she's been "really impressed" by online clothing, footwear and homewares retailer N Brown Group, whose new buying head Shailina Parti contacted Fashion-Enter at the end of last year with a clear positive commitment to making in the UK. "We created new fashionable loungewear designs using local fabrics and within just two weeks orders were placed and are now in work. That's how responsive the UK manufacturers can be when the retailer is really supportive."
Brexit
Brexit, of course, is another impact that could make the UK a more favourable manufacturing location again.
Despite red tape such as VAT and EORI customs paperwork, leaving the EU is "a good move for garment manufacturing," Holloway notes. "Think about the delays that occurred at the Channel Tunnel at Christmas and the horrendous backlog there."
There's also a bonus from a transparency point of view.
"We're on the doorstep; I invite all retailers and e-tailers to come and visit us after Covid or visit us virtually now and see for yourselves how strong our systems and processes are."
"We're on the doorstep; I invite all retailers and e-tailers to come and visit us after Covid or visit us virtually now and see for yourselves how strong our systems and processes are. Our quality is excellent and our machinists outstanding. It's very difficult for retailers to check up on transparency of the workforce with any factory that is overseas especially now we've had the air corridors closed to people flying in."
She adds her team have campaigned to get machinists added to the Shortage Occupation List (SOL), which would offer work visas to people moving to the UK, but have not been successful.
"It's just so short-sighted of government that they didn't realise and recognise that people who have these stitching skills are so needed now in the UK. Just because they're at the lower range of the pay scale, they're still skilled; and since Covid, the flexibility of UK manufacturing has really come to light. Farmers manage to have dispensation for picking fruit etc yet we just could not add the machinists on to the Shortage Occupation List. It's so wrong.
"We've still got at least 30 jobs that we could take on in garment manufacturing," Holloway says, adding this is one of the reasons why Fashion-Enter decided to get involved in the Leicester Fashion Technology Academy and why it's planning to open a similar facility in Wales.
In terms of government help, Holloway says more support in technology onboarding is key.
"The biggest area at the moment is R&D. I feel like we are absolutely falling behind with sewbots and artificial intelligence, and we've been quite lucky because being a social enterprise and being a college, we've been able to apply for grants that have allowed us to buy the latest software, like 3D Optitex. We work with quite a few retailers on Optitex and that support needs to be rolled out to everybody, to all manufacturers, with tax breaks to help them with investment."
She also suggests more support regarding apprenticeships, supplying personal protective equipment (PPE) to local manufacturing, and points to the Apparel and General Merchandise Public and Private Protocol (AGM PPP), which commits signatories to improve employment and working conditions and eradicate slavery and exploitation in the apparel and general merchandise supply chains in the UK.
"That's going to be a major piece of work, but in my opinion, the government then needs to make the terms of reference and resulting aims and objectives enforceable. There's no point in having best practices if disreputable manufacturers or even disreputable retailers flout the rules. There needs to be mandatory enforcement of certain areas that can result in fines and/or custodial sentences because areas such as modern slavery have to be discontinued. The government needs to start baring its teeth and supporting new processes and best practices for the industry."
Weathering Covid
Turning to the impact of the Covid-19 pandemic, Holloway says Fashion-Enter has found the UK's current and third lockdown "really difficult."
"We were robust during the first and second lockdowns because we were manufacturing PPE on behalf of Private White but unfortunately that contract finished in December.
"Of course, I do understand that if retailers are facing a decline in sales then there has to be a balance in orders for fast track response however factories need flow. They need continuum. We have almost 200 people that we now employ – we have the overhead structure of four sites so that means retailers need to plan and adhere to production plans.
"It has to be a two-way street and give and take on both sides."
"It has to be a two-way street and give and take on both sides. At the moment we are on shortened hours and it's devastating to see the machinists leaving work early because there are just not enough units going through the factories now. There has to be a level of ownership on the retailers too with ethical buying practices; we almost need to be joined at the hip together and work as one."
Opening new clients N Brown has been a "Godsend" to the company: "We're so grateful for the foresight of Shailina and we need more people in senior buying positions that are prepared to work with UK factories."
Foundation for the future
In addition to plans for a new Welsh Technology Academy, Holloway explains Fashion-Enter is also exploring the idea of launching a Foundation to support young adults with mental health issues.
"Over the last year, there has been a rapid rise in mental health issues of our learners in particular which has been exasperated by Covid and the lockdowns. Our experience at our Fashion Technology Academy has proved time and time again that we can give people hope and a sense of purpose by learning new skills and providing a focus day in and day out.
"People are now talking more openly about mental health wellbeing so we would like to go a step further and review a centre for young adults with mental health conditions. Similar to a Rescue Centre that would also enable people to learn a variety of creative skills such as stitching, printing or even pottery. Without doubt, this will be our next major programme for late 2021.
"I seriously believe that one of our major aims of life is to leave this planet in a better state than when we first joined it. Over the last 15 years of the business, we have helped many people along their careers and paths in life. There is a lot to look forward to and we all need to have that resilience for the future. Covid will pass eventually, and the sun will shine again too."
Create sourcing plans that work
Find new apparel sourcing destinations, assess trade flows and manage tariffs. All in one place.
Oops! This article is copy protected.
Why can't I copy the text on this page?
The ability to copy articles is specially reserved for people who are part of a group membership.
How do I become a group member?
To find out how you and your team can copy and share articles and save money as part of a group membership call Sean Clinton on
+44 (0)1527 573 736 or complete this form..