Speaking with style: Fernando Capellán, founder and president, Grupo M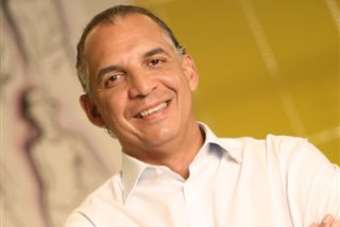 Fernando Capellán, founder and president of Grupo M.
With apparel manufacturing operations bridging the Dominican Republic and neighbouring Haiti, Grupo M's co-production model is an exemplary example of trade preferences in action. Here company founder and president Fernando Capellán tells just-style about the opportunities that lie ahead.

Talking with Fernando Capellán, founder and president of Grupo M, one of the largest apparel manufacturers in the Dominican Republic, the two words that keep cropping up when he discusses the firm's operations in neighbouring Haiti are "huge" and "potential".
Just two years ago, though, Haiti was more likely to have been described as shattered or devastated, after a powerful earthquake killed 300,000 people, destroying countless factories and jobs in the process and putting the brakes on the country's rapid growth as a sourcing destination for many US brands.
But Haiti's star seems to be rising again, thanks to a combination of trade legislation to galvanise US exports, the continuing expansion of its textile and apparel sector - Korean garment maker Sae-A Trading is due to begin production there later this year - and rising interest from retailers seeking local sourcing partnerships.
For Capellán there is no doubt the country has the potential to become a regional export leader.
Indeed, Grupo M has been working in Haiti since 2003, when it set up its own Compagnie Development Industriel (CODEVI) industrial free zone park in Ounaminthe in the northern part of the island, just across the border from the Dominican Republic.
The company currently has 6,500 workers here sewing both knits and wovens, making it one of the largest private employers in the country.
"Haiti is a country lifting itself and in much need of jobs," Capellán explains, adding: "We are committed with our project in Ounaminthe to contribute to the well-being of our employees and the community.
"Even little things that are done can yield big results, and along with the support of our operation in the Dominican Republic we can really make a positive impact."
Trade preferences in action
With operations bridging the two Caribbean countries, Grupo M is able to leverage Haiti's competitive labour costs to create jobs and work alongside a new government whose motto is "open for business."
It is also an exemplary example of trade preferences in action, making the most of the Haitian Economic Lift Program (HELP) Act, which was extended following the earthquake to give apparel buyers and manufacturers alike a good reason to build their businesses there.
Not only does HELP offer duty-free access for some knit and woven apparel products exported to the US until 2020, but uniquely its duty-free benefits apply to apparel articles wholly assembled or knit-to-shape in Haiti - yet made from yarns, fabric, components, sourced from any country, including Asian suppliers such as China.
"The US government was candid enough to allow the co-production model, using the Dominican Republic as a transit country," Capellán notes. "Depending on the products [being produced] we pull different routes of the chain."
Yarns and other raw materials are shipped from all over the world to Grupo M's main hub in Santiago in the Dominican Republic, where 2,500 people work. Here product development and cutting take place; all assembly is then carried out in Haiti; with the goods heading back the DR for washing, finishing and packing. "In underwear we make the fabric and cut in the DR, and then assemble and ship from Haiti because we don't have to do any after-treatment."
The company is increasingly working on items like men's briefs and ladies' panties that use high duty synthetic fabrics, with Capellán reasoning: "Why pay 29-30% duty to the US when you can make it duty-free in Haiti? That makes a big difference."
Sourcing closer to home
Grupo M specialises in circular knits (with a capacity of up to 1.3m garments a month), denim and jeans, and lingerie. It also has an embellishing/printing facility and an industrial laundry. Around 90% of products are shipped to the US where customers include Levi Strauss, Warnaco, Lucky Brand, Dillard's, Hanesbrands, PVH, DKNY, American Eagle Outfitters, Polo and Aeropostale.
The co-production model and location not only help Grupo M respond more quickly to customer demand for lower inventories and shorter cycle times - but also offer a clear advantage for US brands, retailers and importers seeking new sourcing partners to offset the rising production costs, labour woes and pressure from local demand that is increasingly weighing on China.
Capellán is able to confirm that US firms are indeed looking to source closer to home, explaining that this year, in particular, "a lot of companies have been coming in to see the operation. [This is happening] not only in apparel, but also we're seeing a lot of people exploring the opportunity for making shoes in Haiti, whereas before it was practically 100% in China."
"We can compete in terms of price and the cycle time, and when you land your product and look at all your costs, we are pretty competitive."
While Capellán acknowledges the main competition still remains in China, India and Vietnam, he believes there is room for co-production in Haiti and the Dominican Republic to feature in a "China-plus" sourcing mix.
In addition to the HELP Act, the Dominican Republic-Central American Free Trade Agreement (DR-CAFTA) has eliminated duties for most of Central America's exports to the US, with the yarn-forward rule of origin for apparel articles meaning duty-free benefits apply when cut and sew operations use regional yarn and fabric.
"In denim pants and knit tops there are regional competitors which produce their own fabric in many cases," he explains.
"We are only two days by boat to the east coast [Miami], and that really makes a difference." The new port of Manzanillo, just 15 minutes from Codevi on the Dominican side, is also helping to speed delivery.
Lead times obviously depend on the product and whether or not fabric or yarn has to be imported from Asia. But for items "where we keep inventories here in the country like denim fabric or the yarn to make these fabrics, then we're talking 3 to 4 weeks. So for a basic value-added denim we're talking 3 weeks when we have the fabric."
But even in programmes that use fabric sourced from countries like Taiwan and Indonesia there are advantages to be had, since the shipment time gives buyers a little longer to make their colour, size and quantity decisions.
New Laundry Lab
Another area where Grupo M is boosting its competitive edge is by developing more products in-house - key to which is a new 'Laundry Lab' coming on stream in August. New and innovative washes and finishes will be created with Los Angeles-based premium laundry and finisher Blue River Denim, which can then be produced commercially in the Dominican Republic.
The idea is to encourage designers and product development teams to visit the facility - which is just a three-hour flight from New York - where Capellán estimates "several million dollars" have been invested in new technology, including a waterless washing zone and a range of machines to produce samples in a short timeframe.
"We are trying to develop more high value-added fabrics," he explains. "Newness is the thing to do now," he says, whereas before the company would simply have been asked to try to duplicate a wash.
Like many executives who have spoken to just-style, Capellán believes retailers and their suppliers could improve their cycle times and responsiveness if more information was shared between them.
"The challenge is how we convince retailers to give us more information at the point of sale so we can better react to what's happening. We get that information, but we get it in pieces.
"The challenge is to improve collaboration to be able to do a better job in planning" - for example sharing information on trends that might require special chemicals or equipment so they can be obtained in plenty of time.
Sectors: Apparel, Fibres & fabrics, Manufacturing, Social & environmental responsibility, Sourcing
Companies: Warnaco Group Inc, Donna Karan, Aeropostale Inc, Levi Strauss & Co, Kate Spade & Co, Dillard's Inc, HanesBrands, American Eagle Outfitters
Create sourcing plans that work
Find new apparel sourcing destinations, assess trade flows and manage tariffs. All in one place.
Oops! This article is copy protected.
Why can't I copy the text on this page?
The ability to copy articles is specially reserved for people who are part of a group membership.
How do I become a group member?
To find out how you and your team can copy and share articles and save money as part of a group membership call Sean Clinton on
+44 (0)1527 573 736 or complete this form..