Interview: Launa Inman, managing director, Target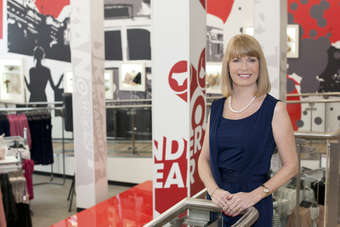 Target managing director Launa Inman
Launa Inman, managing director of Australian general merchandise retailer Target, spoke to just-style about how the Australian consumer is changing, the company's scramble to get online and how she has been working to turn the business around over the past seven years.
General merchandise retailer Target, which is owned by Wesfarmers, came out of 2010 largely unscathed by the global economic crisis due to the government giving out a "huge" financial stimulus to Australians. As a result, the chain had its "best ever year".
"Everybody else around the world was minus 10% but we were up and had our best ever profit and EBIT margin," says Inman.
However, the past year has not been as easy, with the 290 store company booking a decline in profit and sales for the year, down 26.8% and 1.1% to AUD280m and AUD3.7bn respectively.
Inman attributes the declines to an "overperformance" on the back of the stimulus in 2010. "We had a tough year last year, but we still made a 7.4% EBIT margin, which by any standards is a good EBIT margin," she emphasises.
Describing the issues facing the Australian market, she says that over the last six months the retailer has seen "huge deflation" of "anywhere up to 10%". It is also facing increased competition from the entry of international retailers, combined with increasing costs of doing business with the rise of online retail.
"Even though you've had deflation, you've had a situation where supply chain costs have been going up, cotton prices have been going up," says Inman.
Consumer confidence has also been hit over the last ten months, despite lower unemployment. "What's happening is that consumers have got jobs but they're fearful that they may not. So what they're doing is saving."
She says that consumers are putting any extra money into their mortgages because "if anything goes wrong they've got a buffer".
While on the surface it seems as though Australia managed to avoid the economic shocks felt by the rest of the world over the past couple of years, Inman highlights the "two-speed economy" in the country which is being driven by the mining industry. "I think the average Australian is really battling," she says. "Those that aren't in the mining industry are finding it tough."
Target's consumers are very value and promotionally driven, "more than any other consumer I've ever known," Inman adds.
The importance of the retailer's catalogue can't be underestimated. On "their kitchen table they will have Target, Kmart, Big W, and so on, and will flick through them looking for products at the best price."
Inman also admits that many of the Australian retailers have been "slow to get into online". "We're all guilty of it and we're all scrambling now to get it right."
The retailer launched its e-commerce site in February, beginning with nursery and baby, then adding other things like school wear and home wares. She says that Target hasn't added women's wear yet and is only just starting to get underwear onto the site. "In certain classifications, we are doing really well online, so our focus between now and Christmas is how we can get as much product online."
Fashion credentials
While the retailer is currently focusing on developing its online offer, it has put significant work in recent years to improving its fashion credentials.
"We've made Target a fashion brand," says Inman, through collaborations with designers like Stella McCartney, Zac Posen, Josh Goot, and Collette Dinnigan. "We've got another gorgeous one nearly finalised for March next year, which will be equally dynamic and exciting," she adds.
These collaborations have positioned "us in the eyes of the consumer as a fashion destination with good prices. We are never going to be the cheapest, that's not what we're advocating; we're that style, quality and value equation."
The retailer is also working hard to ensure consistency across apparel and footwear designs.
"One of the big challenges we've had in the past is because of the different lead times [between fashion and footwear], and trying to work close to the season. Shoes would have to place their orders much earlier, because they've got a much longer lead time.
"Ladies' apparel would still be changing their colour spectrum until 12-weeks before delivery. What would happen sometimes is that you would walk into ladies' wear and think that's lovely, but you wouldn't have the right shoes to go with the outfit," explains Inman.
"We've really developed a fashion handwriting where we've got designers working in each department," as well as strong trend forecasting and a strict colour palette.
"There's consistency in the handwriting, where before we found that each buying department was running its own show...We're really trying to get into capsule buying instead of commodity buying."
Stepping up to the international entrants
nman says Target is working to face the threats posed by foreign entrants through "really looking at our sourcing".
She says that the retailer has traditionally bought from China, and has now shifted to Bangladesh. "Of course this comes with its disadvantages - longer lead times and you've got to commit earlier," she says.
She adds that the focus is on getting better sourcing and going direct in the longer term. "We've got very good third-party suppliers at Quick Fashion but there's also more and more drive to go direct".
However, Inman also welcomes the increased competition the international newcomers have brought to the market. "
"We think they will help drive traffic, and I think they will help to ensure that we all lift our games. And I think we have. We've all stepped up hard and are looking at what we need to do to be more customer driven. Because the power has shifted completely to the customer."
Inman is set to leave Target soon after almost seven years in the role, and will be replaced by Dene Rogers, who has been CEO of Sears Canada since 2006. Speaking about her plans, Inman said: "I love Target, but I didn't want it to be my last stop" adding that she has been "amazed by what opportunities there are out there".
Other articles in this series include an overview of the Australian retail landscape, an interview with Myer CEO Bernie Brookes, and an interview with Sportsgirl managing director Elle Roseby.

Create sourcing plans that work
Find new apparel sourcing destinations, assess trade flows and manage tariffs. All in one place.
Oops! This article is copy protected.
Why can't I copy the text on this page?
The ability to copy articles is specially reserved for people who are part of a group membership.
How do I become a group member?
To find out how you and your team can copy and share articles and save money as part of a group membership call Sean Clinton on
+44 (0)1527 573 736 or complete this form..