SOURCING: Marks & Spencer commits to traceability scheme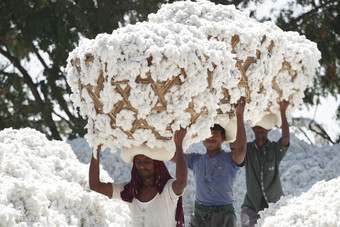 M&S plans to trace cotton through the supply chain using a cloud-based system called String
As part of Marks & Spencer's Plan A initiative, it intends to launch a traceability project called String which will track every single clothing product it sells from raw material through to store. Petah Marian spoke to Mark Sumner, the retailer's sustainable raw materials specialist, about the scheme.
Marks and Spencer is set to become the first major retailer to commit to full traceability for its non-food products, after teaming up with Historic Futures to roll out its String traceability service across its extended supply chain.
The cloud-based database will give information on where and how every product is made, including where the cotton is grown, the yarn is spun, where the fabric is produced and dyed and where items are manufactured.
For M&S, there are four key elements driving the company's interest in traceability - Plan A and the sustainability commitments around that programme, improving resource management, helping its suppliers, and building trust with consumers.
M&S' sustainable raw materials specialist, Mark Sumner, says the retailer has already done quite a bit of work on traceability, but that the new system will extend its understanding "even further down the supply chain and go deeper and broader in terms of getting the data we need from suppliers".
The moves will allow the retailer to understand where its raw materials are coming from to allow it to "influence and change the process" of how those raw materials come into the business, says Sumner.
The company will begin the roll-out with its children's wear range, with plans to speak to a few of its suppliers in the Turkish region in September. From there, Sumner says M&S will then map out how it will take traceability to the rest of its children's wear suppliers, with a full roll-out set for next year.
Supplier benefits
Sumner says it will not cost suppliers extra in terms of IT tools to implement String, as it is an internet-based software solution.
But while many are likely to think the new system will take "a lot of time to build this database," he is also quick to highlight the programme's benefits. Not only should it help to make suppliers more efficient, but it will also offer a point of difference for their other clients as other retailers become increasingly interested in traceability.
"As they get more and more engaged with this and really understand the benefits of traceability, it will not only make them more efficient, it will also create more opportunities for them to be clearer with their sourcing strategy, which will give them a much clearer sense of where they're getting their stuff from," says Sumner.
He expects that as suppliers learn how to use, and understand, the capabilities of String they will see how important and how useful it can be for them and for M&S.
"Ultimately, as more are more retailers starting to ask questions of the supply chain, traceability will give suppliers a really good way of communicating, to their other clients, not just M&S, to explain where their stuff is coming from."
Sumner emphasised that M&S cannot tell its suppliers "explicitly where they need to be sourcing from", but that it will allow give them improved opportunities to align their sourcing with M&S' values and deepen their relationship with the retailer.
Taking cotton as an example, the traceability scheme will give them a much clearer view of where their cotton comes form and how it's processed. "They'll also have a much clearer view of M&S' requirements and aspirations around cotton and Plan A, so they will be in a better position to align themselves much closer in terms of our aspirations and what we want to be doing," says Sumner.
Traceability by batch
For Marks & Spencer, the ability to trace a product by batch rather than product-line was key in its choice of solution.
Sumner says many systems look at traceability at a product, rather than batch level. "We know that some of our big lines will have 10,15, 20, maybe 50 batches being made of that product and being shipped to M&S over a given time period. We want to get traceability in every batch."
While much of the strategy around String focuses on the supply chain, Sumner expects the increased information will also bring "interesting opportunities" around how it communicates with its consumers.
"We have to take the consumer along this journey. Some of our consumers are very interested in where products are coming from, while others are not quite in the same place. And what we will be doing is matching the developments around traceability and communication around what our consumers actually want."
Sumner describes M&S as a "pathfinder" adding that it's "quite a risky step to take on this journey" but that he thinks "there's going to be huge benefits for us, Historic Futures and our suppliers".
The sustainability specialist expects more retailers to follow it in implementing String, saying he expects they are waiting for a large retailer to take the initial leap.
"I know that a number of other retailers are doing small trials at the moment and they're waiting for someone to do a full-blown project."
Create sourcing plans that work
Find new apparel sourcing destinations, assess trade flows and manage tariffs. All in one place.
Oops! This article is copy protected.
Why can't I copy the text on this page?
The ability to copy articles is specially reserved for people who are part of a group membership.
How do I become a group member?
To find out how you and your team can copy and share articles and save money as part of a group membership call Sean Clinton on
+44 (0)1527 573 736 or complete this form..