Steering Morocco's makers through the coronavirus crisis – Interview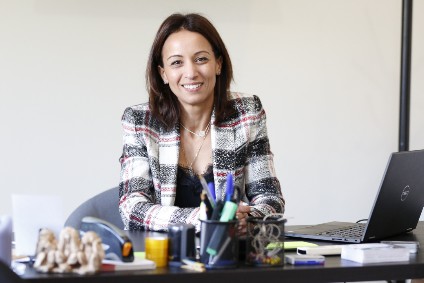 Fatima Zohra Alaoui, director-general of Morocco's textile and clothing industry association AMITH
Fatima Alaouia-Zohra, director-general of Morocco's textile and clothing industry association AMITH, tells just-style how the Covid-19 crisis has galvanised the sector into setting a new course for the future.
When Fatima Alaouia-Zohra stepped up to become the first female director-general of Morocco's textile and clothing industry association AMITH in September last year, she was ready to lead this important manufacturing hub through a process of massive change.
Little did she know that within months she would also be facing the gargantuan challenge of steering the industry through the Covid-19 crisis, a pandemic that while hugely disruptive also creates opportunities for Moroccan clothing and textile makers.
With brands increasingly seeking to diversify sourcing and looking to near-shore products as well as relying on far-off low-cost centres, Morocco – perfectly positioned to supply Europe – could benefit.
In the short term, however, 2020 has been all about disruption. Speaking to just-style from her office in Casablanca, Alaoui says AMITH had planned to use 2020 to accelerate the roll-out of the 2021-25 phase of the Morocco industrial development plan PAI (Plan d'accélération industrielle). Drafted by the Moroccan ministry of industry, investment, trade and digital economy, key elements support growth in the textile and clothing sector.
However, she recalls that in March clients began cancelling orders as Europe's fashion stores closed to contain the spreading virus. In line with Moroccan disease control regulations imposed from 13 March, Moroccan factories also closed their doors and the government stepped in to pay workers furlough wages.
Business resilience and adaptability
Alaoui, who holds a PhD in economic and financial development from Lancaster University in the UK, had been pivotal in developing the industrial development plan as the past director for structural development of business ecosystems at AMITH. She has had to draw on all her experience to help Morocco's clothing and textile sector withstand the crisis, preventing it from collapsing.
Fortunately, the government and industry quickly developed new sanitary working protocols, and by mid-April 150 companies with these procedures in place restarted production.
Many had pivoted to PPE production but AMITH (Association Marocaine des Industries du Textile et de l'Habillement) and its members were also determined to get back to the business of fashion. "Things started to look better in July. Customers have been in touch with orders – still not as good as last year, but still quite good," she explains.
However, Alaoui remains cautious about the prospects for the rest this year and 2021. "We don't have a clear idea about how things are going to evolve in the coming months," she says, noting that during the tough lockdown months, AMITH worked with companies on improving business resilience and adaptability. The association showed members "how to work on strategy and be ready to cope with what is coming ahead."
This kind of reflection is always positive: the crisis has shocked the industry into examining Morocco's market position, its strengths and vulnerabilities, she says. "Today, it is more obvious than ever that we need to diversify our strategy and our markets."
Diversification strategy
Morocco's industry suffered especially because of the terrible impact of the pandemic on its two key traditional markets of France and Spain, whose populations have both been ravaged by the contagion, and who are now facing a second wave of infections.
"We are putting into place a more aggressive diversification strategy so that we target new markets, not just Europe, and reduce our vulnerability," she says.
According to Alaoui, 60% to 65% of Morocco's production is CMT (cut, make, trim), and the non-European markets being explored by AMITH are more FOB (freight on board), "so we will need to enhance and develop our FOB offer."
She is optimistic that the Moroccan industry has the flexibility to make this shift, noting that it has been able to ride the Covid-19 storm because it is highly responsive and can adapt quickly.
Brand and retail customers are looking to source from near-shore producers who are flexible on quantities and can deliver quickly, and "provide the whole scope of garments at a price that retailers are brands might be looking for."
Of course, while making structural changes is important, manufacturers need orders, and these are not easy to secure at present. Ordinarily in October AMITH would be hosting the annual Maroc in Mode trade show – but not this year.
This means Moroccan manufacturers "are forgoing the chance to meet customers" face-to-face. That said, from now until the end of the year AMITH is facilitating "virtual B2B meetings with potential customers and buyers to introduce the Moroccan manufacturers online."
Depending on how the pandemic and health situation evolves, Alaoui says AMITH hopes to fly manufacturers to meet customers or to facilitate "in-coming visits" where buyers can travel to Morocco to see manufacturers and factories to make a selection and hopefully create business with Moroccan suppliers.
All this change means past long-term development plans in global clothing and textile markets have given way to a radically different type of planning. Instead, "we are finalising our short and medium term strategy for the sector."
Once completed, AMITH will call upon Morocco's ministries of industry and economy and finance to create a support programme to help the industry navigate what is likely to be a complex global market going forward.
The association's request will include "technical capacity investment, restructuring and marketing." The new development plan will also seek a PPP (public-private partnership) that will "support the sector not only to get through this crisis but to seize opportunities within the international context."
Competitive edge
To give the Moroccan industry a greater competitive edge, Alaoui recognises the need for investment in key areas of design and technology.
As a result, AMITH, which manages the Casa Moda Academy in Casablanca, is launching a new training programme enabling industry creatives and executives to better meet factory and customer needs.
"We are working on building bridges between the school and the manufacturers, so training is more compliant with what companies are looking for in terms of design and creativity."
She adds that this training must be cutting edge because investments in new technology are needed – this is "what is going to allow the Moroccan manufacturers to increase their productivity and make production more sustainable."
Alaoui is proud of the work that she and her team have done this year. "We have the feeling today that our companies and members believe they can really rely on their association to help them get through this crisis. The fact that I have a strategic and economics background has definitely proven to be useful and has helped me develop short and medium term plans for the sector."
Alaoui is part of an emerging class of strong female leaders in North Africa and the Middle East. In 2011, the year of the Arab spring, Morocco's King Mohammed VI narrowly avoided a full-blown revolution by offering a programme of political reform and development.
"We had a referendum for a new constitution [that included] the principle of gender equality, which was a big change in Morocco," Alaoui notes. As a result, increasing numbers of Moroccan women are going into higher education and "people are getting used to seeing women in top management positions."
She argues that positive discrimination policies could change this situation: "Putting forward or reserving spots for women could be very helpful and we are seeing this more and more in Morocco.
"I think that women have a role to play in this industry. We have to prove we are reliable and can do the job at least as well as our male counterparts and that we can be trusted."
Create sourcing plans that work
Find new apparel sourcing destinations, assess trade flows and manage tariffs. All in one place.
Oops! This article is copy protected.
Why can't I copy the text on this page?
The ability to copy articles is specially reserved for people who are part of a group membership.
How do I become a group member?
To find out how you and your team can copy and share articles and save money as part of a group membership call Sean Clinton on
+44 (0)1527 573 736 or complete this form..