Turkish denim major Mavi doubles down on global growth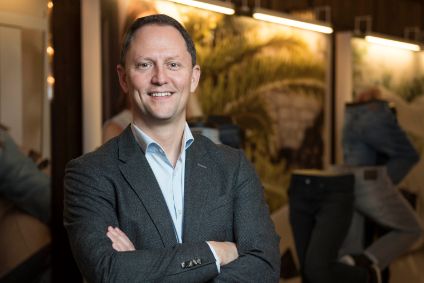 Cüneyt Yavuz, CEO and director of Mavi
Turkish denim giant Mavi sold 9.7 million pairs of jeans worldwide in 2019 – and is ploughing on with its global expansion despite ongoing uncertainties around the Covid-19 pandemic, its CEO and director, Cüneyt Yavuz, tells just-style.
Mavi has rebounded from the shuttering of the garment sector earlier this year, with e-commerce sales doubling in its major markets. Meanwhile, the brand is expanding its retail presence in Russia and Turkey, while fine-tuning its shift to digitisation to retain sales amid ongoing retail uncertainty.
"We closed down as brands early on, in mid-March, and Turkey had sporadic shutdowns for around two months. We had some supply chain leakages along the way, but as we didn't have sales from a brand perspective, it was not that critical if it was broken or delayed," Yavuz says.
From June onwards, confidence started to return to the Turkish garment sector, with results "better than expected or planned for," he adds. In international markets, Mavi is now "around 90% to 100% of what we expected [once Covid-19 hit], and in Turkey 85% to 90%, so it is a little lower than others but catching up."
Turkish retailers benefitted from the pandemic hitting during the spring/summer season, as they were able to sell garments from the spring until autumn. "We had a lot of time to check our inventory and then look into fall and winter orders."
"Denim was one of the categories least affected by the pandemic – and shorts, sweatpants, socks and underwear sales went through the roof as people were looking more closely at their wardrobes"
Over the past several months, however, sales in Turkey in the women's category suffered more than men's, as did formal wear over casual wear. "Denim was one of the least affected categories, and shorts, sweatpants, socks and underwear sales went through the roof as people were looking more closely at their wardrobes."
Core business
Mavi sells some six to seven million pairs of jeans a year in Turkey, split equally between sales to men and women, whereas in formal wear, it is 65% to men. It is considered a "jeans-centric casual wear company," with more than 70 retail outlets in Turkey and is the number four of five retailer in the country, and number three for menswear.
Blue jeans account for half of Mavi's sales in Turkey, but 80-90% of overall sales globally – 70% of Mavi jeans are currently sold domestically and 30% overseas.
Over the past six years the Istanbul-based business has moved its jeans ranges away from "horseback riding style" towards supersoft, stretchy denim and sports denim, currently sourcing 16 million metres of denim a year.
"We do have sweatpants, but jeans is our core business," Yavuz says. "This year we added 11 different styles for the women's collection, including different mom, boyfriend and slouchy jeans. We are really happy we did that, as if we had just skinny jeans, we'd have suffered a lot."
The brand has continued to advertise in 2020, while expanding its use of social and digital media. "When I started at Mavi 12 years ago, we asked [Turkish] consumers to name a jeans brand. We were number one, with 20% saying Mavi; today it's about 70% [saying so], so jeans equals Mavi."
Mavi works with "top celebrities, 'it' girls, and cool guys to support and endorse us, and [these relationships are] very genuine. We also design sub-collections with them, so we have a line of 'his' and 'hers'," including campaigns with Turkish Cypriot/UK fashion designer Hussein Chalayan and German fashion influencer and blogger Leonie Hanne.
Overseas growth
This domestic brand strength has been used successfully to expand into foreign markets. The largest export market is currently North America, where it sells over 1m jeans in the US and Canada – it has four stores in Vancouver, Canada, for instance. It also sells almost 1 million pairs in Europe – particularly the Netherlands, Germany, Austria and Switzerland – and around 700,000 pairs in Russia and Australia.
Russia is a booming market for the Turkish brand, with nearly 20 stores and a strong online presence. "This year our rising star has been Russia, both at stores and digitally. I am very optimistic about what more we can do in Russia," Yavuz says. Mavi may also add several new stores in Turkey while expanding retail outlets from 300 square metres (sqm) to 500, and 500 sqm outlets to 800 sqm.
The jeans range is adapted for its export markets. For markets close to Turkey, in the Middle East and the Caucasus, where it has some 40 shops and works with collaborators and franchisers in Lebanon, Armenia, Azerbaijan and the United Arab Emirates (UAE), "the climate is similar to Turkey, so we can go with our Turkey portfolio. But further north it is different seasons and about 25% is more country specific."
For instance, when the brand entered the Dutch market seven years ago, it realised that "women are taller and bigger than in Germany, so we had to bring up the waistlines to be skinny jeans."
In the US, Mavi supplies larger sizes – "it is not your regular 1.4 metres of denim to cover a larger guy" – whereas in Russia, men's fits are thinner. "Out of 15 regular fits, it is thinner fits that sell more than in Turkey." Demand for shades of blue denim also differs, but the essence of the design, from the stitch to the finishing, is kept.
"Age groups also vary, with older consumers wanting comfier jeans and less distressed products, but younger consumers may want skinny, super skinny, ripped or with trims. Turkey gives us this opportunity as we are addressing a broad range here, so from that manufacturing soup, others can find bits and pieces."
E-commerce expansion
Mavi made strong moves into e-commerce prior to the pandemic. "We were growing 150% per month the last few years, and since Covid-19 sales have gone through the roof [worldwide]. I'm glad we did this, as over the past 18 months we've become digitally logistics savvy, and in the past six months we've leaped forward two years in terms of digital sales."
The company is working to improve e-commerce returns rates, which are low in Turkey at around 10-12% and 20% in Russia, while in the rest of Europe it is 40-50%. It has established call centres – outsourced to a third party – to better connect with consumers, "so there is more of a store feeling coming across," Yavuz explains.
Customer relationship management (CRM) systems are also being utilised to help improve sales. "We have almost 6 million CRM customers in our database, around 85% use our loyalty card. Today we will cut 25,000 invoices, and we follow up on what they buy, the age group and gender."
Mavi expects to close the year with revenue down by around 10%, although with the depreciation of the Turkish currency this year, overall revenues may reach US$380m, down from nearly US$500m in 2019.
But given the popularity of its products, the future looks rosy. "I want to focus on 10 million pairs of jeans being sold and to keep growing," Yavuz says.
Create sourcing plans that work
Find new apparel sourcing destinations, assess trade flows and manage tariffs. All in one place.
Oops! This article is copy protected.
Why can't I copy the text on this page?
The ability to copy articles is specially reserved for people who are part of a group membership.
How do I become a group member?
To find out how you and your team can copy and share articles and save money as part of a group membership call Sean Clinton on
+44 (0)1527 573 736 or complete this form..