Volt Smart Yarns bridging the gap on wearables – Interview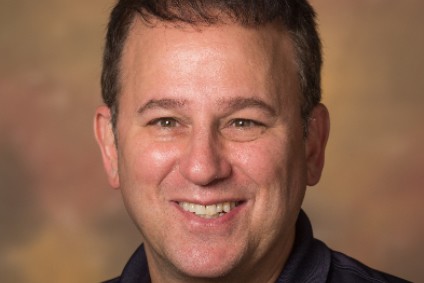 Matt Kolmes, CEO at Supreme Corporation, parent of Volt Smart Yarns
Ahead of the launch of its new Volt Wearable Technology division, Matt Kolmes, CEO at Supreme Corporation, talks to just-style about how the company's Volt Smart Yarns has been gaining momentum in the smart fabrics industry – and some of the challenges still facing the sector in reaching its full potential.
It's been less than a year since Hickory, North Carolina-based Supreme Corporation debuted its Volt Smart Yarns products at the Industrial Fabric Association International Expo. There, Volt won IFAI's Show Stopper Award, giving the product some publicity and spurring a series of positive developments in the ensuing months.
Recently, Cotton USA chose Volt to be featured in its 'What's New In Cotton' marketing campaign, giving the yarn more global publicity for the next two years.
Supreme is also partnering with Textile Instruments, an Ohio company that is using a NASA licensed sensor technology to create a whole new type of wearable sensory technology that doesn't require the use of batteries or electricity.
Founder Susan Bernard approached Supreme through AFFOA (Advanced Functional Fabrics of America), the public-private partnership run by the Massachusetts Institute of Technology.
Textile Instruments will create health-monitoring fabrics using sensors and Volt Smart yarns. Through the partnership, sensors can be easily added to existing fabrics or materials, for wireless health status monitoring. In early testing, Volt yarns have worked 99.9% of the time – with potential uses for the collaborative product including sheets for baby cribs, adult incontinence products and hospital sheets that can measure vital signs.
Wearables some way off
However, Matt Kolmes, Supreme's CEO, says that while some big sportswear brands are in a hurry to commercialise wearables, this still remains years away – with some major hurdles to overcome. He says there is a general sense that the technology has stalled because of the unfulfilled predictions of a few years ago that wearables would be ubiquitous by now. But there are several issues to resolve, including washability of electronics. That remains a big challenge.
"Another issue that we see in our small view of the universe is that companies want to heat up clothing. The challenge is battery size. If you have a wearable and want to heat it up, it requires a fair amount of power if you want to wear it for hours. Connection points are a big hurdle. They are usually brittle and an intermediate substrate between connection points is needed.
"There are companies that are doing a fantastic job, and I feel a lot of these problems can be solved," Kolmes says, adding he was impressed with what he saw at the recent WEAR Conference on smart textiles and wearables held in New York City.
Kolmes says the apparel manufacturing industry is learning to work alongside brands. Third-party R&D companies will be doing prototyping, which he believes will lead to development of functional products.
"We are hustling, but we are at the very beginning. We have done some impressive things with yarn, and on the prototyping side, we are any farther along than anyone else."
In the coming weeks, Supreme will launch Volt Wearable Technology, a company division that will provide a platform for other companies to decide what technologies to use in their brand.
Supreme's yarn capabilities
Supreme, which specialises in covering yarns, has evolved considerably over the decades. It began as an elastic covering operation, and changed over the years due to the raw materials used. In the late 1980s, Supreme started working with high-strength yarns, and eventually moved into cut-resistant yarns.
The privately-held company has held 185 patents in 60 countries and currently has 60 active patents in high-tech yarns and fabrics, with another 15 patents pending.
Kolmes says at the core of Volt is a highly engineered composite yarn that has developed out of work with military contractors, and is now moving into a variety of areas, including healthcare and sportswear. Volt evolved out of a bonded thread product sold for flame resistant mattresses.
"We realised we know quite a bit about sewing thread," Kolmes says. "It's a perfect delivery mechanism for extremely fine copper wires. We started with two of those wires in our sewing thread and learned that the customer wanted more, so we went to four. They wanted a yarn or thread that could send signals."
Harnessing the power of these highly conductive copper wires, the resulting yarns and sewing threads are engineered for use with commercial sewing machines, and can be woven or knitted into fabrics that heat, control switches and volume, interact with wireless technology and can become sensors for impact and touch.
"We are changing what is possible in smart fabrics. This is the first highly conductive yarn on the marketplace, and the only one capable of sending power, ground and signals to make functional, wearable smart clothing," Kolmes said at the division's launch.
It all builds on Supreme's yarn capabilities.
"If you name an exotic high-performance fibre, we work with it on a daily basis," Kolmes says. "We offer ourselves up as an R&D house for other brands. That includes the cut-resistant glove industry, sportswear and regular clothing companies. We see the yarn side of the business really growing and it's exciting."
Supreme is now partnering with several companies that want to incorporate Volt into their product lines for 2020 or 2021. But, he says it's apparent that companies are missing many variables in the equation, and Supreme is hoping to close that gap.
"There is a huge gap between textile and electronic people," Kolmes observes. "They just don't speak the same language. That's why you see a lot of commercialisation of wearable technology."
Noting that prototyping is costly, Kolmes says Supreme realised it had to blaze a new path with Volt by developing working relationships with companies in the electronics arena.
"The takeaway I get is that we are going to have to give these companies products that work and, since we are textile people, this has forced us to make alliances that work with electronics as their bread and butter. We have developed a network of companies that we rely on to do prototyping and can see the product from beginning to end. It's absolutely exciting and has pulled us in directions we thought we would never go."
Pushing the envelope
Kolmes notes that not much has changed in sportswear using smart textiles since about 2007 with Fitbit. He believes everything since has been "bolt-on" technology.
While Supreme is not at liberty to name many of its partners, another company it is partnering with is Pressure Profile Systems in Los Angeles, which develops tactile sensing technologies. PPS is looking to develop an impact sensor to be used in retrofitting police body armor.
"In sportswear, everyone is interested in data. The whole world is hooked on high tech and that's only going to improve and grow. Most innovative companies are using smart clothing to measure performance. If you are a golfer, you can use your clothing as a trainer to measure the rotation of your hips."
Kolmes says smart clothing is being used to measure a variety of categories, including fatigue, hydration and heart rate.
"We are taking baby steps," Kolmes says. "Two to three years from now, Volt will be a meaningful part of our business. If all the metrics are correct about wearable technology, the market will be $5bn to $10bn in five years. That's the reason we are interested in being in it. We want to push the envelope."
Create sourcing plans that work
Find new apparel sourcing destinations, assess trade flows and manage tariffs. All in one place.
Oops! This article is copy protected.
Why can't I copy the text on this page?
The ability to copy articles is specially reserved for people who are part of a group membership.
How do I become a group member?
To find out how you and your team can copy and share articles and save money as part of a group membership call Sean Clinton on
+44 (0)1527 573 736 or complete this form..