Why circular fashion is "the answer for everything" at Esprit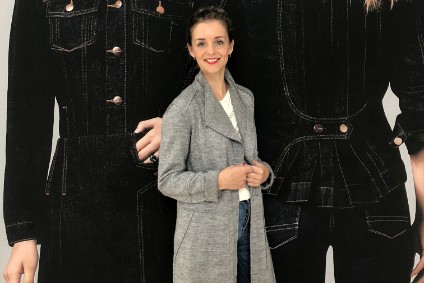 Sara Bermúdez Couto is leading the charge to tackle the complexities of circularity at Esprit
Hong-Kong listed Esprit is currently rethinking every step of the fashion lifecycle with a view to "inclusive circularity" that respects the use of both material and human resources. Sara Bermúdez Couto, head of product safety management and environmental sustainability, explains.
With foundations dating back 50 years to 1968, Esprit today has a presence in over 40 countries with over 580 directly managed retail stores. And while the company says sustainability principles have always been at the heart of its philosophy, the issue has become increasingly complex and complicated.
The company is now taking the next step towards the future; a step-change in how it interacts with its environment, and a re-think in the way it does business, moving away from the linear model of "take, make, dispose" to one based on "inclusive circularity." This means respecting the use of both material and human resources – and "re-examining the way we approach design, material selection, manufacturing, and distribution, and building or aligning with new streams to support care, collection, resale, recycling and reutilisation."
The person leading this is Sara Bermúdez Couto, who joined Esprit three and a half years ago. Originally heading up product safety management for clothing and textiles, she most recently added responsibility for the company's environmental sustainability – overseeing what are now two teams employing 23 people.
"The answer for everything is circular fashion. It really means all of it: what we want to do, what we must do"
"It was a strategic decision within the company, because before we had sustainability from the perspective of social compliance and environmental sustainability within one team. But the topic is getting more and more technical," she explains, "so we decided to split the responsibilities and have more expertise in each area."
By technical, Couto means areas such as chemical management, waste management, and waste water, with a focus on the output of the production process.
"We revisited, let's say, the logical way of thinking, which is not so easy. That's why we need both teams engaged together, and the technical knowledge that we provide is the handling of the chemicals, the checking of the recipes, the technical support to the suppliers, conducting a root cause analysis."
Tackling change
The technical element of sustainability is one of the major changes Couto believes the clothing and textile industry has experienced in the time she has worked within it. Before joining Esprit, she was a quality control technician for Spanish fashion group Sociedad Textil Lonia (STL), and prior to this, product safety and health manager at Inditex for Zara Baby.
"The industry has made a big leap forward in relation to the environment and sustainability, and the main trigger was the Greenpeace Detox Campaign. This was one of the most powerful campaigns we have ever seen as it really changed a whole industry.
"Publishing a supplier list before 2012 was, for many companies, an absolute no-go. Being non-transparent is not an option anymore"
"Before 2012, the focus was, for most companies, very much on social issues with a clear focus on garment factories. The deeper supply chain was often not even known," Couto explains. "It really made us wake up and realise we needed to change our way of doing business and that we need to be more transparent."

That realisation resulted in Esprit publishing its supplier list in August 2016, setting out details of all finished goods suppliers, material suppliers and subcontractors.

"Publishing a supplier list before 2012 was, for many companies, an absolute no-go. Today, we consider it common sense to be transparent. If you want to improve chemical and environmental management in the supply chain, you need to know and work with the stages using chemicals and potentially having a negative impact on the environment – fabric suppliers, dyeing mills, spinning mills, even viscose fibre producers.

"We have established transparency into these stages. Being non-transparent is not an option anymore, both from an intrinsic and extrinsic standpoint."
A circular approach
In recent years Esprit has made a number of commitments as part of its sustainability journey. The company has become a part of the ACT (Action, Collaboration, Transformation) initiative aimed at implementing a living wage for workers in the global garment and textile industry; it has partnered with CanopyStyle to develop a more sustainable supply chain for cellulosic fibres; become a member of the Better Cotton Initiative (BCI); and made a commitment to the Responsible Wool Standard.
In May it also joined the Changing Markets Foundation Roadmap to promote more sustainable viscose production; and most recently the company set out a roadmap outlining concrete steps to increase sustainability in its textile supply chain as part of the German-based Partnership for Sustainable Textiles.

However, the most challenging commitment is the one thing Couto says touches all aspects of the company – circularity. This prompted Esprit to join the Global Fashion Agenda in February 2018, which aims to mobilise the fashion system to change the way clothes are produced, marketed and consumed.

"We have to break the linear chain of take, make, and dispose. We have to use our waste as a new source of material, and this is the biggest challenge," Couto explains. "Our supply chain, our customers, the end roles, all the stakeholders; we have to think holistically.

"Circularity is embedded in everything we need to do, and everything we want to do in terms of sustainability. When you ask people what sustainability in clothing means, some focus on the social aspect, some on organic or recycled, and some on transportation."

For Esprit, Couto says "the perfect aggregation" is including all the different aspects that imply sustainable production. "It is a combination of responsible concern and the stimulation of having the privilege to be part of the change. It covers all the different views you can have on sustainability and gives them sense. The answer for everything is circular fashion. That's why it is so important, because it really means all of it: what we want to do, what we must do, and then we have the topics of proper standards, certifications and ways of measuring."

Couto is confident Esprit can achieve full circularity across its business and supply chain, but she admits it will be a tough challenge. "We have to do it. There is no other way. If you ask me if we are going to make it, yes.

"We do not have all the answers with us today, but what was not possible yesterday will be possible tomorrow or the day after tomorrow. This is the interesting part of engaging so many people around this project – that brilliant ideas are coming together."
Creating a fully sustainable industry
"Joint effort is key. Even the biggest brand can't change the industry alone. In collaborating we agree on standards and we create tools and guidelines for the whole industry. We have a common voice and our suppliers have one standard to stick to"
Couto acknowledges the increasing pressure on brands and retailers to ensure their businesses and supply chains are both sustainable and ethical – and to accept full responsibility for their operation.

"For many years our industry did business at the cost of the people and the environment in production countries. Pollution seemed far away and not directly related to our own business. This is no longer the case. Being responsible for the products we create is a logical consequence."

And this also means collaborating to create change, Couto emphasises, as Esprit has done with a number of projects, from viscose sourcing and the ZDHC chemicals programme to its work with the Sustainable Apparel Coalition (SAC) and AFIRM (the Apparel and Footwear International RSL Management group).

"Joint effort is key. Even the biggest brand can't change the industry alone. In collaborating we agree on standards and we create tools and guidelines for the whole industry. We have a common voice and our suppliers have one standard to stick to. This is really important; we need to be in the shoes of the suppliers and understand that we have to make their lives easy. We have to follow the same protocols, the same guidelines, and stick to it, because if we are disciplined we will make the supply chain disciplined."

Combined with collaboration, Couto is in favour of legislation to help move sustainability forward in the clothing and textile industry.

"Legislation is a motivation to change. We have to do it. We are getting the benefits of synergy and joined forces, so legislation has to follow the same idea. This has to also be a common platform between government and industry."
Supply chain support
Standardisation, Couto says, also helps reduce risk in the supply chain. "When we all demand different things from our suppliers, we always end up with risk. We need to create a community, and a loyalty."

This approach to creating a community has seen Esprit "drastically" reduce its supply chain. At present, the company sources almost 33% of its product from Bangladesh and around 26% from China. The rest is from countries such as Turkey (7.07%), Vietnam (7.05%), India (6.83%) and Pakistan (5.56%).
"We are not in favour of any cut-and-run policies. When there is an issue we work together to solve it. This is the way we can make a difference"
"As we have been shrinking the supply chain, our key focus was having the right supplier, independent of the country it's in. We monitor performance through a vendor scorecard, where we are taking the environmental and sustainability aspects really seriously.

"We are not in favour of any cut-and-run policies. When there is an issue we work together to solve it. This is the way we can make a difference."
Changing the future
This work to reduce the size of the supply chain and build capacity through chemical management, process control, environmental management, engagement and transparency, is one of Esprit's proudest achievements in terms of its sustainability work.

"We have created a real Esprit community with our suppliers that allows us to really have an influence to expand and implement our business philosophy. And this is having a direct impact on our products.
"Embedding circularity into our products starts with a smart design that considers the material selection in the development of a unique item, in terms of how the material is produced and how the material will be disposed," Couto explains. "The aim is to make the item stay longer with our customer. Ultimately the piece will be produced responsibly and fairly with regards to planet and people. It will be shipped and sold with the least impact on the environment possible. It will be a highly esteemed piece, for which we explain how to care and repair it, so that the customer can use it over and over again and which will finally end up in an upcycling process. It will return into the cycle and revive as a new unique item. Circularity will imply that each item will have an own story to be told to our customers."

But if there is one thing that really characterises the global fashion industry moving forward, it is the ability to change capability in a short time, Couto says. And this means being open-minded and capable of making areas such as circularity a part of company DNA.

"There are capabilities we have to change. I'm not sure it will be in five years time but we will make the change happen, and we will see more and more synergies. I see these every day in the communication even between brands; how we are starting to support each other. We understand common goals.

Couto says the end product will benefit by engagement in all areas of the business: internal and external staff as well as the community.

"I am convinced that circularity will be almost a fact [in five years time], with an amazing lead up driven by digitalisation and the impulse of start-ups that bring R&D to the next level for brands to make it real. Esprit will evolve in that sense where our products will fully speak about our soul, as environmental sustainability is in our DNA since our foundation."
Create sourcing plans that work
Find new apparel sourcing destinations, assess trade flows and manage tariffs. All in one place.
Oops! This article is copy protected.
Why can't I copy the text on this page?
The ability to copy articles is specially reserved for people who are part of a group membership.
How do I become a group member?
To find out how you and your team can copy and share articles and save money as part of a group membership call Sean Clinton on
+44 (0)1527 573 736 or complete this form..