Why 3D: Building the foundation for successful 3D implementation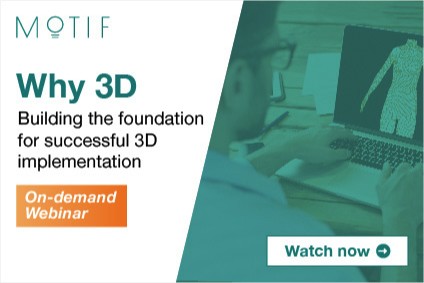 Despite promising efficiency and sustainability gains, 3D adoption and successful implementation in the industry remains slower and scarcer than the hype suggests, largely due to the lack of know-how and practical experience.
To answer the industry's demand for support in navigating the complex world of 3D, from building strategy to implementing process best practices, MOTIF, the apparel knowledge hub, is launching an online course curated and taught by industry practitioners with years of proven 3D implementation experience.
Join MOTIF and seasoned experts in this on-demand webinar that will give insights into the common obstacles faced by brands, retailers and suppliers when moving from 2D to 3D apparel product development. Get an exclusive sneak peek at this highly anticipated course by exploring:
• WHY - Establishing your strategic reason for 3D and qualifying the business opportunity
• WHAT - Ascertaining your business' 3D readiness: Pre-requisites, scope, ROI, impact to BAU
• HOW - Mapping out your route to success: 3D partner selection and vetting, proof of concept, stakeholders, project plan and milestones
• WHO - Bridging skill gaps with training and assembling the right project team
3D requires new skills and ways of thinking and working. This session demonstrates the value of training your teams from the outset, to equip them with a common language, the essentials and a framework to confidently lead your 3D journey.
Speakers:
Eryn Gregory, Founder, ergodesign inc. & MOTIF 'Why 3D" Lead Course Instructor
Idy Lee, Senior Vice President, Li & Fung Digital Product Development Center of Excellence.
Jackie Lewis, Course Development Director, MOTIF
To watch the webinar, please complete your details below: