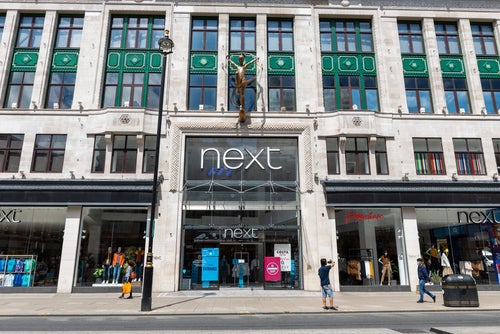 Reporting its results for the second quarter to 30 July, Next says its full-price sales rise of 5% versus last year was GBP50m (US$60.9m) ahead of its previous guidance.
The retailer says its full price retail sales in the quarter were 4.7% stronger than expected against three years ago (pre-pandemic) and believes this over-performance was due to the UK's unusually warm and dry weather in June and July. In the first quarter however, retail sales were down 8.2% compared to three-years prior and pre-pandemic.
Next notes a marked return to formal dressing, which it suggests was driven by pent up demand for social events such as weddings that has helped the company to play to its strengths in this quarter.
The retailer also believes the apparent improvement in the fortunes of its stores is, to some extent, down to the number of competing stores that have closed in the last three years. It says this is supported by ONS industry statistics for February to June, which suggest the total money spent on clothing in all UK retail stores is down 6% compared to three years ago.
Retail sales for the second quarter were up 12% compared to the same period last year, which might appear small compared to the 284.5% rise seen in the first quarter. However Next points out last year, stores were closed for most of the first quarter and even when they reopened many customers remained wary of visiting shops.
Online sales were up 0.2% year-on-year in the second quarter, compared to 11.1% year-on-year in the first quarter. Next points out, however, the comparison with last year means online shopping was inflated by at least as much as retail sales were depressed due to the pandemic.
The three-year comparison, which looks at pre-pandemic levels, shows online sales were up 44.4% in the second quarter and up 47% in the first quarter and the retailer believes this is much more consistent than the growth against last year and gives a clearer picture of long term consumer trends.
Next says the stronger than expected sales performance in Q2 is not expected to continue into the second half so looking ahead it is maintaining its sales guidance for the remainder of the year at +1%.
However, the retailer has raised its FY profit guidance by GBP10m to GBP860m, equating to 4.5% year-on-year growth.
Hot weather, weddings and competitor store closures boost Next sales
GlobalData's senior apparel analyst Emily Salter says: "Next's momentum has continued into its Q2 FY2022/23 with total full-price sales rising by 5%, an impressive 25.5% higher versus pre-pandemic levels as consumers flocked back to stores and demand for its leading multi-brand online proposition remained high."
She agrees with Next that its full-price sales growth was 4.7% stronger than expected due to consumers refreshing their wardrobes for the hot weather and formalwear being back in favour with a summer of weddings after two years of cancelled events.
Salter points out that Next's decision to maintain its H2 full-price sales growth guidance of 1% is due to the impacts of inflation on consumer spending which could worsen, but she says the retailer is in a good place to weather this due to the presence of more essential categories and a wide range of price points.
She also believes Next raising its FY profit guidance by GBP10m to £860m indicates that it is effectively managing the rising costs across the supply chain.
Salter explains: "In its Q2, Next saw a reversal of Covid trends, with instore sales better than expected; sales of categories that excelled during lockdowns, such as sportswear and homewares, abated; and formalwear rose in popularity."
Salter also highlights that after two years of suppressed returns rates, Next's rose to pre-pandemic levels.
She says: "Unlike many online pureplays that are struggling with unusually elevated returns rates, such as ASOS and boohoo.com, Next's was only 1 percentage point higher than H1 FY2019/20, as a result of the important role of its stores and the fact that it has always charged for returns, shaping the behaviour of its online shoppers."
Salter believes long-term trends will persist, with sportswear and casualwear set to prevail again, and online will continue to outperform stores. She points to the a three year comparative where online and retail sales grew 44.4% and 4.7% respectively, highlighting the clear trajectory of its two channels.
In fact, she says: "Next did not expect its in-store sales to be higher than pre-Covid levels, but it will have benefitted from the closure of its competitor's stores, especially Marks & Spencer and Debenhams."