Gender inequality in apparel industry going unnoticed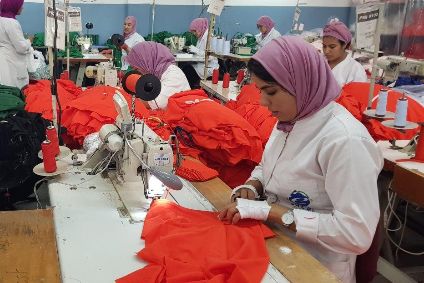 the report says overall companies need to be "more explicit" about how their actions impact women
Apparel companies have a critical role to play in driving gender equality and women's empowerment. But a new study has deemed current corporate disclosure around gender efforts is "woefully insufficient", particularly at supply chain level.
The Gender Baseline Assessment by the World Benchmarking Alliance looks at the gender data disclosure of the world's 36 "most influential apparel companies" and weighs up how these companies are integrating a gender strategy across their entire value chain and addressing women's needs.
Brands assessed include Adidas, LVMH group, Amazon.com, Associated British Foods (Primark), Gap Inc., Hennes & Mauritz, Inditex, Kering, Marks & Spencer Group, Nike, Ralph Lauren Corporation, Target, Walmart among others.
Of the key findings, the report says overall companies need to be "more explicit" about how their actions impact women. The 36 assessed "are currently not disclosing nearly enough regarding their gender efforts".
It identified three areas where progress needs to be made if brands are to better represent female workers.
Gender data is invisible
Basic information regarding the actions apparel companies are taking to promote gender equality and women's empowerment is not being made publicly available, report authors note. All 36 companies assessed disclose less than 40% of the information that stakeholders expect to see. This lack of transparency is hindering progress, says the WBA.
Seven of the 36 report on the gender balance of their workforce across five levels of leadership (board of directors, senior executives, senior management, middle management and overall workforce). An additional ten companies report on four levels of leadership, though do not reveal the gender composition of either their senior management or middle management. Only three companies (Costco Wholesale, LVMH and Target) publish the gender balance of their workforce by more than three occupational functions in their latest reporting.
Only Nike and Kering disclose information showing they track the gender composition of the number of employees participating in professional development programmes with specific support for women, such as mentoring programmes, leadership coaching and professional networks. No company publishes the gender breakdown of the percentage of employees promoted in its latest reporting.
In the supply chain, only VF Corp requests suppliers to disclose the breakdown of data by gender for their workers.
In terms of pay, Inditex and Lojas Renner are the only two companies assessed that disclose their global gender pay data.
"In order to contribute to the achievement of SDG 5 and beyond, companies need to collect and disclose the gender breakdown across a number of metrics. There is also a strong business case for collecting, monitoring and analysing more gender data to assess and track both the impacts and inequalities arising within companies' operations. It is a key step toward revealing and understanding the extent of the gender gap as well as informing the effectiveness of companies' actions and strategies to promote and drive gender equality and women's empowerment."
It's time to drive transformative change
Companies focus primarily on avoiding gender-related impacts and disclosing what is legally required rather than proactively driving transformative change in the industry. Less than 11% of the publicly available information displays leading practice in relation to industry peers.
In the supply chain, 28 of the companies assessed (78%) require their suppliers to pay workers the legal minimum wage. Sixteen of these mention the prevailing local industry wage, stating the higher wage should be paid. Fifteen of these recognise workers' right to fair compensation for their work and encourage suppliers to pay a living wage, though it is not a requirement. Only two companies (Inditex and Kering) require suppliers to pay workers a salary that goes beyond covering their basic needs to include a discretionary income or the needs of their family.
One area where companies focus on avoiding gender-related impacts is the health and safety of women workers in the supply chain. A majority (20 companies, 56%) considers workers' health, safety and hygiene needs, for instance by requiring their suppliers to provide access to toilets separated by gender, drinking water, adequately lit factory facilities or appropriate personal protective equipment. However, only three companies (Ascena Retail Group, Nike and VF Corporation) require their suppliers to have an on-site health clinic with a credentialed health provider.
Twenty-six companies (72%) report information about their grievance mechanism through which employees and supply chain workers can report concerns. A majority of these mechanisms (24 companies, 67%) take into account the specific needs of women employees, for instance by guaranteeing confidentiality, allowing concerns to be anonymously reported to someone other than the direct supervisor via a telephone line, and ensuring non-retaliation and protection of the aggrieved party. However, only eight companies (22%) make their grievance mechanism information available in multiple languages based on the geographic areas covered as well as ensure that supply chain workers are aware of the mechanism to report their grievances.
A strategic approach to gender is the way forward
Achieving gender equality and women's empowerment requires companies to take an approach that is integrated across their entire value chain and is holistic, in that it considers the many interconnected dimensions affecting gender equality. While 12 companies (33%) have committed to promoting gender equality and women's empowerment, their gender efforts are not carried out in a strategic way, report authors say.
Eight companies (22%) disclose more information regarding their gender efforts in the workplace than in the supply chain. This is especially the case for compensation and benefits, with 22 companies (61%) publishing details about how they consider the fair compensation of their employees and extend them family-friendly benefits. Only 14 companies (39%) disclose information regarding what compensation and benefits suppliers should extend to workers in order to support their unpaid care burden, which women disproportionately carry.
Similarly, slightly more companies disclose information about their violence and harassment prevention efforts in the workplace than in the supply chain. In India, for example, Aditya Birla Fashion and Retail applies the Prevention of Sexual Harassment (POSH) framework, which ensures detailed investigations of sexual harassment complaints are conducted by a committee that is a majority female. Furthermore, it adopted the Policy for Prevention of Sexual Harassment at Workplace to provide an effective complaint redressal mechanism if there is an occurrence of sexual harassment. However, no information was found on how the company prevents violence and harassment in the supply chain.
None of the brands except H&M responded to just-style's request for comment on the report, while Target Corp declined to comment.
A spokesperson for H&M said: "H&M Group is based on the values of respecting human rights and equality for all. It is rooted in our company values, social policies and global employee strategy. We believe that the report creates important awareness on the important issue of continuing the work towards gender equality, which we have been working on extensively for many years.
"While we are glad that our work for a gender-responsive human rights due diligence process, professional development opportunities for women workers and fair wages is being recognised in the report, we acknowledge that we need to step up our actions together with all parties in society to really make gender equality happen. We believe in a society free from bias and with an equal voice and representation for women and men. Regardless of gender – all should have fair and equal opportunities and be protected from discrimination and harassment."
The group cited examples in Bangladesh, Pakistan and Myanmar where gender equality projects are currently underway.
"We are currently working to further integrate gender equality throughout our value chain to allow a strengthened focus across all parts of our business. We have defined a specific strategy for gender equality targeted at our supply chain where we focus on four areas where we can make the biggest difference: health adn safety, career and development, wages and representation.
"We are an organisation with a majority of women, and we are proud that, globally, the gender share in leadership positions reflect the total share of women/men, and our board of directors has a 60/40 gender share. We will continue to work to improve our internal diversity at all levels, which includes further analysis of gender disaggregated data, to take action where needed."
Create sourcing plans that work
Find new apparel sourcing destinations, assess trade flows and manage tariffs. All in one place.
Oops! This article is copy protected.
Why can't I copy the text on this page?
The ability to copy articles is specially reserved for people who are part of a group membership.
How do I become a group member?
To find out how you and your team can copy and share articles and save money as part of a group membership call Sean Clinton on
+44 (0)1527 573 736 or complete this form..