H&M under fire over living wage claims
H&M published its 2017 sustainability report today (13 April), outlining the progress it has made on areas such as shifting to a circular model, sustainability innovation and fair living wages.
Yet the retailer has come under fire from the Clean Clothes Campaign for making false claims over its commitment to a fair living wage.
It is calling on H&M to be more transparent.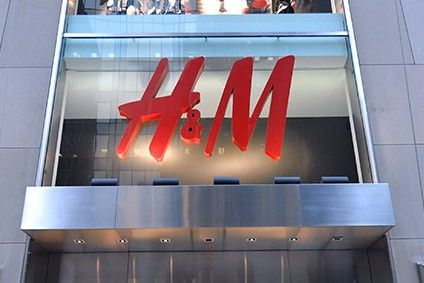 Clean Clothes has strongly refuted the "self-congratulatory statements" made by H&M in its latest sustainability report
The Clean Clothes Campaign has blasted Swedish fashion retailer Hennes & Mauritz (H&M) for making what it says are "bold claims" in its latest sustainability report about progress on fair jobs and the living wage.
H&M published its 2017 sustainability report today (13 April), outlining the progress it has made on areas such as shifting to a circular model, sustainability innovation and fair living wages.
Yet the labour rights group says the report is "disappointing" and has strongly refuted what it claims are "self-congratulatory statements" made within it.
In particular, Clean Clothes points to the retailer's commitment to pay a fair living wage. In its report, H&M points out that it developed its global Fair Living Wage Strategy in 2013, setting targets of ensuring supplier factories representing 50% of product volume should be using the method by 2018, and that 90% of business partners should regard H&M group as a fair business partner by 2018.
Clean Clothes, however, says H&M has been "steadily rephrasing and diluting" the commitment.
"Back then the Swedish clothing retailer announced: "H&M's strategic suppliers should have pay structures in place to pay a fair living wage by 2018. By then, this will reach around 850,000 textile workers." By now, that commitment has been watered down to the aim of supplier factories representing 50% of product volume using the Fair Wage method. Whether or not this actually leads to the workers being paid a living wage by 2018 is not addressed at all in the report," the labour group says.
"H&M apparently does not care anymore about the wage levels that actually arrive in the workers' pockets," says David Hachfeld of Public Eye (CCC Switzerland), adding: "H&M is now even less transparent, which is a direct contradiction to the 2013 promise to report in a transparent way about the progress made."
The labour group says data on average wages at supplier factories is absent from the report. In particular, it says there is no information on wage development at supplier factories per country, or any wage development data for the 227 factories using the Fair Wage method. "There is therefore no way to establish whether garment workers actually earn more," says Maria Sjödin of Swedish CCC.
Clean Clothes points to what it says is a further gap in H&M's reporting, relating to the retailer's purchasing practices.
Unlike its 2013 'Roadmap to a fair living wage', CCC says H&M had promised to ensure the prices its pays enable suppliers to pay fair living wages. The 2017 report provides "no clear updates on whether H&M has adapted its purchasing practices to enable higher wages", it says.
"Measures could include rewarding factories that are willing to raise wages with larger orders, closer cooperation or price premiums as well as selecting factories with better wages when new suppliers are contracted," CCC adds.
The labour group has renewed its call for transparency from the retailer following a letter to H&M's board of directors, CEO and head of sustainability last month.
"There is ever more focus on processes, without any clear indication that they have delivered or will deliver actual change," says Ineke Zeldenrust of CCC's international office. "Looking from the perspective of a garment worker living in poverty: a process does not buy you a bowl of rice, cover a medical emergency or make sure you have a roof over your head."
A spokesperson for H&M told just-style the size and reach of its ambition is the same as in 2013 when the company launched the strategy.
"Our goal for 2018 is that a majority of our suppliers (representing 50% of our product volume) should have democratically elected worker representatives in place, as well as stable and transparent wage systems ensuring that the wages take the worker's skills, experience, performance and responsibility into account. In addition, the workers should be aware of their rights and obligations.
"We are confident we will reach our goal by end 2018. We have already achieved one part of the goal; those supplier factories we work with the most should have democratically elected representatives in place. We have so far covered 458 factories (representing 52% of our product volume) with our workplace and industrial relations programmes. However, our work continues and we will cover an additional 223 factories during 2018. The 2018 is just a milestone on this journey towards fair living wages."
The second part of the 2018 goal - to help supplier factories implement improved wage management systems - has been done at 227 supplier factories (representing 40% of H&M product volume). This has reached 375,000 workers, H&M says.
"These two parts of our goal are fundamental for fair living wages – you cannot skip these steps if you want to contribute to lasting and industry-wide change. Also, to be able to bring about change in the entire textile industry, you need collaboration between brands, trade unions, organisations and suppliers. This is what happens within the joint industry approach ACT, where we are partnering with other brands, retailers and trade unions to bring about change across the industry by supporting freedom of association and industry-wide collective bargaining."
The spokesperson also points to its collaborations with IndustriALL within the company's Global Framework Agreement. "Equally important is the commitment from the local governments in the countries specialising on textile industry," it adds. "The governments set minimum wages, decide on labour laws and wage revisions. With our size and our collaboration with other brands, we can have a dialogue with them – on our own or together with other brands.
"H&M group should always provide reasonable lead times, fair pricing, timely payments and a transparent and open dialogue with our suppliers. As part of this, we continue to improve our purchasing practices, for instance by further strengthening our long-term commitments to our suppliers, and thereby support suppliers in the progress towards a fair living wage."
Create sourcing plans that work
Find new apparel sourcing destinations, assess trade flows and manage tariffs. All in one place.
Oops! This article is copy protected.
Why can't I copy the text on this page?
The ability to copy articles is specially reserved for people who are part of a group membership.
How do I become a group member?
To find out how you and your team can copy and share articles and save money as part of a group membership call Sean Clinton on
+44 (0)1527 573 736 or complete this form..