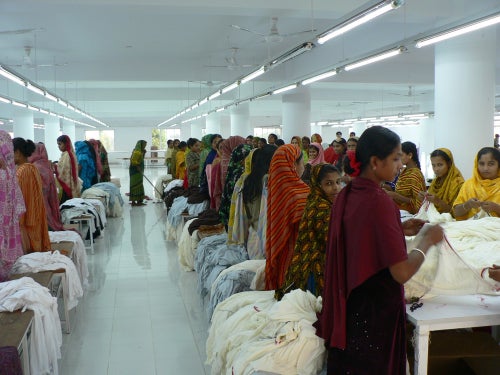 The BGMEA's president Faruque Hassan and the International Monetary Fund (IMF)'s mission chief for Bangladesh, Rahul Anand, met earlier this week (20 July) to discuss the future of Bangladesh's apparel sector, including its aim of reaching an export target of US$100bn by the end of the decade.
Hassan hopes the IMF can help BGMEA realise its vision for the country's apparel sector, which he explained in turn would contribute to the development of Bangladesh.
The BGMEA shared the apparel sector's goal to create employment for six million people by 2030 whilst ensuring 100% gender equality, inclusiveness and a decent workplace.
Hassan explained the BGMEA has set a sustainable strategic vision for 2030 and said he hopes to grow the ready-made garment (RMG) industry in a way that is sustainable and positively impacts the economy, the environment and the lives of Bangladesh people.
The BGMEA and IMF also discussed the wider issues facing the apparel industry in Bangladesh, as well as the strategies required to meet future challenges and sustain growth.
The two organisations spoke about the possible impact of Bangladesh's graduation from least developed country (LDC) status in terms of tariff changes and market access.
Bangladesh is expected to graduate from LDC status in 2024, however it will continue to benefit from duty-free access to the European Union, Canada and Japan until 2027.
A report published earlier this year titled 'Textiles and clothing in Asian Graduating LDCs: Challenges and options,' suggests Asia's LDC countries such as Bangladesh will need to prepare for graduation-related challenges and says how they cope will largely depend on the "extent to which such adjustments can cushion the impact on their textiles and clothing (T&C) sector".
Associate Professor of Fashion and Apparel Studies at the University of Delaware Sheng Lu, who contributed to the report, told Just Style at the time LDC countries such as Bangladesh need to be encouraged to gradually move up the global value chain and engage in "more value-added functions such as design, product development, and branding".
The BGMEA also met with Eswatini (former Swaziland)'s minister of commerce, industry and trade senator on 20 July to discuss potential areas of trade and investment between the two countries.
Senator Manqoba Khumalo and the BGMEA's Hassan spoke about a possible collaboration that could include an investment in a joint venture for sectors such as apparel and textiles.