"Lopsided contracts" expose garment industry frailties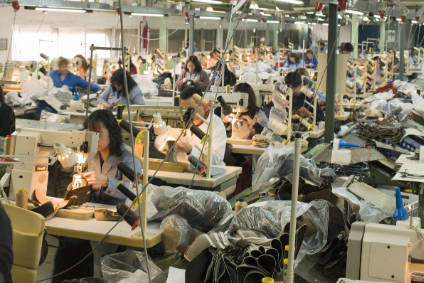 "It is clear that many brands are cancelling contracts primarily because they can, not because it is justified"
A new policy paper that explores the power imbalances between brands and suppliers, and their contractual manifestation as a result of Covid-19, calls for more effective global governance of supply chains and stronger public and private accountability mechanisms.
The steep and sudden drop in consumer demand due to the start of the coronavirus pandemic in early 2020 exposed fragilities and inequities in global garment supply chains. Some retailers and brands suspended or cancelled orders with suppliers, with others demanding discounts on agreed prices.
"These actions by some of the industry's largest brands showed no apparent concern for the impact these decisions would have on their suppliers and the millions of low-wage workers whose labour, for decades, has supported the industry and fuelled its profits," says the policy paper, titled 'Farce majeure: How global apparel brands are using the Covid-19 pandemic to stiff suppliers and abandon workers.'
"Though some brands subsequently agreed to pay for these orders in the face of public criticism over the devastating impact of order cancellations on workers in their supply chains, other brands still refuse to pay."
Published by the European Center for Constitutional and Human Rights (ECCHR), the Worker Rights Consortium, and the International Lawyers Assisting Workers (ILAW) network, the paper examines the law of force majeure, and how it applies to the current circumstances, and calls for better access to accountability mechanisms for workers to enforce brands' responsible supply chain practices.
The paper estimates garment manufacturers in Bangladesh have had around US$6bn worth of orders suspended or cancelled since the pandemic began, leading to unemployment among garment workers of around 1m, as of March.
"It is clear that many brands are cancelling contracts primarily because they can, not because it is justified," the paper explains. "Brands know that their suppliers will rarely, if ever, seek to hold them legally accountable, even when the brand is clearly in the wrong.
"Not only do suppliers often lack the means, knowledge and/or resources to bring legal action, additional hurdles are built into the contracts. For example, the contracts reviewed for this paper all require legal action to be filed in the courts of the country where the brand is headquartered, not the supplier's country where the bulk of the effort to satisfy the terms of the contract is undertaken. Contracts also require the supplier to pay the brand's attorneys' fees if it loses. An equally important factor is that suppliers in the garment sector fear permanent retaliation, not only by the brands that they may sue but also by other brands."
In many cases, "lopsided contracts" are signed that leave the buyers with nearly all of the rights and nearly none of the responsibilities – including to pay for their orders, according to the paper.
It adds: "The cancellation clauses in such agreements represent a significant deviation from more commonplace force majeure clauses or common law doctrines that address circumstances in which a party may be excused from performing a contract. It is unlikely that under more standard contractual terms and established legal doctrines, brands could have cancelled their orders without facing significant liability."
Beyond the basic demand that brands honour their contracts, the human rights groups say the crisis has highlighted that global brands' purchasing practices must change to ensure the rights and welfare of workers in supplier factories are fully respected and supported rather than undermined.
The paper sets out a number of recommendations:
Legal reform
International law needs to catch up with current global production patterns and help balance the power between contractual parties. Since 2016, International Labour Organization constituents have debated whether and how to regulate global supply chains – a discussion which is long overdue.
In the countries where production is generally situated, governments should amend their laws to prohibit the kinds of abusive contract terms described herein, and further build up social protection for workers in the case of future disruptions in supply chains.
Countries where brands are headquartered should adopt mandatory human rights due diligence legislation to ensure that brands are legally liable for the labour violations that they cause or to which they contribute – and for which conducting due diligence is no defense to liability.
regulators and legislative bodies should investigate further the power imbalances in the garment supply chains, both in terms of contractual provisions as well as practice, and consider regulation to prohibit abusive contract terms.
Enforceable agreements
Apparel industry brands must end their refusal to negotiate binding and enforceable private agreements with national trade unions in producing countries and with global union federations that address the relationship between brands' purchasing practices and labour abuses in their supply chains.
Whether through agreement, legislation, or both, contracts that stipulate purchasing prices that are insufficient to enable factories to pay workers a living wage or require tight timelines that cannot be met without illegal amounts of overtime must be abolished.
Payments to suppliers under contracts will need to be made in full and on time, and wages paid in full and on time to workers. Future contracts should not allow the buyer to cancel orders finished or in process without recourse for the supplier and its workers simply because the orders are no longer as profitable as when the order was placed.
Contracts between brands and suppliers should explicitly acknowledge supplier factory workers as the intended beneficiaries of the brand's agreement to pay the supplier and give workers the right to sue the brand for any wage arrears that may result from the brand's failure to do so.
Create sourcing plans that work
Find new apparel sourcing destinations, assess trade flows and manage tariffs. All in one place.
Oops! This article is copy protected.
Why can't I copy the text on this page?
The ability to copy articles is specially reserved for people who are part of a group membership.
How do I become a group member?
To find out how you and your team can copy and share articles and save money as part of a group membership call Sean Clinton on
+44 (0)1527 573 736 or complete this form..