Timberland edges closer to 2020 sustainability goals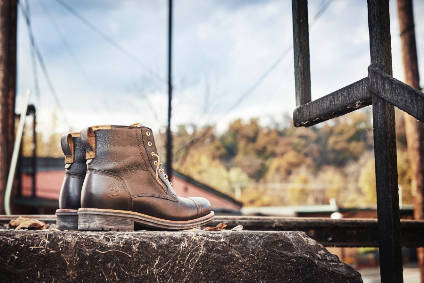 At the end of the fourth quarter, there were 422 factories actively producing for Timberland
Outdoor lifestyle brand Timberland continues to progress towards its 2020 sustainability goals – with 99% of the cotton used in its apparel now either organic or BCI-certified.
The company's just-released 2018 corporate social responsibility report shows the latest results towards its five-year performance targets across three core CSR pillars – product, outdoors and community.
Timberland's global apparel production, which accounts for 89% of all cotton sourced, has "significantly" increased its use of responsible cotton. During 2018, 99% of the cotton used for producing apparel worldwide (1,871 metric tonnes) was either organic (40%) or Better Cotton Initiative (BCI) certified (59%).
Timberland said the increase was offset by the addition of a new sock licensee that is phasing into its requirements. The firm is the second highest user of cotton for Timberland products and is currently confirming best ways to incorporate responsible cotton into its line.
The brand is working towards achieving 100% responsible cotton use by 2020.
Materials
In 2017, the brand – owned by US apparel giant VF Corp – changed its method of reporting the use of material containing recycled, organic or renewable (ROR) content. From 2011 to 2016, all materials were reported, including those used in minor components such as webbings, trims and labels. To drive focus towards using ROR materials in more significant footwear components (such as uppers, linings, soles), the company is no longer including minor components in its reporting.
As such, significant materials with at least 10% ROR content were used in 69% of all Timberland footwear shipped in 2018.
Recycled PET continues to be the largest source of ROR materials in Timberland footwear, incorporating over 717,519 pounds – the equivalent of 32m plastic water bottles. To date, the brand has incorporated the equivalent of more than 345m plastic bottles into its footwear.
"To further advance toward our 2020 goal, we have affected design policies that require ROR content in all new product development and will be revisiting carry-over styles to engineer in ROR where there is none currently," the brand says.
Timberland is also working to phase out the use of PVC in its products, with an end goal of being PVC-free by 2020.
"In 2018, 3% of Timberland footwear shipped contained PVC, which is even with our 2017 result. While not yet at 100% PVC-free, we are proud of the progress that we've made over the years to phase out PVC in our footwear," Timberland adds.
Meanwhile, in terms of the materials used in its products, Timberland says its average use of volatile organic compounds (VOCs) per pair of shoes was 51 grams during the fourth quarter, a slight increase over its 50 grams usage in the year-ago period.
Strategies implemented in its owned-manufacturing facility in the Dominican Republic have enabled it to keep its VOC usage to a minimum. These strategies include employee training, better containment of VOC adhesives to prevent evaporation, upgrading VOC application equipment, more targeted application, and increased material pre-treatment processes to minimise the VOC adhesives needed.
"We are working to share these best practices with other factories around the world to further reduce our use of VOCs while maintaining the necessary performance attributes for our product lines," the firm says in its report. "We remain committed to our goal of averaging 42 grams of VOCs per pair."
Meanwhile, there has also been a rise in the overall volume of leather produced at tanneries with a Gold or Silver rating from the cross-brand Leather Working Group (LWG). LWG certification is awarded to tanneries that demonstrate environmental best practices and performance in all areas of leather production, from chemical, water and waste management to energy use and hide traceability.
During the fourth quarter, 97.5% of the group's overall leather volume for Timberland footwear, apparel, accessories and licensed products was produced at tanneries with a Gold or Silver LWG rating. This compares to 88.6% in the year-ago period. When looking at leather used for Timberland footwear only, 99.86% came from tanneries rated Gold or Silver.
For full-year 2018, 96.2% of leather used in all Timberland products came from Gold or Silver-rated tanneries, and 99.1% of leather used for footwear only came from Gold or Silver-rated tanneries. The firm remains committed to its goal to limit production at non-certified tanneries until they achieve Gold or Silver status.
Manufacturing
At the end of the fourth quarter, there were 422 factories actively producing for Timberland. Broken down by business unit, this equates to 65 footwear factories, 162 apparel factories, 90 factories producing licensed goods and accessories, 30 tanneries, 61 fabric mills and component suppliers, and 14 independent distributor factories.
Of these, 171 (43%) were rated as accepted, meaning there are no serious safety, health, or labour issues and the facility is certified to produce VF products for 12 months, while 241 (57%) were rated as developmental, meaning there are some minor safety, health, or labour issues. These factories are authorised to produce for VF while the issues identified are corrected in a timely manner and a follow-up audit is scheduled within 6-9 months. If the problems are corrected as required, then the status of the factory will be elevated to 'accepted.' If not, the factory is downgraded to 'pending rejection-180 days', at which time they have a final six months to satisfactorily resolve the outstanding issues or be downgraded.
Timberland sourced from a total of 529 factories in 2018. When looking at all factories that produced in 2018, including those not audited and those dropped mid-year, the brand's overall supply chain risk can be summarised as follows: 37% were accepted, 62% were developmental, and 1% were rejected (orders with rejected factories were withheld until corrective actions were implemented or production was relocated).
Working hours were cited in 16% of the audits conducted in 2018, down significantly from 2017 (36%). VF defines this issue as anything over 60 hours per week or working more than 6 days consecutively. Minimum wage issues were also reduced in 2018, only found in 2% of factories audited.
"Timberland believes, along with others in our industry, that factory disclosure and collaboration can create common standards and shared solutions – helping to advance global human rights in all our factories," the brand states in its report. "For this reason, we disclose our factories on a quarterly basis. Although our supply chain sources may change from time to time, our quarterly factory disclosure represents our best attempt to disclose all of Timberland's active factories as of that date."
Timberland, along with other VF Corporation brands, recently published full supply chain transparency footprint maps on nine of its most iconic products. The source maps, available on VF's sustainability website, help ensure every step in the production of VF's apparel and footwear meets the corporation's standards of quality, sustainability and social responsibility – from raw material extraction to VF distribution centres.
The interactive maps display the number and locations of suppliers in a region and users can zoom in for a close-up look at each supplier, including onsite inspections, verifications, and associate interviews.
Oops! This article is copy protected.
Why can't I copy the text on this page?
The ability to copy articles is specially reserved for people who are part of a group membership.
How do I become a group member?
To find out how you and your team can copy and share articles and save money as part of a group membership call Sean Clinton on
+44 (0)1527 573 736 or complete this form..