US retailers and apparel groups cheer death of border tax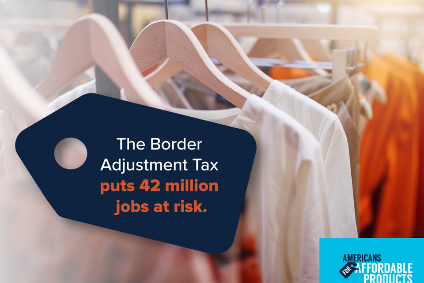 Industry organisations said the tax would drive up the cost of their products
The US retail and apparel industry has welcomed a move by the Trump administration and congressional Republican leaders to ditch the controversial Border Adjustment Tax (or BAT).
In a joint statement from House Speaker Paul Ryan, Committee Chairman Kevin Brady, top Senate Republicans and senior White House yesterday (27 July), the Republican leaders said they were now shelving the so-called border-adjustment tax, which would have taxed imports to the US from certain countries.
"While we have debated the pro-growth benefits of border adjustability, we appreciate that there are many unknowns associated with it and have decided to set this policy aside in order to advance tax reform," the statement read.
Ryan and Brady have defended the proposed tax for months, claiming it would give companies incentives not to move factories overseas. The idea was to raise around US$1trn in revenues over ten years by taxing imports, including raw materials and components used in manufacturing, to help offset tax-cutting provisions proposed by some politicians as part of a broad tax reform legislation.
Yet the proposal resulted in a major backlash from numerous companies and industry organisations that said it would drive up the costs of their products and effectively move the US toward a consumption tax structure rather than the current income tax structure.
Several industry groups have cheered yesterday's announcement, saying it shows unity between the White House and GOP leaders going forward.
"Today's update on the status of tax reform is very encouraging, particularly since the border adjustment tax is no longer under consideration," said National Retail Federation President Matthew Shay. "By removing this costly element of reform, the way has been cleared for swift action on a middle-class tax cut that will put more money in the wallets of the American taxpayer. Changing our outdated tax code is fundamental if we are to grow our economy, encourage investment and create jobs."
The US has one of the highest corporate tax rates in the world and NRF has been leading the retail industry in seeking comprehensive tax reform. The industry association says retail benefits from few of the tax breaks that lower tax bills for other industries, and most retail companies pay at or close to the full 35%.
The Retail Industry Leaders Association also welcomed the news, describing it as "an important victory for American families and businesses who desperately need tax reform and who would have been harmed most by the border adjustment tax".
Sandy Kennedy, president of the Retail Industry Leaders Association (RILA), added: "With BAT out, Washington has an opportunity for the first time in more than a generation to pass a tax reform plan that boosts American businesses and family budgets."
Meanwhile, Rick Helfenbein, president and CEO of the American Apparel and Footwear Association (AAFA), said the move to ditch the tax is an important step on the path to providing long term tax reform that simplifies the code, lowers burdens, supports US jobs, grows the economy, and makes the US more globally competitive.
"Thanks to Speaker Paul Ryan, Senate Majority Leader Mitch McConnell, Secretary Steven Mnuchin, Director Gary Cohn, Chairman Orrin Hatch, and Chairman Kevin Brady for recognising the difficulties and uncertainties associated with a border adjustment tax, as well as listening to concerns from the business community and other stakeholders regarding how this provision would have harmed American companies, American jobs, and American consumers. We will continue to work with Congress, the Administration, and others to design a tax code that benefits everyone."
Yet while it seems one issue has been resolved, the move leaves a number of questions as to how they will now proceed.
In its statement, the White House and Republican leaders offered vague goals but no details on a plan they say will reduce tax rates as much as possible, allow unprecedented capital expensing, place a priority on permanence, and create a system that encourages American companies to bring back jobs and profits trapped overseas.
There is also no mention of how the overhaul plan will discourage US companies from moving operations offshore in search of lower taxes and how tax writers will make up the estimated $1trn in revenue the BAT would have raised.
Brady told reporters yesterday that Republicans will hold an event on 16 August at the Reagan Ranch in Southern California to promote the tax reform effort.
Create sourcing plans that work
Find new apparel sourcing destinations, assess trade flows and manage tariffs. All in one place.
Oops! This article is copy protected.
Why can't I copy the text on this page?
The ability to copy articles is specially reserved for people who are part of a group membership.
How do I become a group member?
To find out how you and your team can copy and share articles and save money as part of a group membership call Sean Clinton on
+44 (0)1527 573 736 or complete this form..