Algeria: Latest apparel and textile news & analysis
Latest News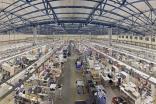 Taypa $1.5bn Algeria facility edges towards production 5 Feb 2018
A new US$1.5bn joint venture facility under construction in Algeria's northwestern region in partnership with Turkish denim giant Taypa is being described as the largest clothing and textile manufacturing facility in the Europe and Eastern Mediterranean basin – and is due to start production this year.
---
Algeria agrees $1.4bn textile and clothing cluster 16 Sep 2015
Algeria's state-owned apparel manufacturing group, the Groupe Public National de la Confection et de l'Habillement, has inked a deal with Turkish group Taypa to build a US$1.4bn textile and clothing cluster in the North African country, creating up to 25,000 jobs.
---
ALGERIA: To set up US$900m textile and clothing cluster 22 May 2013
The Société de Gestion des Participations Industries Manufacturières (SGP-IM), an Algerian state holding company which has stakes in numerous businesses including those specialising in garments, leather and footwear production, has signed a deal with Turkish group Taypa to build a textiles-clothing industry cluster in the North African country.
---
Global news roundup 27 Sep 2012
The following is a round-up of apparel and footwear news from the world's local media. just-style has not checked these stories so cannot guarantee their accuracy.
---
ALGERIA: Turkish firms to invest in clothing industry 19 Sep 2012
Turkish firms are to invest US$2.5m in setting up two garment-making facilities in Algeria in partnership with local companies, following the conclusion of a co-operation agreement with the Algerian authorities, a source at Istanbul's Chamber of Commerce (ICC) has revealed.
---
ALGERIA: Mango to open first store in Algiers 14 May 2008
Mango, Spain's second largest exporter of women's fashion, has opened its first store in Algeria and says it is planning further expansion in the country.