Cuba: Latest apparel and textile news & analysis
Latest Insights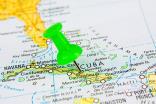 Is Cuba the missing link in the US apparel supply chain? 23 Dec 2015
In his last comment of the year, Mike Flanagan offers a seasonal suggestion for solving several global and industry problems.
Latest News
China and Cuba explore silk farming opportunities 21 Aug 2017
Representatives from the silk industries in China and Cuba have met to discuss ways to expand silk production in Cuba and explore a growth area for both countries.
---
CUBA: Shoppers get a taste of Zara 16 Jan 2009
Cuba has become the latest nation to acquire a taste for Zara.