Ghana: Latest apparel and textile news & analysis
Latest News
Ghanian apparel firm announces "major" investment 19 Aug 2019
DTRT Apparel Ltd (DTRT), which claims to be West Africa's largest clothing manufacturer, has announced a new investment from leading investment firm Verod Capital Management and Red Bull in a deal it says will be "transformative" for the West African apparel industry.
---
West Africa workshops discuss US apparel standards 6 Apr 2018
The American National Standards Institute (ANSI) has held a two-part training session on textile and apparel standards in Ghana and Cote d'Ivoire to share insights on the US standards system and the role of voluntary consensus standards in the country.
---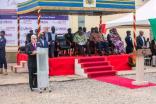 US partners on Ghana apparel manufacturing project 18 Aug 2017
Nearly 2,000 new garment-making jobs are set to be created in Ghana thanks to an initiative with clothing manufacturer Dignity DTRT Limited and supported by the US-government.
---
Ghana latest to ratify WTO trade deal 5 Jan 2017
Ghana has become the latest country to ratify the World Trade Organization's (WTO) Trade Facilitation Agreement (TFA), meaning just seven more ratifications are required before it comes into force.
---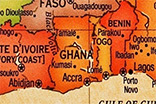 GHANA: Task force to tackle textile design piracy 30 Jul 2014
The Ghanaian government has set up a task force to combat the trade in counterfeit versions of the country's textile designs.
---
AFRICA: CmiA scheme supports female cotton farmers 6 Mar 2014
The Cotton made in Africa (CmiA) scheme has implemented a number of initiatives to help female cotton farmers in the producing regions of Sub-Saharan Africa.
---
GHANA: Joins Cotton made in Africa scheme 17 Feb 2014
Ghana is the latest country to sign up to the Cotton made in Africa (CmiA) initiative, whose sustainably grown cotton is purchased and processed by firms such as Puma, Tchibo, C&A and REWE.