Iceland: Latest apparel and textile news & analysis
Latest News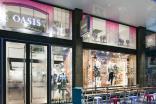 Oasis, Warehouse and Coast for sale? 28 Nov 2016
Icelandic bank Kaupthing has declined to comment on reports it is looking to sell off UK high street fashion retailers Coast, Oasis and Warehouse.
---
Iceland latest to ratify WTO trade deal 2 Nov 2016
Iceland has become the latest country to ratify the World Trade Organization's (WTO) Trade Facilitation Agreement (TFA) in yet another sign of support for the landmark global deal. 
---
ICELAND: EFTA authority warns over textile labels 22 Apr 2010
The Icelandic government is facing potential legal action at the European Free Trade Area (EFTA) Court for failing to implement European Union (EU) directive 2008/121/EC on textile names.
---
ICELAND: Baugur Group files for bankruptcy 13 Mar 2009
Icelandic retail investor Baugur Group is to file for bankruptcy after a court in Reykjavik refused to give it more time to sort out its affairs.
---
ICELAND: Baugur's UK unit to enter administration 6 Feb 2009
Iceland's Baugur Group has decided not to oppose its UK unit BG Holding being placed under administration.
---
ICELAND: Baugur on brink after restructuring talks fail 4 Feb 2009
Retail investment group Baugur has sought legal protection from its creditors after restructuring talks with bank Landsbanki failed.
---
UK: Don McCarthy steps down at Moss Bros 22 Dec 2008
Moss Bros Group has announced that Don McCarthy has stepped down as a non-executive director of the company.
---
ICELAND: Baugur targets buys with retail war chest 9 Apr 2008
Icelandic investment group Baugur has completed its restructuring as a pure retail investor, amassing a war chest to target acquisition opportunities.
---
ICELAND: Baugur considering bid for Saks 31 Oct 2007
Icelandic retail group Baugur has indicated it could make an offer for US fashion retailer Saks Inc.
---
UK: Baugur bids to takeover Mosaic Fashions 25 Jun 2007
A consortium led by Icelandic retail group Baugur has decided to make an offer to takeover Mosaic Fashions, which owns the Oasis, Karen Millen, Coast and Whistles clothing stores.