Iran: Latest apparel and textile news & analysis
Latest News
Trump gives green light for Iran textile sanctions 14 Jan 2020
US President Donald Trump has issued an order allowing the US Treasury Department to execute fresh sanctions on Iran in several product categories including textiles.
---
LC Waikiki begins garment sourcing trial in Iran 30 Oct 2017
LC Waikiki has begun to trial sourcing of garments from Iran in a move that could see the Turkish fashion brand import up to EUR20m (US$23.3m) worth in the next 18 months.
---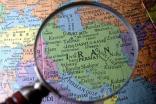 Iran secures major South Korean textile investment pledge 6 Jun 2016
South Korean spandex-manufacturer TK Chemical Corp, an affiliate of the SM Group conglomerate, has confirmed to just-style that it will build a 10,000-tonne-a-year spandex plant with an initial investment of KRW80bn (US$69m) in Iran.
---
India eyes Iran's apparel market to boost exports 19 May 2016
In a bid to grow its ready-made garment exports, India is looking to tap Iran's market for simple apparel products following the removal of economic sanctions against the country last year.
---
IRAN: 90% of textile factories threatened by closure says official 15 Jan 2007
About 90% of Iran's 3,600 textile factories are at risk of closure, according to Alireza Mahjoub, a member of the Majlis Social Commission and director general of Iran Labor House.
---
IRAN: Textile factory to provide 5,000 jobs 21 Aug 2006
A joint-venture textile factory is to open up 5,000 jobs in Zanjan Province, northwest Iran, Mehr News Agency reported.
Latest blogs

Iran develops GM cotton crop 3 Jun 2015
Iran has developed what is said to be the first sample of genetically modified cotton, produced using indigenous technology.