Romania: Latest apparel and textile news & analysis
Latest Insights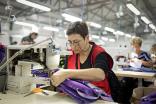 Romania clothing sector faces recruitment crunch 30 Mar 2020
Romania's clothing and textile industry is facing a recruitment crunch and experts worry that it will struggle to find a strategy to hire sustainably to ensure long-term growth. 
---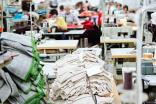 Romania garment industry stumbles amid tough times 30 Oct 2019
Though there are numerous individual success stories in the Romanian textile and garment industry, sector statistics show a more bleak picture: employment, production and exports are declining, while imports and the sector's trade deficit are on the rise. 
---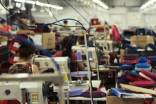 Romania clothing workers still lag other sectors on wages 9 Sep 2019
Economic data shows Romanian clothing and textile workers are suffering from comparatively low wages, with increases lagging behind employees in other sectors.
---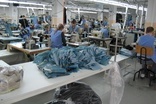 Eastern Europe a "cheap labour sewing backyard" 11 Jun 2014
As brands and retailers increasingly explore options for sourcing closer to home, it is perhaps inevitable that labour rights activists should now turn their attention to pay and conditions for garment workers in eastern Europe and Turkey.
---
Will Romania's EU entry harm its apparel industry? 29 Nov 2006
Romania is set to join the European Union on 1 January 2007. The country is currently the largest East-European supplier of clothing to the EU, but how will its future performance be affected by the higher costs and potential labour shortages that will inevitably accompany EU accession? Jozef De Coster finds out.
Latest News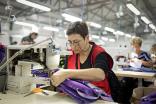 Romania garment workers win wage campaign 26 Oct 2020
The Clean Clothes Campaign (CCC) has welcomed a decision by three fashion companies to ensure a group of workers in Romania were paid full back wages following a campaign that went viral.
---
German menswear maker closes Romanian factory 12 Jun 2020
German menswear manufacturer Dr Bock Industries, which produces clothing for brands including Hugo Boss and Gant, is permanently closing its production facility in Romania due to the impact of the coronavirus pandemic on orders.
---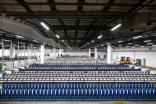 RadiciGroup expands yarn twisting facility in Romania 2 Aug 2018
Italian yarn maker RadiciGroup has expanded the capacity of its yarn twisting facility in Romania to cater for increasing demand for high-value yarns and tailor-made solutions.
---
Romanita implements pattern making tool for efficiency 5 Jan 2018
Leading Romanian apparel manufacturer Romanita is implementing Lectra's Modaris pattern making, grading and prototyping solution in a bid to optimise its product development process.
---
ROMANIA: Topp Textile to take over Ploucquet waistband site 16 Sep 2014
German textile specialist Ploucquet Group is selling its European waistband business in Romania to Gerhard Topp, in what the two companies say marks the start of a new long-term strategic alliance.
---
ROMANIA: Textile finisher awarded Step certification 5 Aug 2014
A textile finisher in Romania has become the first textile company in the country to be awarded the Step by Oeko-Tex certification.
---
CENTRAL EUROPE: Clothing and footwear markets set to grow 20 Aug 2012
The clothing and footwear market in Bulgaria, the Czech Republic, Hungary, Poland, Romania and Slovakia is expected to expand to EUR14bn in 2014, up from EUR13bn in 2011.
---
ROMANIA: Tibbett Logistics to open second Bucharest terminal 19 Oct 2011
Logistics specialist Tibbett Logistics is to open a second intermodal (road-rail) terminal in the west of Bucharest to meet growing demand across south east Europe.
---
ROMANIA: H&M opens store in Romania 1 Apr 2011
Apparel retailer H&M has opened its first store in Romania this week.
---
ROMANIA: Clothing bodies agree alliance with France 31 Mar 2010
Clothing and textile trade organisations in France and Romania have signed a protocol agreement aimed at strengthening co-operation at all levels of the fashion industry.