South Africa: Latest apparel and textile news & analysis
Latest Insights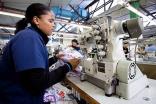 South Africa clothing sector master plan key to revival 10 Sep 2020
The South African clothing and textile sector is looking for action from the country's government under a clothing, textiles, footwear and leather industry master plan unveiled in July to help it recover from Covid-19. 
---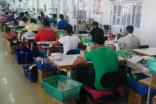 Assessing Africa as an alternative apparel source 31 Mar 2016
Africa has undeniable advantages that make it attractive as a potential destination for large volume, low cost, commodity garments, according to Chris Wynne-Potts, CEO at African Merchandising Services.
---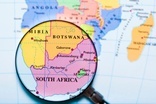 AGOA renewal offers great opportunities for Africa 15 Jun 2015
Should the African Growth and Opportunity Act (AGOA) be renewed for ten years as expected, there would be unprecedented opportunities for the sub-Saharan Africa textile and apparel sector, according to an expert speaker at this year's Source Africa textile, apparel and footwear trade event.
---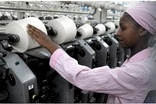 SOURCING: African apparel makers must plan for renewed AGOA 24 Jun 2014
There are growing opportunities in the US for African clothing and textile producers, but a long-term preferential trade agreement is needed for them to develop supply chains that can meet demand, industry experts at the Source Africa trade show have said.
---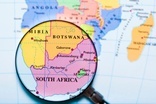 South Africa curbs textile and garment job losses 3 Apr 2014
The decline of South Africa's beleaguered garment and textile industry is bottoming out, and the sector has stemmed job losses by 66% between 2010 and 2013, industry experts say.
Latest News
Forensic science to verify origin of South African mohair 20 Oct 2020
Moves are underway to verify the origin of half of the world's supply of mohair to give manufacturers, brands and consumers greater insight into the provenance of the raw material used in their products.
---
South Africa makers using pandemic to cut worker wages 22 Sep 2020
Textile and garment manufacturers in South Africa are being accused of wanting to use the Covid-19 pandemic as an excuse to reduce the wages and benefits of over 75,000 workers.
---
Truworths books impairment charge on Office woes 21 Aug 2020
Truworths International, the South African owner of UK footwear chain Office has booked impairment charges of up to GBP131m related to the challenges the brand has faced to trading in the midst of the coronavirus pandemic and the liquidity of the unit.
---
TFG to double-down on apparel with planned Jet buy 13 Jul 2020
South African retail giant The Foschini Group (TFG) has confirmed it plans to grow its presence in the country's apparel sector through the acquisition of some of Jet Group's assets.
---
Woolworths cuts apparel orders, warns on FY profit drop 6 Apr 2020
Woolworths South Africa is cutting down orders from its apparel suppliers as part of measures to manage costs during the coronavirus crisis, amid a warning it will miss full-year earnings by at least 20%.
---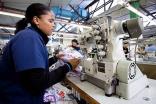 Full pay for South Africa clothing workers during virus lockdown 27 Mar 2020
80,000 clothing and textile workers in South Africa are set to receive full pay for the next six weeks as part of a landmark package agreed as the country goes into lockdown to try to limit the spread of coronavirus. 
---
Half-year earnings slip at Woolworths on womenswear weakness 20 Feb 2020
South African retailer Woolworths has reported a 17.7% fall in half-year profits on the back of weakness in womenswear sales.
---
Woolworths warns on H1 as Levi's Bagattini named CEO 28 Jan 2020
South African retailer Woolworths has warned on profits for the half-year after sales were impacted by a "constrained economic environment" and unseasonal weather, which impacted December trade.
---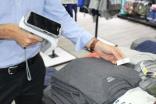 South Africa's TFG deploys RFID to drive stock accuracy 12 Sep 2019
Half-way through an ambitious 24-month RFID (radio-frequency identification) roll-out, South African based retail group TFG is reporting cost savings and significant cuts in stock counting time.
---
Woolworths implements PLM to provide a platform for growth 16 May 2019
Woolworths South Africa, part of Woolworths Holdings Limited, has implemented a Product Lifecycle Management (PLM) solution to help transform end-to-end product development and provide a platform for collaboration.