Swaziland: Latest apparel and textile news & analysis
Latest News
Swaziland garment workers protest over wages 7 Sep 2018
More than 10,000 workers from garment and textile factories in Swaziland producing for South Africa and the US have taken mass action over low wages.
---
Swaziland approved for AGOA apparel benefits 5 Jul 2018
Eswatini – formerly known as Swaziland – has been approved for the African Growth and Opportunity Act (AGOA) after adopting an effective visa system and procedures to prevent the unlawful transshipment of textile and apparel.
---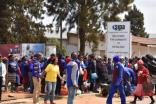 Swazi union calls for workers' rights to be respected 21 Feb 2018
IndustriAll global union affiliate, the Amalgamed Trade Union of Swaziland (ATUSWA), is calling on the Swaziland Investment Promotion Authority and the Department of Labour to continuously engage employers on the importance of respecting workers' rights.
---
SWAZILAND: Violence erupts as 16,000 textile workers strike 7 Mar 2008
Violence has erupted in the southern African kingdom of Swaziland after more than 16,000 textile workers went on strike to press for better pay and working conditions.
---
SWEDEN: H&M November sales up 11% 18 Dec 2006
Top European fashion chain H&M said sales in local currencies including VAT increased by 11% year-on-year in November. The company now operates 1,345 stores globally compared to 1,193 a year ago.