Uganda: Latest apparel and textile news & analysis
Latest News
Uganda cotton and clothing strategy eyes export growth 14 Aug 2019
Uganda has set out a new strategy for its cotton, textile and apparel sector that could, according to local reports, generate up to 50,000 new jobs and US$650m in additional export revenues over the next eight years.
---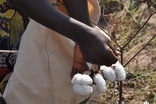 Uganda latest to join Cotton made in Africa initiative 5 Feb 2015
Uganda has become the latest country to sign up to the Cotton made in Africa (CmiA) initiative, in a bid to improve the competitiveness of its domestic cotton.
---
UGANDA: Nonprofit funds invest US$2.2m in cotton ginning 19 Jan 2011
Acumen Fund and Root Capital, two nonprofit social investment and global venture firms, are investing US$2.2m in cotton ginning in a formerly war-torn area of Uganda.
---
UGANDA: Textile firms sew up bargaining pact 8 Aug 2007
Two textile companies have signed collective bargaining agreements with their employers in Uganda in an attempt to improve working conditions and benefits, local sources reported.
---
UGANDA: Phenix Logistics ships first organic cotton order 9 Mar 2007
The first consignment of garments made from Ugandan organic cotton was shipped last week by Kampala-based manufacturer Phenix Logistics.
---
UGANDA: Apparel Tri Star to use local cotton 25 Apr 2006
Clothing maker Apparel Tri Star (U) Ltd is to start using locally grown cotton in its production by the end of this year.