Zambia: Latest apparel and textile news & analysis
Latest News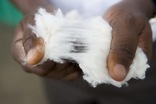 CmiA cotton "saves water and greenhouse gas emissions" 7 Nov 2014
A new lifecycle assessment of all steps involved in the production of cotton from the Cotton made in Africa (CmiA) initiative has confirmed its positive environmental impact.
---
ZAMBIA: Otto Group backs schools for cotton farmers' kids 20 Mar 2014
German online fashion and mail-order giant Otto Group has backed a project to open six schools in Zambia that will provide an education to 2,900 children of cotton farmers who are part of the Cotton made in Africa (CMiA) scheme.
---
ZAMBIA: Swarp Spinning Mills up for sale 23 Dec 2008
Swarp Spinning Mills, one of Zambia's largest cotton spinners, is up for sale after calling in the receivers.
---
ZAMBIA: Chinese-run textile firm sacks 1000 workers 24 May 2007
More than 1000 workers are set to lose their jobs at Zambia's largest textile company which is to close indefinitely after failing to compete with cheaper textile imports from China.
---
ZAMBIA: Quingdao Textile shuts Zambia China Mulungushi 4 Jan 2007
Chinese company Quingdao Textile, which operates Zambia's biggest textile firm, has temporarily closed it down because of colossal losses.