Why You Need a Service-Oriented Fasteners Partner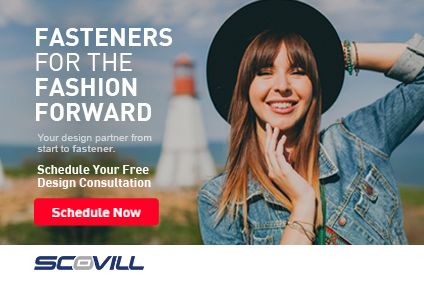 As online retailers continue to flourish, fashion retailers are consistently moving away from offering only seasonally driven items to having all styles available, all the time. To keep up with this rapidly evolving landscape, apparel brands and manufacturers must also be proactive in satisfying these expectations for new and exciting designs year-round. Designs must be produced quickly and, ultimately, into consumers' hands just as fast. In fact, with online retail giants taking over, getting to market fast is becoming increasingly critical for business success.
Demands for Quick Production & High Quality
Unfortunately, it's in the wake of industry shifts like this, that the final product quality can begin to suffer. When forced to move quickly and be cost-effective, apparel manufacturers often spend much of their time selecting the right fabrics and focusing on fit, textures and sizing. Trim—like buttons, snaps and other fasteners—often become an afterthought.
So how do manufacturers accomplish speedy production and ensure they're checking all the necessary boxes without sacrificing quality?
For starters, it's important to factor in trim from the beginning. No fashion line will succeed if the fasteners fall off on first wear or during the first wash—no matter how quickly it's made or put into market.
Additionally, it is just as critical to have a service-oriented partner to help get from design to production successfully and quickly.
Value-Added Services to Help You Exceed Expectations
This is where Scovill can help. As a leading global manufacturer of apparel fasteners, we've made it our mission to help manufacturers like you keep up with ever-changing consumer and market demands, including production and quality needs.
To us, quality is more than just producing a well-made fastener. It also means accomplishing safety, consistency and performance requirements. That's why Scovill offers value-added services that help remove friction and speed up the process, including:
End-to-end consultation and support
In-house product testing and rigorous quality control
Responsive global technical support
Multiple attaching machines to meet a range of needs
Fastener design support with 3D artwork and samples
Hundreds of finish colors, textures and custom logo capabilities
We're collaborators, working closely with our customers to find the best solutions for the specific needs at hand. Our product design specialists transform ideas and concepts into durable and functional fasteners that come in multiple finishes and styles—to give you more freedom and the best options for your garments.
Since speed and time are of the essence, we make sure product samples get to you quickly and don't negatively impact your timelines. We can even produce 3D artwork samples within 48 hours of request.
Fasteners Designed with You in Mind
Ready to work with a fastener partner that focuses on providing value-added service and support? Schedule your free design consultation with Scovill today!