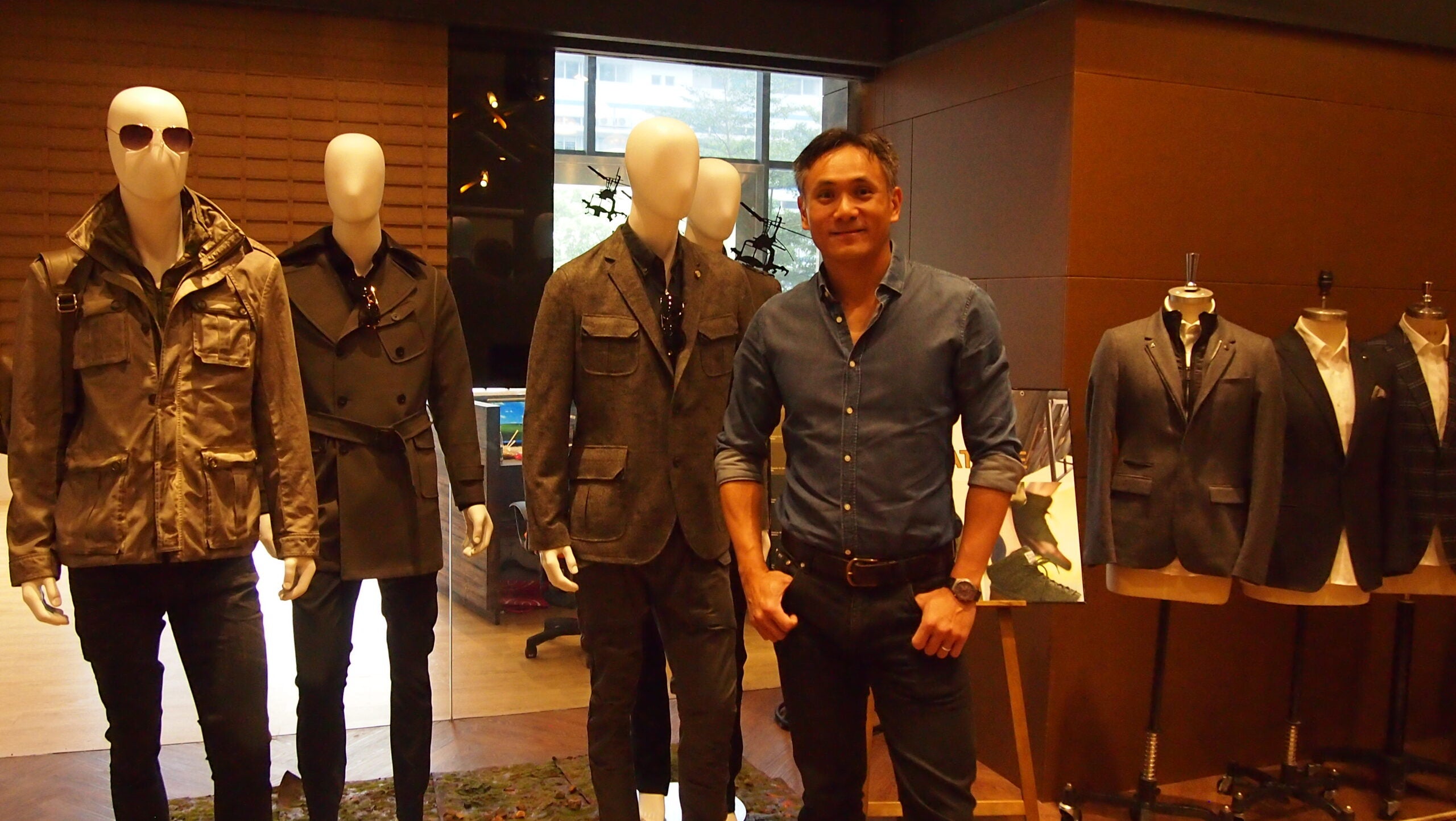 A lot has changed since Just Style last interviewed Szeto in 2020: a pandemic has swept across the globe causing supply chain challenges that continue to this day; a war has broken out in Europe that has led to apparel retailers exiting from both Russia and Ukraine; and rising inflation and a cost of living crisis means a recession is on the horizon.
During a frank conversation at the Fleet Street Press coffee shop, in the heart of London's historical journalism quarter, Szeto admits the threat of recession is the biggest challenge facing the world's apparel industry today.
He says: "It will affect everyone's business. We've had a track record of outperforming the industry, so if even we're seeing a dramatic slowdown, it means it really is a bloodbath out there."
He also confesses that for Lever Style even tough times are an opportunity to expand quickly: "During the pandemic we made five acquisitions and we're now gearing up for more next year."
He explains his company continues to grow healthily. For example, last year Lever Style grew 64% over 2020 to hit a record, and it jumped another 66% in the first half of this year over the same period last year. But, he is keen to reiterate: "We're saving up for tough times next year and to make more acquisitions," and adds: "We've never kept so much cash on our balance sheet."
In 2020, Szeto told Just Style that fuelled by new investment from its listing on the Hong Kong stock exchange the company was aiming to realign its business model to be the product engine for rising e-commerce brands.
Looking back on that time he explains: "We were one of the last fashion supply chain companies to get onto the stock exchange. When Covid hit, our business took a tumble, but more companies became available for acquisitions and we see the same thing happening next year."
The apparel acquisitions to watch in the next recession
He points out that if it's a good economy Lever Style tries to grow organically and if it's a bad one such as in a recession, it acquires apparel businesses when valuations are more reasonable. In fact, Szeto states Lever Style has more than doubled in size over the last two years thanks to its strong post-Covid rebound and its acquisitions.
Aside from speaking to Just Style, Szeto is using his London trip to meet up with a number of fashion companies. He hints that he's keen to acquire companies complementary to his existing portfolio, and activewear he admits is an area where Lever Style remains a "little underrepresented".
In fact, of the five acquisitions Lever Style made in recent years – three of them were activewear companies.
This is not surprising given the rise of the athleisure trend during the pandemic, however Szeto points out athleisure has been growing steadily for 15 years.
The downside of active companies continuing to do so well, he adds, is that it makes it more difficult to acquire them because they are more expensive and have less reason to sell.
In saying this, since Covid and thanks to some clever acquisitions, Szeto is confident that Lever Style's portfolio can now produce everything a shopper could want within their fashion wardrobe.
This is not surprising given that Lever Style is already the digital retail product engine for digitally native brands and platforms, including Shein, Bonobos and Stitch Fix. Plus, it meets the demands of fashion brands such as Paul Smith, Hugo Boss, All Saints, Vince and Rag & Bone.
He says: "We've more than doubled the number of categories through acquisitions but that doesn't mean our revenue has doubled as we tend to buy companies that are smaller."
Apparel sourcing trends for today and the near future
As an honorary chairman of the Hong Kong Textile Council, the umbrella trade group representing the entire apparel and textile industry in Hong Kong, Szeto is privy to the wider apparel sector's key sourcing trends, which will become increasingly important with a recession imminent.
He tells Just Style smaller Hong Kong apparel companies still rely heavily on China for apparel production but risk losing sales due to China's declining competitiveness.
He says quite bluntly that apparel production in China is "quickly losing ground" as there's the Xinjiang cotton issue to contend with and US brands are increasingly trying to source apparel from elsewhere.
At the moment most of Lever Style's production takes place in Vietnam (over 60%), but Szeto explains: "Lever Style has a flexible asset-light business model – we shift production to wherever it's needed. For example, last year we had over 50% of our production in China and this year it's maybe 30%."
Lever Style's whole business model is based on maximising agility and versatility, which is why the company is also exploring Turkey and Portugal as potential production options from an apparel nearshoring point of view.
He argues his company can of course beat the nearshoring advantage by putting products on a plane – but there is the carbon footprint issue, which is why nearshoring is attractive as it ensures quick production and delivery to the end user without the carbon footprint.
Szeto states high mix, low volume and quick response is the secret to reducing inventory risk and he believes consumers are going to demand more sustainable fashion supply chains and end products.
He says consumers already care about the provenance of the steak they're eating in a restaurant and this is slowly moving across to fashion with traceability becoming essential.
The next stage of the digital transformation
The company recently announced South China Morning Post's former chief executive officer, Gary Liu, who took charge of the newspaper's digital transformation, was joining its board.
Workflows in the traditional supply chain haven't changed much in decades, he says, and there is a lot of scope to reimagine how things can be done differently to maximise speed. Liu will be guiding our thinking in this area.
Szeto explains Liu will play a major role in the company's quest to think outside of the box when it comes to its digital transformation, and suggests: "It's possible that we'll have to create our own unique IT infrastructure in collaboration with a tech company."
However, he adds that Liu is being cautious about what Lever Style should or shouldn't do based on his previous experience because two-thirds of digital transformations still fail.
The demand for low costs versus sustainability
Lever Style is producing more high mix, low volume, quick production orders, which Szeto points out leads to less excess inventory, which is a huge plus in the quest for sustainability.
He says there are many ways to make fashion more sustainable, such as using more recycled materials and some of his customers are asking for this.
"The demand for sustainability will keep on rising even though there's a bad economy. It is the talk of town but many buyers' focus remains on costs."
In March 2020 Szeto revealed how Lever Style was realigning to become the 'go-to supplier' for digital brands.