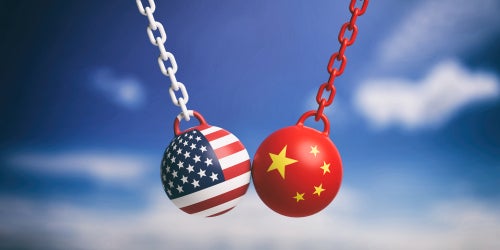 The 13 countries that sit within the United States and Indo-Pacific Economic Framework for Prosperity (IPEF), including apparel sourcing countries Vietnam and India, announced four negotiation objectives last week (9 September), as part of a wider aim to create a high-standard and inclusive economic framework.
However, apparel industry experts Dr Sheng Lu and Bob Antoshak tell Just Style they are sceptical about the real purpose behind the framework and how it will benefit the apparel sector.
Gherzi Textil Organization partner Bob Antoshak explains: "The Indo-Pacific Economic Framework for Prosperity is an initiative led by the Biden Administration to develop an economic counterbalance to China in the Pacific while expanding US economic influence in the region."
He points out that it is not a free trade agreement, nor is it some form of security pact.
He says: "It is designed, however, to further economic cooperation in the region. But it's also, frankly, a smokescreen obscuring US objectives in the Indo-Pacific region to deter an increasingly assertive China."
Despite ongoing claims of forced labour within China's Xinjiang region, the country remains the world's largest apparel exporter.
Associate professor of apparel and textile studies at the University of Delaware, Dr Sheng Lu, agrees with Antoshak and adds: " Indo-Pacific Economic Framework members include some critical apparel-producing countries such as Vietnam and India. However, as the Indo-Pacific Economic Framework won't cover market access negotiation and result in tariff cuts, the agreement's impact on apparel trade and sourcing is more challenging to evaluate. This also explains why the apparel sector is lukewarm about the prospect of the agreement."
He continues: "Meanwhile, Indo-Pacific Economic Framework negotiation will cover several 'modern' trade agendas highly relevant to the apparel sector, such as labour, environment, and digital economy. However, as IPEF excludes China, any new rules negotiated under the agreement won't apply to the "gorilla in the room."
He highlights that this understandably, raises questions about the real impact of IPEF in making a difference in the apparel sector.
In fact, Dr Lu believes the framework could intensify the competition between the US and China in shaping their favoured regional supply chains in the Indo-Pacific region.
This is because almost all Asia-based IPEF members (except for India) have joined the Regional Comprehensive Economic Partnership (RCEP), a traditional free trade agreement led by China.
In an official statement following the negotiation objectives meeting, United States trade representative Katherine Tai said: "This meeting was a chance to deepen our partnerships and fill in the details about how we will work collectively to address the challenges and opportunities that will define the 21st century."
She continued: "After several days of intensive discussions, we have made real progress toward that goal and I am excited to continue developing this Framework, which will unlock enormous economic value for our region and serve as a model for the rest of the world to follow."
The Office of the United States Trade Representative states the Framework will advance resilience, sustainability, inclusiveness, economic growth, fairness, and competitiveness for our economies.
It says: "Through IPEF, the partners aim to contribute to cooperation, stability, prosperity, development, and peace within the region. The Framework will also offer tangible benefits that fuel economic activity and investment, promote sustainable and inclusive economic growth, and benefit workers and consumers across the region."
The 14 IPEF partners which include: United States, Australia, Brunei Darussalam, India, Indonesia, Japan, Republic of Korea, Malaysia, New Zealand, Philippines, Singapore, Thailand, and Vietnam; represent 40% of global GDP and 28% of global goods and services trade.
The four key objectives or pillars outlined in last week's meeting are:
Trade
In the Trade Pillar, the IPEF partners will seek high-standard provisions in areas that are foundational to resilient, sustainable, and inclusive economic growth, including labour, environment, digital economy, agriculture, transparency and good regulatory practices, competition, inclusivity, trade facilitation, and technical assistance and economic development. The United States and the IPEF partners will seek high-standard provisions that benefit workers and ensure free and fair trade that contributes to promoting sustainable and inclusive economic growth and that meaningfully contribute to environmental protection. We intend to advance inclusive digital trade by building an environment of trust and confidence in the digital economy, by addressing discriminatory practices, and by promoting trusted and secure cross-border data flows. We will seek to advance food security and sustainable agricultural practices and the benefits of good regulatory practices in supporting good governance and will work towards harnessing best practices with respect to facilitating trade.
Supply Chain
In the Supply Chain Pillar, the countries will seek to coordinate actions to mitigate and prevent future supply chain disruptions and secure critical sectors and key products for our manufacturers. The United States will work with IPEF partners to identify sectors and products critical to our national security, economic resilience, and the health and safety of our citizens – and then act collectively to increase the resilience of these sectors, creating jobs and economic opportunities in key industries of the future. Partners will identify sole sources and choke points in critical supply chains, and work collaboratively to address them by promoting and supporting investments in new physical and digital infrastructure. Partners will use data to improve supply chain logistics and invest in new training and development opportunities to upskill workers and ensure that all citizens share in the benefits of increased supply chain resilience. Finally, the countries will seek to ensure that the work promotes the labor standards that underpin fair, sustainable, and resilient supply chains.
Clean Economy
In the Clean Energy Pillar, the countries will seek to expand investment opportunities, spur innovation, and improve the livelihoods of citizens as the partners unlock the region's abundant clean energy resources and substantial carbon sequestration potential. The partners aim to advance cooperation on clean energy and climate-friendly technologies, as well as mobilize investment and promote usage of low- and zero-emissions good and services. This work will be part of a future-oriented effort to enhance energy security and reduce overall greenhouse gas emissions. The partners seek to promote just transitions with the active participation of our stakeholders, including the private sector, workers, and local communities.
Fair Economy
In the Fair Economy Pillar, the countries will seek to level the playing field for businesses and workers within partner countries by preventing and combatting corruption, curbing tax evasion, and enhancing transparency, recognizing the importance of fairness, inclusiveness, the rule of law, accountability and transparency. By innovating and strengthening shared approaches to implementing anticorruption and tax measures, the countries will seek to improve the investment climate and boost flows of commerce, trade, and investments among our economies while advancing a free, open, and prosperous Indo-Pacific region.
Earlier this year Antoshak explained why he believes the IPEF will place global apparel at the centre of the geopolitics battle between the US and China.