According to GlobalData's Apparel M&A Deals Q2 2023 report there were 89 global apparel sector deals recorded in Q2 2023 which is 41% higher than the previous quarter and 39% higher than the previous year.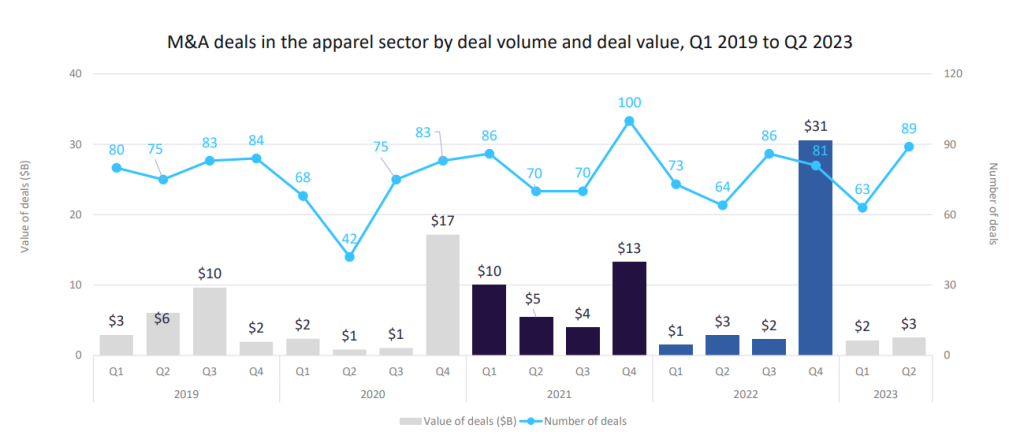 Health & wellness turned out to be a leading theme of M&A activity in the quarter with eight deals registered worth $685.3m.
Top themes driving apparel M&A
Two of the top four M&A deals registered in Q2 were driven by this theme. The highest value deal was JD Sports' acquisition of Courir France for $572.4m, followed by Fielmann's $112.3m deal to acquire SVS Vision.
The Aditya Birla Fashion and Retail (ABFRL) deal which involved a definitive agreement to acquire a 51% stake in TCNS Clothing for $201.7m was classified as an individualism & expression theme deal by GlobalData.
Geographically speaking, Europe stood out as the region with the highest deal value in the quarter, registering 40 deals worth $1.9bn.
GlobalData forecasts the biggest themes driving growth in the apparel sector moving forward will include technology (artificial intelligence, big data), industry specifics (customer loyalty, health & wellness), macro (covid-19, demographics) and ESG (environmental, social, governance).
Apparel sector leaning towards M&A
In recent years, the apparel sector has witnessed a flurry of M&A deals with companies looking to navigate the macroeconomic environment and supply chain pressure amid muted demand for fashion.
Fashion brands and retailers are also leveraging M&A to expand operations or increase profitability by buying out struggling brands. For instance, UK sports retailer JD Sports acquired the remaining 40% stake of Marketing Investment Group S.A (MIG), making it the sole owner of the Poland-based retailer in a bid to accelerate its expansion across Central and Eastern Europe.
JD Sports has continued to successfully grow its presence across Central and Eastern Europe. Its most recent buy was Spanish sports retail company Iberian Sports Retail (ISRG) in a €500m ($543m) deal.
In another case, Frasers Group, which owns sports and fashion brands, including Sports Direct reported a "record" 15.8% increase in revenue, reaching £5.6bn ($7.2bn) for FY23 with pre-tax profits doubling thanks to its growing brand portfolio.
While another recent acquisition, this time by British fashion retail group AK Retail Holdings of the Australian-listed firm City Chic Collective's plus-size brand Evans was seen as a "positive move" given the "unsaturation" of the plus-size market, an apparel analyst told Just Style at the time.
Related reports:
Global M&A Deals in Q1 2023 – Top Themes in the Apparel Sector
Global M&A Deals in 2022 – Top Themes in the Apparel Sector