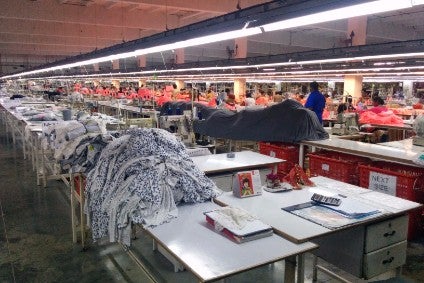 The apparel factory auditing process has been impacted on numerous fronts by the coronavirus pandemic – from travel bans limiting on-site access, to a possible surge in violations as factories reopen. It could also give way to innovation in self-inspection methods.
"No remote solution can fully adequately replace an onsite visit," believes Hervé Ostrowski, chief operating officer at Hong Kong-based supply chain compliance solutions provider QIMA.
However, "brands can resort to technology to maintain some control, implementing remote video inspections, worker surveys and providing apps and tools to their suppliers for reporting."
Avedis Seferian, president and CEO of US-based WRAP (Worldwide Responsible Accredited Production), agrees brands cannot validate social compliance at a facility they are engaging for the first time without an onsite visit – unless it has been receiving ongoing assessment from another (trusted) brand, or an independent certification organisation.
That said, the vast majority of factories in any compliance programme is made up of repeat factories. "By definition, these factories are ones that have already been physically visited in the recent past," meaning that, for now at least, temporary remote validation is therefore a viable prospect.
Given the current restrictions on factory visits, those facilities needing to renew their WRAP certification can extend their current certifications by four months following the successful completion of a desktop audit.
Surge in sourcing risks
As factories scramble to reopen once Covid-19 lockdowns are eased, a surge in production is likely to pose further difficulties in upholding quality, social and environmental standards.
Justin Bettey, director of supply chain assurance at testing, inspection and certification services provider Intertek, notes evolving technology in supply chain mapping and traceability is helping "screen out unethical suppliers and illegal/unsafe products."
Such technologies include Intertek's Inlight platform, which uses algorithms to indicate where risk performance, as well as efficiencies, can be improved, as well as remote real-time monitoring and predictive risk analytics, helping companies "directly plug into a supplier's operations and its people."
Kevin Franklin, chief product officer at Hong Kong-based supply chain services provider Elevate, stresses wage and working hour violations, overtime, use of migrant labour, forced labour and subcontracting are of particular concern, and need attention.
Such sourcing risks have increased over the last three years. In 2019 they appeared to be strongly connected to cost and time pressures linked to the US-China trade war and use of alternative production locations – with similar risks likely to pervade post Covid-19.
"Workers are more vulnerable now than before," he says. Franklin advises brands to carefully assess the levels of risk across different sourcing locations, and to tailor responsible sourcing and auditing programmes accordingly. "A one-size-fits-all approach may be difficult. Target the right risks in the right areas, and focus first and more deeply on important factories in high(er) risk locations."
He notes brands can examine such risks by using data and analytics tools, such as Elevate's EiQ supply chain intelligence platform, and Laborlink, its worker engagement platform.
Ostrowski adds that as factories reopen, health and safety compliance specifically related to Covid-19 will also present challenges. "Particular care will need to be given on sanitation and hygiene conditions – something we are already seeing in China, where audits are focusing on assessing new measures implemented post-Covid to ensure workers' safety."
Self-assessment
Among the next steps for supply chain compliance is self-assessment, in areas from product quality to manufacturing facility compliance, utilising technologies such as mobile and cloud collaborative platforms.
These include Inspectorio's Rise platform, which is designed to allow organisations to verify audit data and create custom assessments and corrective action plans. It also allows factories to showcase the results of audits conducted at their facilities by third parties so they can choose to avoid duplicating that audit with clients.
However, since brands will often need to rely on self-assessment data from their suppliers and factories, they should also adopt tools to make that data more reliable. These include solutions allowing users to take videos; provide time-stamps and change logs; allowing only specific, authorised users to enter the data; remote monitoring of the audit process as it takes place in real-time; and geo-tracking to ensure the audits take place in the correct locations.
Remote limitations
Nevertheless, Randy Rankin, global client development director in the Consumer Products Testing Assurance Services practice at Eurofins, points out there are limitations to how much can be achieved remotely.
"In the audit space, the deployment of technologies for remote engagement is not sufficiently sophisticated to provide for effective interventions," he believes.
While tools such as video streaming can observe conditions, it "does not effectively create a mechanism for either worker engagement or consideration of the underlying processes that create the noted conditions."
Rankin recently wrote in more detail on just-style about: Social compliance auditing during and after Covid-19.
This is an abridged version of articles that appear in the latest issue of just-style magazine. Click here to read more.