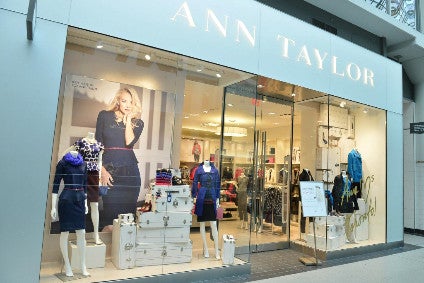 Ascena Retail Group, owner of the Ann Taylor, Loft and Lane Bryant chains, has filed for Chapter 11 bankruptcy protection, becoming the latest retail group to do so during the coronavirus pandemic.
In a statement today (23 July), Ascena said it would close all of its Catherines stores, a significant number of Justice stores, and some Ann Taylor, Loft, Lane Bryant, and Lou & Grey stores. It will also exit all stores across brands in Canada, Puerto Rico and Mexico.
The company has entered into a restructuring support agreement (RSA) with over 68% of its secured term lenders. This contemplates agreed-upon terms for a pre-arranged financial restructuring plan that is expected to significantly reduce Ascena's debt by around US$1bn, providing it with increased financial flexibility to generate profitable growth.
"The meaningful progress we have made driving sustainable growth, improving our operating margins and strengthening our financial foundation has been severely disrupted by the Covid-19 pandemic," said Carrie Teffner, interim executive chair of Ascena.
"The RSA formalises our lenders' overwhelming support for a comprehensive plan to deleverage our balance sheet, right-size our operations and inject new capital into the business. With the cash generated from our ongoing operations and the new money financing commitments we received from our lenders, we expect to have sufficient liquidity to meet our operational obligations during the court-supervised process."
Through its retail brands, Ascena operates e-commerce websites and around 2,800 stores across the US, Canada, and Puerto Rico.
The final number of store closings, it says, will be determined based on the ability of Ascena and its landlords to reach agreement on sustainable lease structures. The company says it is hopeful and optimistic it will be able to keep as many stores open as possible.
In the meantime, Ascena has entered into an asset purchase agreement with a stalking horse bidder, City Chic Collective Limited, to sell the Catherines intellectual property assets and to transition its e-commerce business to a subsidiary of City Chic.
For now, Ascena says it will continue to operate its Ann Taylor, Loft, Lane Bryant, Justice and Lou & Grey brands through a reduced number of retail stores and online.
"This comprehensive restructuring, as well as the actions we are taking to optimise our brand portfolio and store fleet, mark a new start for our company and will allow us to expand our customer-focused strategies across her mobile, online, and store experiences," said CEO Gary Muto.
Ascena has received commitments for US$150m in a new money term loan from its existing lenders, and said it expects this to be sufficient to meet its operational and restructuring needs.
The retail group joins others that have succumbed to bankruptcy during the pandemic, including J.Crew, JCPenney, Neiman Marcus and Brooks Brothers.
No timetable for recovery
Neil Saunders, managing director of GlobalData Retail, says that with apparel sales plunging during the pandemic, Ascena has been badly exposed to the fallout of the coronavirus.
"On top of this, patterns of work and socialising show no signs of normalising any time soon, which means there is no timetable for the recovery of some of its dressier brands. Given this uncertainty, and the punishingly high costs associated with running the business against such a backdrop, filing for Chapter 11 is a prudent and necessary step.
"However, the idea that the coronavirus is the cause of all Ascena's ills is unreasonable. Even before the crisis, the group was struggling to make a profit (operating losses in the last half year were $125.8m) and it was burdened with just over $1.2bn of long-term debt. This was not the most auspicious financial basis on which to enter the turbulence of a global pandemic.
"On top of this, not all of Ascena's brands were in robust health. We have long held the view that although Ascena has a good track record of making various brand acquisitions work financially, its record on developing those brands has been far less impressive. The results of this have already been seen with the closure of once popular staples like Dressbarn and the sale of a majority stake in Maurices. The current Chapter 11 process will see the culling of more brands that Ascena broke and could not make work again.
"The main victim from bankruptcy is Catherines where all stores will close, and the e-commerce business and brand assets will be sold to City Chic Collective. Admittedly, the Catherines brand is a smaller part of Ascena's sales mix, but it has a weak brand image and has lost customers over a long period of time.
"Despite serving the lucrative and fast-growing plus size segment of the market, Ascena has not been able to correct the brand issues and has lost ground to newer, more interesting plus size specialists and the expansion of larger sized ranges at mainstream players like Target and Walmart. That said, the inclusion of plus size products at some of its other brands, such as Loft, will allow Ascena to continue to address this important segment.
"In the Ann Taylor, Loft, Lane Bryant and Lou & Grey businesses, stores will be closed, and the footprint will be much reduced. The exact number of closures has not yet been determined, but all outlets in Canada, Puerto Rico and Mexico will be shut. Within the current portfolio there is exposure to weaker retail locations, so a pruning of the fleet makes sense from the perspective of getting rid of shops that are unlikely to deliver sales and profit growth. This is especially so as more sales migrate online.
"However, it will take more than store closures to ensure the long-term survival of these brands. In our view, a label like Ann Taylor does not have a very clear sense of identity. Its proposition lacks both clarity and relevance and, as a result, it is all too easy to overlook. We recognise that Ascena has taken steps to bring more focus to the offer by thinning the amount of choice and concentrating more on trends, but the efforts to-date have been underwhelming. The same general argument applies to Loft, although there is more potential with this brand as it still retains a good base of loyal shoppers.
"Over the past couple of years, Justice has been on a rollercoaster ride of strong then weak performance. Attempts have been made to improve assortments and personalise marketing and promotions, but this has not driven long-term success in a kidswear market that remains very fickle and highly competitive. We do not believe Ascena sees much of a future in Justice, so we expect a significant number of store closures as it pivots to being more of a digital first player.
"Overall, Ascena has suffered more than some other apparel brands because too much of its business is in the murky middle ground of fashion. It delivers neither great value nor great fashionability. That was a slow killer before the pandemic hit. In the midst and aftermath of the current disruption, such a position has become a fast track to failure."