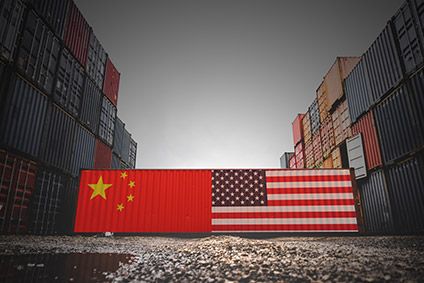 We're looking at a significant readjustment of trade relations between the US and China. Get used to it, writes Robert P Antoshak, managing director of Olah Inc.
We live in rapidly changing times. New technology, shifting politics, and profound economic adjustment have all contributed to feeling that the world has somehow changed while large segments of the population have remained both culturally and economically stuck in place, yearning for times that don't exist anymore.
As a consequence, a large segment of the developed world has been left behind. For this portion of the population, folks may or may not understand the reasons behind the change. But one thing they do know: the world they grew up in – the post-World War II years – with plentiful jobs, job security, and decent wages has disappeared, replaced by a system of weakened worker rights, far less job security, and flat if not declining wages.
I can wax on for days about the repercussions of the times in which we live, but instead of presenting a rant about what's right and what's not, in my opinion, I'd much rather opine about the implications for our industry. Make no mistake: we're in for a rough ride. There are no outright winners in trade wars, just muddling returns.
Who will be blamed?
Brands and retailers are about to get blamed by their customers for higher prices thanks to tariffs
Brands and retailers are about to get blamed by their customers for higher prices thanks to tariffs. Whether higher prices are due to Trump trade policy, or Chinese trade intransigence, is irrelevant. For the average consumer, such matters are ethereal. All they know is that their clothes cost more. And they'll blame the places where they buy their clothes. It's not going to be a good time for retailers.
I read in the media how many leaders in our industry fear that higher tariffs will only result in higher prices for consumers – the real losers in any trade war, as higher tariffs will act as a tax of sorts on consumers everywhere. Our industry leaders aren't wrong, but I'd like to suggest that they don't go far enough: what about our brands and retailers? They're going to take the brunt of consumer ire if prices rise too quickly.
It's the downside, I suppose, of conditioning consumers for years to always expect cheaper and cheaper prices – with clothing always on sale. Sure, the supply chain will absorb some of the tariff increases, and some sourcing companies will move to tariff-free suppliers in other countries. But in the end, some of those increases will be passed on to consumers. And if Chinese suppliers somehow manage to continue to export despite higher tariffs, then suppliers in other countries will also find a reason – and cover – to raise their prices too.
Again, it will be consumers who will pay the difference and blame the stores and brands for higher prices: first by complaining to store clerks, and then pulling back on their purchases. Fast Fashion in reverse.
China as the bad guy
From the outset of the trade fight between the US and China, I've believed that additional 25% tariffs would eventually cover all Chinese products exported to the US. It's always been Trump's end game. In his mind, he's conducted an effective anti-elitist – by that I mean an anti-globalist – campaign to discredit the system of trade adopted with the formation of the World Trade Organization decades ago.
Trump has managed to position the Chinese into the role of a bad guy that has unfairly manipulated the global trading system to its advantage
Although I don't agree with his methods, Trump has managed to position the Chinese into the role of a bad guy that has unfairly manipulated the global trading system to its advantage. In Trump-speak: China cheats. And guess what? Both parties in Washington are silent on the matter. Tacit approval. From China's perspective, Trump is a monster who needs to be tamed. Time will tell.
Regardless, many people seem to think that one side or the other will blink first in a standoff over tariffs. I don't think anyone will blink. We're looking at a significant readjustment of trade relations between the US and China. Get used to it. Moreover, the global trading system, as we've known it over the past three decades, may change as a result. As long as Trump succeeds in his approach of bilateral trade deals, the World Trade Organization will only go the way of the League of Nations.
Trade Wars: Coming to a town near you
As a consultant, I work with a lot of sourcing people and suppliers. I see worry and concern in the eyes of so many of these people; some are panicked. What to do? The panic over what I like to call "Trade Wars" (à la "Star Wars") isn't necessarily misplaced or overblown. Yes, that mythical Imperial Star Destroyer hovers just out of sight, our industry on its radar. Only what's different is so many people are being forced to adjust how they do business – and now. I mean fast. The smart ones began diversifying their sourcing long before we started to read headlines about 25% tariff rates.
Nevertheless, here's the rub: China has changed. So has the US. The world that ushered China into the World Trade Organization more than a quarter-century ago has also changed. Moreover, our industry has changed and along with it the managers who run our industry. Gone is the complacency and coziness of customer and supplier relationships that have grown over the years. Make no mistake, so many Chinese manufacturers are amongst the best in the world in making quality products and delivering those on time and according to specs. They're also good at making adjustments on the run to meet the needs of their customers. As a result, strong business relationships have grown over the years. Why change? Tariffs.
But for sourcing managers, such change is a relatively new phenomenon, and they're not necessarily prepared for the challenge. They need seasoning; learn on the job. Back in the quota years, teams of people understood how and when to shift suppliers, move sources of supply from country to country. It was a bit of an art. But such creativity has moved on with the retirement of a generation of such individuals. They also had to learn on the job. But for today's sourcing people, the stress of change is no laughing matter. It is foolish to assume that the trade stresses between the US and China are going away anytime soon. I suspect we'll see apparel tariffs as early as 60 days.
The implications
The tariff war isn't the end of the world – but broader concerns are suddenly more significant. I worry about multi-country currency wars: for instance, to offset higher US tariffs, China devalues the yuan and by doing so sets off a chain reaction of other current devaluations around the world. Although I don't see China and the US ever going to war over trade, the manoeuvring of both governments may result in collateral damage in the form of economic realignment and readjustment of geopolitical alliances. Trade is essential: if history has taught us anything, countries have gone to war over less.
If nothing else, Trump is a master manipulator. He has mastered the art of deflection. Have a political problem that requires more time to solve? Deflect the political establishment and media by creating another crisis to cover and digest. For example, a few weeks ago the talk in Washington was "no collusion," meaning that Robert Mueller did not find evidence of collusion by Trump or his associates of colluding with the Russian government to throw the 2016 US presidential election. It was a punchline, and a popular hashtag on social media. But now the Mueller report has been wiped off the front pages of newspapers in favour of the latest on the trade wars and tensions in the Middle East. It all looks like a political diversion to keep the media and political establishment looking one way, while events unfavourable to the president unfold elsewhere.
Supply chains are moving. Let's be real here: supply chains are shifting out of China. Indeed, the Chinese government has been pushing the textile industry out of the country for years. The tariff war has only accelerated that policy. However, for many sourcing companies, such movement is happening at too slow a pace. After all, it takes time to locate new suppliers in different countries. It doesn't happen overnight. In the meantime, lots of brands and retailers are vulnerable. Their costs may go up, while their ability to pass those costs onto consumers may be limited.
So, it's time to buckle up and climb into the Millennium Falcon. Fire up the hyperspace drive. Asteroids are everywhere, and we need to navigate an uncertain future carefully. Because guess what? China may only be the beginning. If Trump feels emboldened, he'll go after other countries on trade. The world has changed, and we're all struggling to keep up.