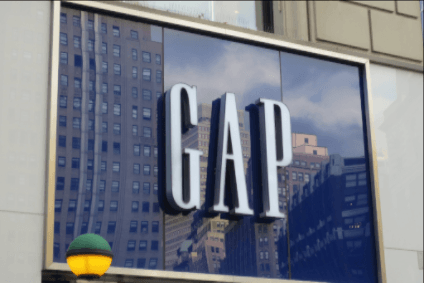 US specialty apparel retailer Gap Inc has set out proposals to shake up its business, with a heavier focus on the Old Navy and Athleta brands and the closure of around one-third of Gap and Banana Republic stores in North America.
Shares soared 14% as the company laid out its Power Plan 2023 strategy at a virtual investor day presentation yesterday (22 October), including an expected return to profitable growth next year.
Also on its radar are sales rising by low- to mid-single digits annually, and a margin for earnings before interest and taxes (EBIT) at 10% or more in three years – achieved by a shift to its higher-margin brands, store rationalisation, and a switch to e-commerce.
In order to meet its goals, the apparel maker is turning its focus to growing the Athleta and Old Navy brands to account for 70% of revenue by FY23, from the current level of around 55%. Management wants to see Old Navy revenues to reach US$10bn, and Athleta revenues double to US$2bn by 2023 – helped by the annual addition of 30-40 new Old Navy stores and 20-30 new Athleta stores in smaller markets where the population is under 200,000.
Among changes at the Gap and Banana Republic businesses are the closure of 350 stores by the end of 2023, with 80% of revenue coming from online and off-mall locations. Strategic alternatives are also being weighed up for Europe, with the retailer earlier this week confirming a review was underway for the Gap business in Europe, including new franchise opportunities.
The retailer hopes to reduce costs by US$100m by closing stores and shifting some of these sales online, with additional savings coming from rent negotiations.
In June, the speciality retail group said it was using the coronavirus pandemic to right-size the business – acknowledging there was plenty of work needed at the Gap brand.
In its second-quarter, Gap Inc saw online demand across its brands help lift comparable sales by 13%. Online net sales jumped 95%, but it wasn't enough to offset Covid-19 related store closures, which pushed net sales down 18% to US$3.28bn. Gap brand net sales were down 28%.
The San Francisco-based company also swung to a second-quarter net loss of $62m, from a profit of $168m a year earlier.
The power of the platform
Speaking at the investor meeting, chief operating officer Shawn Curran explained how the retailer's scaled responsive supply chain is "a competitive strength and a point of differentiation" for the largest specialty apparel retailer in the US.
"We have been maniacally focused on building the best supply chain network in apparel retail. Over the past several years we have re-engineered our supply chain to be demand-driven, building out advanced capabilities enabling us to execute with speed, flexibility and efficiency at scale.
"We source in over 30 countries, work with 330 mills and 620 factory partners who manufacture over 1bn units a year, 100m pairs of denim and over 650m yards of fabric. Our logistics footprint is expansive, with over 30 consolidation points servicing 14 fulfilment centres around the world. We execute over 400,000 deliveries to our 3,000 company operated stores every year, and we ship over 100m parcels per year on top of our fast-growing 'buy online pick-up in-store' option.
"We've been on a journey to significantly advance our capabilities from a push execution driven model to one that is responsive to customer demand.
"Over the years we've worked to solidify our core product capabilities and build a formidable scaled responsive supply chain. Admittedly we've been slow to adopt these capabilities consistently across our brands – our opportunity going forward is driving greater adoption.
"We've consolidated our vendor base as well: our top 20 vendors today comprise 50% of our sourcing spend. We've adopted 3D technology to deliver consistent trend-right fit, and we've implemented capabilities to respond to customer preferences to bring product to market in as fast as five to 14 weeks, at scale, and at the right cost.
"With investments in digital product capabilities and our omni-logistics network, we are well positioned for what's ahead. We have built a strong engineering capability and operational muscle, with the best talent in the business that fuels a performance driven culture.
"Our opportunity going forward is to apply this engineering and operating muscle further up and downstream across our end-to-end operation, and more specifically our focus will be on advancing capabilities and optimising inventory and margin, continuing digitalisation and we're tightly integrating with our vendor base.
"Additionally we will be modernising processes throughout without the use of robotic automation, artificial intelligence and advanced analytics.
"Our re-engineering of the network has increased our online capacity by two and a half times while reducing the footprint of our network by five distribution centres, and reducing our cost per unit by more than 10%. It's all about ensuring inventory availability for our customers and ensuring and providing more choice for our customers."