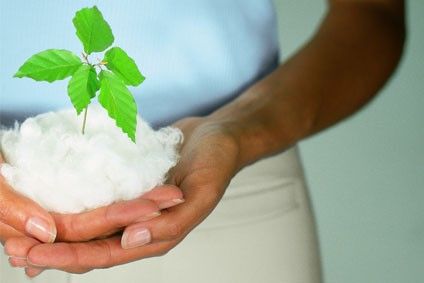 The integration of blockchain technology has an important role in helping fashion brands reshape supply chain sustainability and enhance transparency across their businesses, says Dr Florian Heubrandner, vice president, global business management textiles at Lenzing.
The structures of fashion supply chains are extremely complex by nature. Poorly managed supply chains that lack transparency will not only damage a brand's reputation, but also lead to a loss of profit from over-production and counterfeiting. As the adoption of blockchain technology grows across different sectors, its application in fashion supply chains is considered instrumental in tackling existing challenges and transforming the standards for transparency in the industry.
Pollution, destruction of biodiversity and deforestation are just some of the negative consequences that occur when environmental credentials along the supply chain are not taken care of, resulting in long-term damage to ecosystems. In parallel, with an increasing awareness of sustainability, consumers are now demanding more disclosure on the production process of fashion items. It is thus widely accepted that the ability to track fabric and fibre origins can establish greater trust between consumers and brands.
Moreover, loss in revenue from over-production and counterfeiting may also incur. By 2030, the fashion industry foresees a profit reduction of US$52bn due to resource scarcity, increased labour costs and over-production. With as much as 30% of clothing produced going to waste without even being sold, the ability to match production to consumer demand will help brands address the over-production gap.
It's always easier said than done
Despite the importance of transparency, there are still mounting challenges ahead as a paradigm shift is lacking across the fashion industry. With lower transportation costs around the world, companies have recently been sourcing from increasingly diverse locations. However, traditionally opaque supply chain management practices are still deeply rooted in the industry. While brands are struggling to improve their tracking systems amid a lack of management solutions and cost issues, the increasingly scattered supply chain only further complicates the matter. Given the lack of tracking standards or technology systems, it is difficult for brands to gather data on suppliers beyond direct vendors, such as garment producers or fabric mills.
On the consumer side, sustainability-related buzzwords have evolved into a box-ticking exercise for brands, especially those targeting younger and more conscious shoppers. It is often difficult to determine which products are sourced properly under varying greenwashing claims. Without any product identification, it is confusing and difficult for consumers to recognise sustainable products that are credible.
How blockchain helps fill operational and credibility gaps
Improvements driven by new technologies could transform the way clothes are designed, produced and sold, as well as how data is gathered and stored, filling the operational and credibility gaps to enhance supply chain transparency.
Using blockchain networks, fashion brands can verify where their products have travelled, as well as gather information on transition points, enabling higher scalability and automation of the tracking process. With digitalised data, supply chain tracking will no longer be limited by geographical location or direct suppliers. Simultaneously, it is effective in saving costs and minimising delays and human error.
Furthermore, blockchain can certify a product's authenticity and can contribute to a more reliable system of product identification. Digitalised platforms allow production data to become more interoperable and available to various stakeholders, including consumers. With tracking tools such as barcodes or digitalised data on swing tags, consumers can easily trace and learn more about the entire production process.
What is the industry currently up to?
With the integration of blockchain technology, building a knowledge base for supply chain activities will be less costly, more efficient and more reliable. As the new era of supply chain management unfolds, leading figures in the industry have already recognised the potential of the technology. Leading the way are luxury conglomerates LVMH and Kering, which both introduced plans last year to use blockchain technology to track and authenticate their goods.
Apart from retailers, other industry players along the supply chain are also bringing blockchain-enabled traceability solutions to the market. For instance, Lenzing announced a partnership with traceability platform TextileGenesis last year, introducing "fibre-to-retail" transparency via blockchain. As a sustainable fibre producer, this move helps fulfil Lenzing's commitment to building a more reliable authentication system with its partners. The technology would grant consumers access to the garment composition and underlying textile supply chain by simply scanning the barcode on a mobile device. While the project is currently in the pilot stage, a full commercial roll-out is expected as soon as late 2020.
According to the latest McKinsey's State of Fashion report, 2019 was a year of awakening as the industry looked beyond its challenges and towards opportunities. With the industry slowly embracing blockchain technology to tackle supply chain transparency, the adoption of blockchain is expected to mature rapidly next year. By then, it would not be surprising if more fashion brands and intermediaries, regardless of size, follow in exploring blockchain application to better manage their supply chains.
About the author: Dr Florian Heubrandner is the vice president global business management textiles at Lenzing AG. Based in Austria, he is responsible for leading the company's growth across the globe in both B2B and B2C segments of the textile sector. He oversees Lenzing's global textile business and is focused on scaling-up new textile innovations, expanding the business into innovative fashion segments, and creating long-term strategic partnerships across the textile value chain.